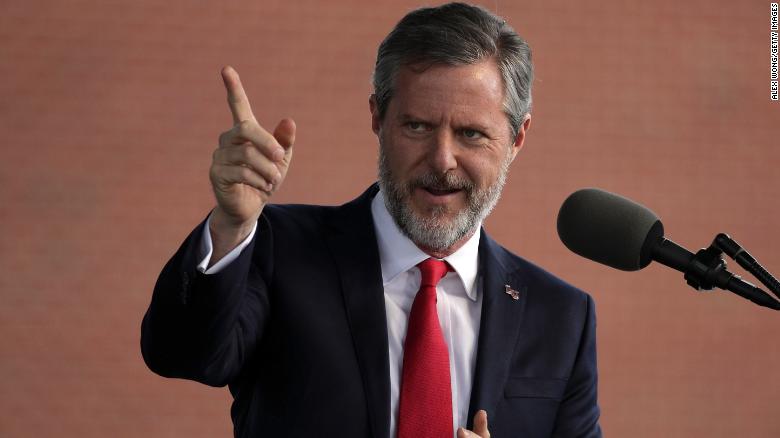 I don't like talking about religion. I think I've made my opinion on organized religion and the extremists it enables very clear. Then, a story comes along that I find so distressing and infuriating that I just can't in good conscious ignore it. That tends to happen when the same ugly religious extremism is mixed with outright hypocrisy. It's happened before. It will happen again. That's just the nature of organized religion.
This time, it involves Jerry Falwell Jr.
Now, if anyone follows religious hypocrisy as closely as I do, the name Falwell should be painfully familiar. Between this guy, and his grifting, theocracy-loving, power-hungry snob of a father, that name is associated with the worst parts of the religious right.
Think of the most regressive religious doctrines you can imagine. From killing homosexuals to subjugating women to racial discrimination to promoting creationism to draconian abortion restrictions, these people are for it. They see the repressive government in "The Handmaid's Tale" with envy. There is really no difference between them and the Taliban.
They see religion and religious values as a means of gaining power and influence. They use it to the utmost and dare to claim they represent truth, virtue, and order. They are hypocrites and frauds of the highest order. I cannot belabor that enough.
If you are a Christian who sincerely believes in the values it preaches, you should be disgusted by the Falwells. They embody a form of Christianity that's both perverse and backwards. They don't value the poor. They don't value truth. They don't even believe in loving they neighbor if they don't live, vote, and believe as they do. They couldn't be more antithetical to Jesus' teachings.
Now, Jerry Falwell Jr. is embroiled in a lurid sex scandal that forced him to resign from his position at the indoctrination center/college that his father founded, Liberty University. In terms of sex scandals, this is hardly the kinkiest. This doesn't involve sex with gay prostitutes while on meth. It mostly involves extra-marital affairs with Jr. and his wife, along with some light voyeurism.
In terms of juiciness, this is pretty tame. That doesn't make it any less hypocritical. Remember, this is a man who once ran a university that had strict rules against any kind of pre-marital or extra-marital activities. It was so repressive that they even had rules against extended hugging, R-rated movies, and dancing. Again, these aren't that different from the rules the once Taliban enforced.
Falwell Jr. and his supporters all imposed these rules and enforced them, justifying their draconian nature with their religious dogma. It wasn't just for show, either. I actually been to the Lynchburg area. I've met people who have attended the poorly-named Liberty University. These rules are taken seriously. They're enforced, too. The only way to avoid them is to never get caught.
Well, Falwell Jr. couldn't handle that last part. He committed the most egregious sin of the religious right, which is to get caught and exposed as a hypocrite. By day, he preached fire and brimstone for anyone who dared to have sex with anyone who wasn't their Christian spouse, but put in the minimum effort to live by that same doctrine.
I want to say it's fitting. This scandal did cost Falwell Jr. his job and his credibility among his theocracy-loving cohorts in the religious right. However, it's hard to take much satisfaction in his downfall.
For one, he will not suffer significant consequences from this scandal. He won't go to jail. He won't pay any fines. In fact, by resigning from his indoctrination center/university, he received $10.5 million severance package. That's right, this wannabe theocrat who protested and condemned any sexual relation outside a 1950s sitcom is getting $10 million to step away from his job.
Even if you consider yourself religious and a bible-believing Christian, how is this justified? How does anyone justify being rewarded for resigning from their job because they engaged in the same sexual relations they so gleefully condemned? Seriously, what kind of mental gymnastics does someone have to do in order to say that's right on any level?
Now, if Falwell Jr. sincerely sought forgiveness, and I don't think for a nanosecond he will, he'd donate every penny to charity. There are plenty of charities, both religious and secular, who could do plenty of good with that money. It would be the most Christian thing you can do, given how much Jesus himself preached helping the poor.
However, there's no way Falwell Jr. will ever do something that virtuous. It's just not his style, nor was it his father's. He's going to keep preaching the same dogma, pretending he was "sick with sin" and now he's healed. He'll probably fight even harder to promote a repressive worldview that would see homosexuals murdered, promiscuity punished, and abortion outlawed.
If that weren't bad enough, the same people who made him resign will probably still embrace him. There will even be a large contingent of right-wing Christians who will eagerly overlook his transgressions because his name is so closely associated with their movement. He might not have the same authority he once did, but he'll keep fighting for the same repressive world that is so antithetical to American values.
On top of all of that, he'll do all of this while living comfortably and luxuriously on his $10.5 million nest egg. Keep that in mind if you have even a sliver of sympathy for the man. Jerry Falwell Jr. offers absolutely nothing of the sort. He's still a perverse manifestation of the kind of people who use religion to seek power, influence, and authority. He's just a hypocrite on top of all that.