I was going to make this part of my last post where I gave some tips and advice to the people behind the Women's March. I am serious about being on their side on most major issues. I want them to succeed in protesting the current regime in Washington DC. I think it's good for freedom and democracy when there's a healthy opposition to established power structures.
At the moment, though, I don't think their message is getting through. I also think their approach needs refinement. The tips I offered in my last post were fairly basic. This tip requires a bit more explanation because it applies a mix of caveman logic, sales techniques, and good old fashioned cunning. It's basically the same technique people use to sell time shares and get laid. If it works for that, then it works for politics as well.
I've even given this bit of advice a name, one that I hope is easy to remember. I call it "The Simpson Filter." It's not quite as original as "Caveman Logic" and not just because it deals with something that is heavily trademarked and protected by an army of Fox's lawyers. I promise there is a legitimate reason behind this label and I hope to make that reason abundantly clear by the end of this post.
So what exactly is the Simpson Filter? Well first off, in order to understand it, you need to know who the Simpsons are. If you've been near a TV it all in the past 30 years, that should be the easy part.
Most everybody on each side of the political spectrum knows who the Simpsons are. For the purposes of this tip, I'm going to focus on what they represent. By and large, the Simpsons are not the Waltons. They're not happy, wholesome, and functional. They're not the Bundy's either. There is a sense love, sincerity, and family. On the spectrum of cartoon families, the Simpsons are somewhere in the middle.
Why is this important? Well, despite being fictional and full of exaggerated dysfunction, the Simpsons perfectly embody the sentiment of the average American. In fact, the show itself even acknowledged this in Season 2, Episode 16, "Oh Brother, Where Art Thou?" where Homer's brother, Herb, wants him to design a car for the average American.
Yes, Homer Simpson fails miserably in that effort, but that only further highlights what makes him the perfect archetype for the average guy. He's not an expert in a given field. He's not smart enough to understand the complexities of big issues, be they social, political, or economic. Unless it involves beer and donuts, it's not going to be a priority for Homer Simpson.
The same applies to Marge Simpson, the more thoughtful and less obnoxious part of the family. Marge also embodies an important component of the average American in that she's focused primarily on keeping her family intact and semi-functional.
Given the various antics of her family, this is a herculean task, even on a good day. Her uncanny ability to manage her family often shows when she's not around. This is best shown in Season 3, Episode 14, "Homer Alone," in which Marge decides to go on a vacation and her family struggles mightily in her absence.
In that sense, Marge embodies the side of American society who struggle daily to keep their family intact and functioning for another day. It's not that big issues involving the economy, politics, or social issues don't interest her. It's that she doesn't have the time or resources to prioritize them. She can only focus on her more immediate concerns, namely preventing Homer from freaking out about the boogeyman.
Given this context, we can create the particulars of the "Simpson Filter." If we're going to use this fictional, animated, overtly dysfunctional family as a model, then any message we craft has to resonate with them. If it's too much for Homer and Marge Simpson to handle, then it's too much for most Americans.
For the Women's March, this is vital. They don't need to appeal to affluent, college-educated people living in cities and earning more than the median wage. They need to appeal to the vast swaths of less-affluent, less-educated people that occupy the non-urban parts of the country. In short, they need to cater their message to many Springfields of this Country and the Simpson families who live in them.
To appeal to them, it's not enough to just shout anger and outrage at major protests. It's not enough to hold large public lectures to inform these people either. Homer Simpson doesn't do lectures and Marge is too worried about her family to even show up at one.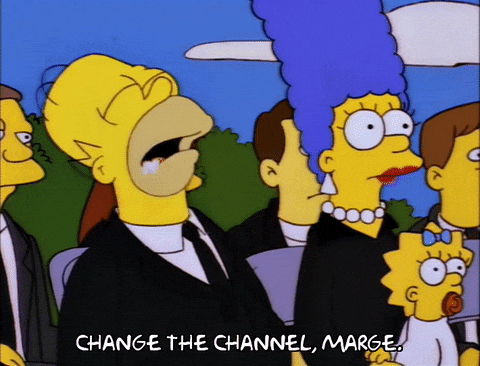 For any message to work on Homer or Marge Simpson, it can't just have hard facts about the harsh realities of the world. It's not enough to list, detail by detail, why the principles and policies they favor are worth supporting.
Homer Simpson doesn't care for details. Marge can only care so much, given her many other concerns. So for every message about every issue, the contents need to go through a filter to make sure they'll resonate. That filter includes the following provisions:
Get the attention of the Homer and Marge Simpsons of the world, but do it in a way that doesn't shame or denigrate them for not supporting the message in the first place

Don't assume that the Homer and Marge Simpsons of the world are racist, ignorant, or misogynistic and presume, by default, that they are decent people who just want to get by

Keep the message incredibly simple in that if it can't fit into a commercial between a football game, then Homer and Marge aren't going to care enough about it

Craft the message in a way that appeals to the feelings of Homer and Marge as appealing to emotions is the primary method of generating interest

Keep the facts secondary, but never let them be tertiary because in the long run, substance will help strengthen the emotions

Make sure the simple, emotional message inspires hope because Homer and Marge are more likely to support something that makes them feel hopeful

Link the more complex issues in your message with the simpler issues that affect Homer and Marge directly, ensuring they can associate these issues with their own lives

Avoid using language and rhetoric that Homer and Marge don't understand or makes them feel alienated from those you want them to support

The message shouldn't require that Homer and Marge change who they are, but it should make them want to be better
There are probably many more components to this filter that I haven't articulated yet. Like Caveman Logic, I hope to refine it in future posts. In following the events of the Women's March and the issues that will likely be more prominent over the next four years, the Simpson Filter will be a good way of revealing how successful or how flawed a message is.
At the end of the day, how right or valid your message is can only ever be secondary. If it fails to resonate or convince anyone, then it has as much impact as a history lecture by Ben Stein.
It's an unfortunate, but unavoidable aspect of the human species. It's not enough to be right or moral. You still have to communicate that message in a way that gets flawed, uninformed, and sometimes misguided humans on your side. If you can't get Homer and Marge Simpson on your side, then your message has no chance.