In recent years, it's become a popular past-time to hate millennials and anything associated with them. Browse any non-pornographic part of the web for more than five minutes and you're bound to find some angry anti-millennial rant about how their hashtags, safe spaces, and compulsive need to take selfies is ruining the planet.
I tend to roll my eyes at those articles, just as I tend to roll my eyes at any rant that bashes a particular generation. I've read enough random crap and talked to enough bitter old people to know that every generation bashes the other to some extent.
The World War II generation whined about all the hippie types in the Baby Boomer generation. Those same Baby Boomers whined about the brooding, selfish, cynical, I-don't-care-and-I-don't-need-anybody attitudes of Generation X. In many respects, the millennials are just next in line. It was bound to happen because it'll always happen, for as long as old people complain about young people.
Never mind the fact that the millennial generation is the most education generation of all time. Never mind the fact that the millennial generation is the most diverse generation of all time and are coming into a world with the lowest crime rates in modern history. Let's also not forget that, unlike any other generation before it, millennials are the first generation to have unlimited, near-universal access to information.
No matter what type of world the millennials inherit, or what sort of advantages they have, older generations will find a reason to complain about them. It's not so much that young people actively rebel against old people, as we see in one too many teen movies. It's more the fact that they're young and old people are older. I know that sounds inane, but that's usually the heart of the issue.
Young people don't have the same life experiences as old people. They can't understand their perspectives because they haven't lived them. Their world, and how they see it, is just so different and that frustrates older people because they can't relate to it. Some will try, but successes will be limited, at best. As such, every generation is going to seem strange, deviant, and/or frustrating to one another.
I've certainly experienced this myself, at times. I think everyone has to some degree. They're young, they talk to an older person, and that older person tells them all about how much better their generation was. They overcame so much more and did it without the aid of smartphones. Somehow, that makes them inherently better and then they wonder why young people tune them out.
In general, I try not to have those kinds of arguments because they're pointless. As someone who falls in age range of a millennial, I know there's nothing I can say or do to convince an older person that my generation is as good or better than theirs. That's not not an argument anyone can win. It's also pointless, in the grand scheme of things.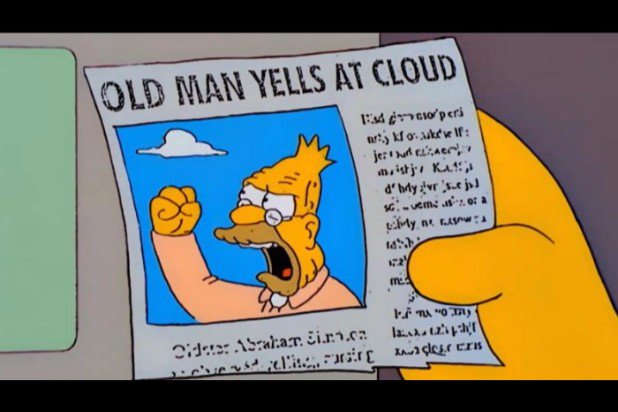 However, I do feel as though the millennial-bashing has gotten out of hand in recent years. It's not so much that older people are complaining about millennials constantly texting on their phones. It's more a matter of them conducting themselves in such a strange, erratic way that neither Baby Boomers or Generation X can make sense of.
Anyone who has worked with millennials knows this first-hand. This new crop of young adults are incessantly needy, easily offended, and overly emotional about trivial issues. They are the kinds of people that John Lennon, Kurt Cobain, and Madonna would've made fun of at every turn.
Now, I'm not going to try and dispel every myth and stereotype of the millennial crowd. Again, that's not an argument anyone can win. Since I am a millennial, though, and I've worked with many my age, I feel like I can offer some context to the general weirdness of my kind.
I have to warn you, though, that context has some dark undertones. Even other millennials don't always understand it. In a sense, there are some distressingly subversive forces that inspired many of those annoying stereotypes that other generations despise. Some of them have a basis in events that took place long before their time. Some have a basis in simple human nature.
Whatever the case, the mind of a millennial isn't all hash-tags and cat videos. It's actually governed by some pretty dark forces that older generations don't even try to understand. While I doubt this will earn millennials sympathy from Baby Boomers or the Generation X crowd, I hope it provides some critical insight.
With all that said, here are five dark secrets of the millennial generation. These aren't necessarily guarded secrets, but they are very much a factor in how they see the world. If you know or work with millennials, I sincerely hope this fosters a greater understanding.
---
Secret #1: We Are Paralyzed With Uncertainty
This is the first and most critical secret that every generation, including millennials themselves, need to acknowledge. It will help make sense of so many of the weird, annoying things they do, albeit for less-than-flattering reasons.
If you're wondering why uncertainty is such a big deal to us, then stop for a moment and think about how much or how little you knew about the world in your youth. Before the age of computers and smart phones, your world was small. Everything you knew and needed to know could fit in your street, your city block, or your farm. The only uncertainty you dealt with was what you would have for dinner.
For millennials, the world is much bigger and much more accessible. They are connected, plugged in, and in tuned with mind-bogglingly huge amounts of information, from news to personal insights. On top of that, and this is worth repeating, they are the most educated generation of all time.
While that's great for trivia games, it does have a major side-effect. As a result of so much education, millennials are basically walking examples of a Socratic Paradox. The more they know, the more they realize they don't know. It's a byproduct of learning more than what your limited brain can handle.
I've felt this first-hand. Just getting into something like superhero comics is daunting when you start to learn how vast and convoluted their history is. That's just comics, though. Apply this to the world, as a whole, and millennials are utterly paralyzed by knowing so much and realizing how much more they need to know.
That's why it's not uncommon to hear millennials constantly asking for clarification, certainty, or reassurance. They think they know, but they don't know for sure. With so much information, as well as growing trends in "alternative facts," it's almost impossible to be totally certain of all the information at a millennial's disposal.
Keep that in mind next time a young person is constantly checking their phone. It's not that they're detached or inconsiderate. They're just plagued by uncertainty of not knowing what's going on, what's happening with their friends, and how everyone is reacting to them. All that uncertainty kind of requires them to be plugged in all the time and it can be exceedingly stressful, among other things.
---
Secret #2: We Have (Extreme) Trust Issues
This feeds directly off the crippling uncertainty that millennials deal with. It's not just a by-product. It's an inescapable obstacle that comes with being educated, informed, and connected.
Millennials have serious trust issues. I'm not talking about the kind of paranoid, conspiracy theory, the-CIA-put-a-chip-in-my-brain type trust issues either. The extreme trust issues that millennials have is more subtle and, in many ways, a side-effect of trends that began in previous generations.
It was the Baby Boomers and Generation X that began rebelling against authority. They were the ones that started youth protests, giving the finger to authority, and brooding with unending cynicism. They helped exposed leaders and icons as hypocrites, crooks, and frauds.
They exposed multiple presidents as liars. They exposed celebrities as monsters. They exposed the corruption of once-cherished institutions. While all that might have been important with respect to pursuing justice, it also created a world where millennials cannot or are very reluctant to trust anyone.
Thanks to all the information at a millennial's disposal, they can find out that great figures of history were also racist slave-owners. They can find out that beloved scientists and inventors were bullies. They can find out that the celebrities they love are real assholes. In essence, they can't trust anyone to be true or genuine.
You want to know why superhero movies have become so huge with millennials? Well, that's because they have no real-life heroes anymore. They've all been destroyed or discredited. They're basically stuck with fictional heroes. That's all they have left.
Beyond a lack of heroes and leaders who aren't total frauds, millennials are so flooded with information that they have a hard time trusting the source. Everything seems biased. Everyone has an agenda. There's fake news everywhere and nobody seems to know what the hell is going on, which I've noted out before.
So when you're dealing with a millennial and they seem detached, that's part of the reason. It's also why they seem misinformed and misguided. They don't know what or who to trust because every generation before them has given them way too many reasons not to. Add unlimited access to abundant information, fake and real, and how can anyone expect them to trust anything?
---
Secret #3: We Are Drowning In Debt (That We Can't Escape)
This is one of those quirky issues that does get reported fairly regularly, but not everyone truly grasps the implications. It's an undeniable fact that millennials are the most indebted generation of all time. A lot of that has to do with the growth of student loan debt, which recently surpassed credit card debt. There are all sorts of factors that led to this growth, but I want to focus on the effects for this.
Now I've seen some Baby Boomers and Generation X people roll their eyes at this issue, claiming that young people are stupid for taking out so much debt, just to get a useless college degree in underwater basket weaving. When most millennials hear that, though, assume they're gritting their teeth to hold back their blinding rage.
That's because a huge consortium of parents, guidance counselors, and raunchy movies have glorified college as this important next step that ever young person needs to take after high school. If you don't take it, then something must be wrong with you. You must be stupid, lazy, or unambitious.
Since so many young people now feel inclined to go to college, that drives up demand. When anything is in that much demand, it gets more expensive. That's just basic economics.
As a result, millennials have no choice but to take out student loans to go to college, just like the older people said they should. Then, those same people give them crap for taking out so many loans in the first place.
Beyond the frustration, those debt loads can be downright debilitating. When I was in college, I had a friend who had around $120,000 in student loan debt. In years past, that wasn't a student loan. That was a goddamn mortgage. That means there are entire generations of people coming out of college who basically have to pay the price of a house without being able to live in it.
On top of that, millennials still get crap for having to live with their parents. They are in multiple no-win situations, both in terms of stigma and their overall futures. Unlike most other forms of debt, student loans cannot be discharged in bankruptcy. A millennial is stuck with it, no matter what they do.
If that weren't enough, and it's already too much, the job prospects for anyone without a college degree are abysmal. If you don't have a college degree, then your ability to get a job that keeps you out of poverty is very low. Sure, you can point out that Steve Jobs and Bill Gates didn't go to college all you want, but they never had to pay off a goddamn mortgage before they were 25.
---
Secret #4: We Have No Margin For Error (Or Offense)
A lot has been made about how easily offended millennials are. That's how the term, snowflake, actually became an insult. Now, I don't deny that young people take political correctness way too far. I've even talked about it a few times on my blog. However, like most things, there is a context and it's kind of dark.
A big part of the millennial desire to not offend anybody comes from the self-esteem movement that began before they left the womb. An entire generation has been conditioned to have a bloated sense of confidence in a world where they can't trust anyone, are constantly uncertain about everything, and have huge debts to pay. Naturally, that's going to cause some inner conflict.
It's not just that millennials hate bullies, racists, sexists, and bigots. For one, millennials are a far more diverse cohort than their predecessors, thanks largely to the efforts of previous generations. They have to be a bit more sensitive and understanding to others who are different because there are so many different perspectives to consider now. Millennials have to temper their sensibilities in order to get along.
Beyond that, and this is where it gets dark, the consequences of screwing up are enormous. Entire lives have been ruined by one off-hand tweet. A single off-hand comment has ruined reputations. In a generation that's plugged in and connected all the time, nothing you say or do goes without scrutiny. You can't have any private sentiments. If you do and they're somewhat problematic, then you're in trouble.
It's another reason why millennials are so obsessed with their online life and how people perceive them. They live in a world where one text, one tweet, or one offensive image that they shared on social media can destroy their reputation, their friends, and their livelihood.
People get fired for offending others. Peoples' lives are ruined, both financially and socially. When you're young and you have a massive amount of student debt to pay off, you have to walk on egg-shells every day because if you mess up, there's little recourse. Once something happens and it's documented on the internet, it's there forever.
Millennials didn't create the world that made such hypersensitivity necessary. They also didn't create the technology that they obsess over either. They were just born into a perfect storm, of sorts. If they dare rock the boat in any direction, then they're tossed overboard without a life preserver.
Remember this next time a millennial obsesses over offending or not offending someone. It's not just out of hypersensitivity. It's basic survival. Older generations who have already carved a place for themselves can afford to be offended, literally in some cases. Millennials don't have that luxury.
---
Secret #5: We (Have To) Rely On Our Passion
With every new generation comes new circumstances and with those circumstances comes a need to adapt. The Baby Boomers had to adapt to the generation that won Wolrd War II. Generation X had to adapt to the generation that protested Vietnam. The way they adapted shaped a great deal of their culture and identity. With millennials, it's no different.
With the other secrets, I've described a pretty rough set of circumstances for millennials to adapt to. They're uncertain, can't trust anyone, drowning in debt, and living in constant terror of offending someone in a way that will ruin their lives. How can anyone adapt to that?
Well, human beings are nothing if not adaptable. It's one of our most defining traits. With millennials, the options are limited, but they've made the most of them by becoming a very impassioned, very vocal generation. Whereas the Baby Boomers had their rebellious streak and Generation X had their cynicism, millennials have their passions to guide them.
By that, I mean the millennial crowd will put a lot of passion into whatever they do, be it protesting pronouns or posting videos of their cat. Due to debt, uncertainty, and trust issues, there are a lot of boxes they need to check before they commit to something. That's part of why millennials aren't getting married and why they're having less sex. They can't afford to be too casual, literally in some cases. There needs to be passion.
That's why millennials will make a big deal about making whatever job or hobby they enjoy having some sort of passionate undertone. It's how they can fill the many gaps left by so much uncertainty and such limited trust. It's also how they can justify working a job that they know probably won't help them pay off that massive debt they have. Without that passion, why would they bother?
The most tragic part of that element is that having such passion is really the only option millennials have in some cases. It's a big part of why they'll make such a big deal about certain issues that seem trivial to older generations. The older crowd has options. Millennials don't.
Having passion, and a lot of it, is a big part of how they drive themselves. Sure, they can get annoying about it. I've lost track of how many overly passionate arguments about Wonder Woman's costume I've heard on comic book message boards. When that's all you really have, though, then that's what'll drive you.
---
While I doubt this will make millennials seem less annoying to older generations, I hope it provides some insight into what makes this generation tick. I don't claim for a second that these insights are definitive. Millennials, like every generation that came before it, are a diverse group of people full of many variations, some more annoying than others.
However, this is their situation. This is how the world is shaping them. It's a never-ending struggle, one that's sure to plague the next generation just as much. I'm sure millennials will find an entirely different set of excuses to whine about that generation. I don't doubt those excuses will be every bit as petty. I just hope I can sell enough of my novels by then to not care.