Lock your doors, hide your children, and pray with the force of a million pious nuns because it's happening. It's out there and it's probably going on as you're reading this. There's a vast network of Satanic cults who have infiltrated schools, child day care centers, and major media outlets. They're coming for you, they're coming for your kids, and they're determined to corrupt every soul they can.
I hope everyone who just read that laugh paragraph is either laughing or confused. It was not meant to be serious. The fact that I actually have to clarify that for a certain segment of people who may take it seriously says a lot about the human condition. It also reveals even more, albeit in a way that's hardly flattering to our species.
When one person has crazy, irrational fears, we can easily shrug them off and move on with our lives. When a large group of people have those fears, though, it's a bit harder to ignore, especially when it becomes a full-fledged panic that spurs outrage, ruins lives, and wastes resources.
This is exactly what happened in the 1980s during the so-called Satanic Panic. It may sound like the name of a bad heavy metal band or one of those funny church signs, but make no mistake. It was no laughing matter. There was a real, genuine fear among people that there was a conspiracy of Satanists looking to abuse, exploit, and corrupt children.
It got so serious that major news outlets, the FBI, and even Oprah Winfrey began reporting on it. They included disturbing recollections of adults taking children into dark rooms, dressing up in Satanic attire, and subjecting them to unspeakable abuse that often included sex acts. It got pretty horrifying, which is part of why it got so much attention. This is just a small sample of what some kids recalled.
In hours of footage, they talked about how the devil-worshipers preyed on the wealthy community, holding pedophilic orgies and murdering innocent people. They said the Satanists abused and tortured babies, slitting their throats, drinking their blood and dancing while wearing their skulls.
It all sounds too horrible to imagine. The descriptions are objectively horrifying. There's just one key detail that undercuts that horror. There's no verifiable evidence that any of it happened. There's only evidence that the lives of innocent adults were irreparably ruined.
It's amazing to think that something so irrational had terrified and overwhelmed sane, rational people in a civilized society. Actually, that might have been amazing to contemplate five years ago. I think it's distressingly easy to imagine something like that happening in an era where false accusations can become a viral media spectacle.
Most people may roll their eyes at the notion that history tends to repeat itself from those who don't heed it's lessons. Historically speaking, though, those lessons keep popping up in new forms in conjunction with new panics. One day, it's a conspiracy of Satanists. The next, it's a conspiracy of Bronies. In each case, a similar pattern emerges. History may not entirely repeat itself, but it sure follows a similar script.
The catalyst for Satanic Ritual Abuse panic was similar to what triggers most panics. One particular story, which may or may not be true, captures the public's imagination and terrifies parents to no end. The story, in this case, was called "Michelle Remembers" by Lawrence Pazder. This was to Satanic Ritual Abuse what Harvey Weinstein and GamerGate was to the ongoing panic over sexual misconduct.
The book itself is a disturbing story disguised as a real documentation about a psychiatrist uncovering repressed memories from a woman who had been abused by a Satanic cult. Almost immediately after publication, the legitimacy of the story came into question and Pazder got sued for libel. That didn't matter, though. The story went onto become very popular and was actually taken seriously.
This culminated in the infamous McMartin Preschool Trial where, after seven years and millions of dollars in legal fees, those accused were found innocent. That didn't matter in the end. The media coverage, combined with public fears, made them Satan-loving monsters by default. Needless to say, their lives were ruined.
As I said before, and it's worth belaboring, there was no hard evidence that any of these crazy Satanic rituals ever took place. The allegations were pretty elaborate, but the problem from a truth perspective was that they were based primarily on the testimony of young children. That's a huge problem beyond the fact that most anecdotal evidence, even from competent adults, is unreliable and rarely admissible in a trial.
The testimony of those children was gained largely through something called recovered-memory therapy. It's not as intensive as it sounds. Therapists just ask impressionable kids leading questions and get them to tell say whatever they want while claiming it's a real memory.
That proved to be an effective/dangerous tool in provoking the emotions of the masses. It's one thing when an adult makes a claim that sounds extreme, but when a child says it who may have been horribly abused, that nurturing instinct that most decent human beings have goes into overdrive. It doesn't matter if there's no evidence. The mere possibility that it could be true convinces us.
Even after more thorough investigations revealed far more mundane truths, there was still plenty of panic. There was even an organization called Believe The Children that advocated accepting their testimony, even if it couldn't be verified and meant ruining innocent lives.
This is where some of the distressing similarities to the ongoing crusade against sexual misconduct start to manifest. Now, right of the back, I want to make clear that I am not claiming that the movement to combat sexual harassment is as vacuous as the movement against Satanic Ritual Abuse. I really want to make that clear. However, the parallels are worth noting.
Yes, there have been cases of real, verified assault that have been proven in a court of law. There have also been cases where a false accusation put an innocent person in prison. Just like those urging that people believe the horrific stories told by the children, though, there are those who urge that we place a similar belief in anyone who accuses someone of a sex crime.
There's a reason why we have a justice system. There's also a reason why the standard of proof for a serious crime is so high. There are some who don't like applying that standard to sexual misconduct, but there's a reason for that. In a civilized society, we understand that punishing innocent people can be much more damaging than letting a guilty person go.
I know that doesn't sit well with certain people. One person getting away with a sex crime is one too much, especially for those who have been victimized. However, and I know this is going to strike the wrong chords, but that's the price we all pay for having a functional justice system.
It's not perfect because humans aren't perfect. Trying to make it perfect, though, at the cost of innocent lives is a price that undermines the very concept of justice. The Satanic Ritual Abuse craze in the 1980s ruined innocent lives. Their suffering is a crime in and of itself.
In a sense, the unjust suffering of an innocent is twice the injustice of a guilty person getting acquitted because it inflicts unjust guilt on someone and forces them to carry that burden beyond the accusation. That is why presumption of innocence is so important in any justice system.
The ongoing efforts to combat sexual misconduct has noble goals. Even the panic around Satanic Ritual Abuse had noble goals in wanting to protect children. Most decent people are on the same page with those goals. However, when outrage, anecdotes, and hyperbole are the primary tactics, it leaves little room for actual substance.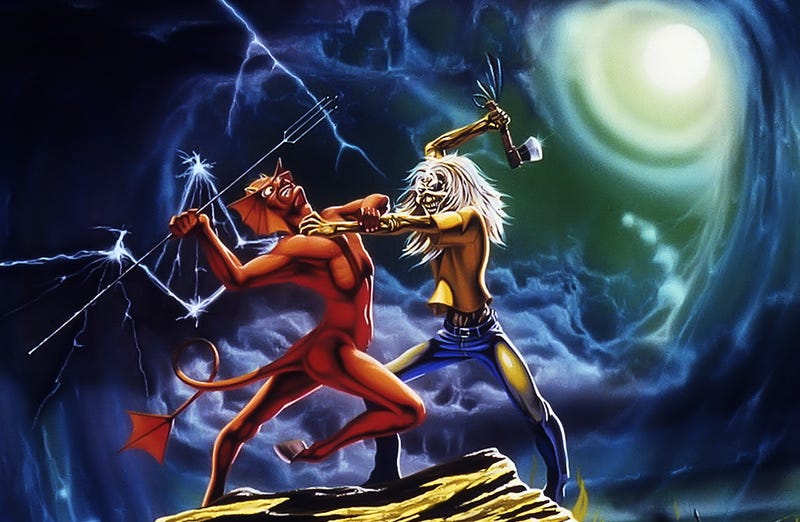 That substance matters because, in terms of the bigger picture, violence against women has gone down significantly over the past 20 years. Women today are far safer and less likely to be victimized than they've been in decades past. I know that's not much comfort to those who have been victimized, but one burning tree doesn't need to start a forest fire.
In the end, the Satanic Ritual Abuse panic created a pretty scary environment for parents and children, so much so that little things like facts, truth, and justice got lost within the horror. Those little things matter even more with real crimes like sexual assault. If there's one lesson we should learn from the Satanic panic of the 1980s, it's that terrible stories can lead to terrible injustices if the truth gets overlooked.
In the interest of ending this on a lighter note, check out this old video from the Satanic Panic and enjoy a good laugh. Yes, they really took it that seriously.