Last year, I wrote a couple of posts about the mentality of Millennials and the possible quirks they may inspire in Generation Z, which are just starting to emerge. While I'm neither the spokesperson for Millennials, nor am I an expert on the generation they're creating. Being a Millennial myself, though, I like to think I have more insight than most. I've watched their story play out and I've even lived part of it.
However, this particular topic isn't about Millennials. This is about the emerging generation after them, Generation Z. While Millennials are still subject to any number of trends and criticisms, Generation Z hasn't had much time to establish themselves or have a defining moment. That may be changing in wake of the Parkland shooting.
To understand why, it's important to provide a bit of context about Generation Z. First and foremost, we need to identify just who they are, relative to Millennials, Generation X, and the Baby Boomers. While there's no official cut-off point, most reputable sources identify anyone born after the year 2000 as members of Generation Z.
Those who lived through the Parkland shooting are mostly in their mid-to-late teens so they fit into this category. That matters a great deal because it's happening at a point where Generation Z is on the cusp of adulthood. To understand why that matters, it's important to note the context of this generation.
These kids, and they are still kids for the most part, were born into a world where they didn't witness the horrors of Columbine or the experience the collective trauma of the September 11th attacks. Generation Z has always lived in a world where school shootings are a thing and the War on Terror has always been ongoing.
Beyond that, they're also a generation that has been even more well-connected than their Millennial predecessors. Most never had to endure the hardships of dial-up internet or cell phones that did not have a camera. Their entire lives have been connected, so to speak. That's part of what has fueled their reaction to the Parkland shooting.
The kids in Generation Z have been watching all their lives as horrible mass shootings from Virginia Tech, Sandy Hook, and Las Vegas happen with distressing regularity. At the same time, they've watched as efforts by Millennials, Generation X, and the Baby Boomers amount to very little change. The fact that the internet and social media documents all these failures leaves quite an impression.
Being young, idealistic, and not totally jaded, the members of Generation Z are finally at an age where they have a chance to make an effort of their own. They're still not old enough to drink or vote in many instances, but they're now in a position to make their voices heard. That was the idea behind the March For Our Lives that occurred last week.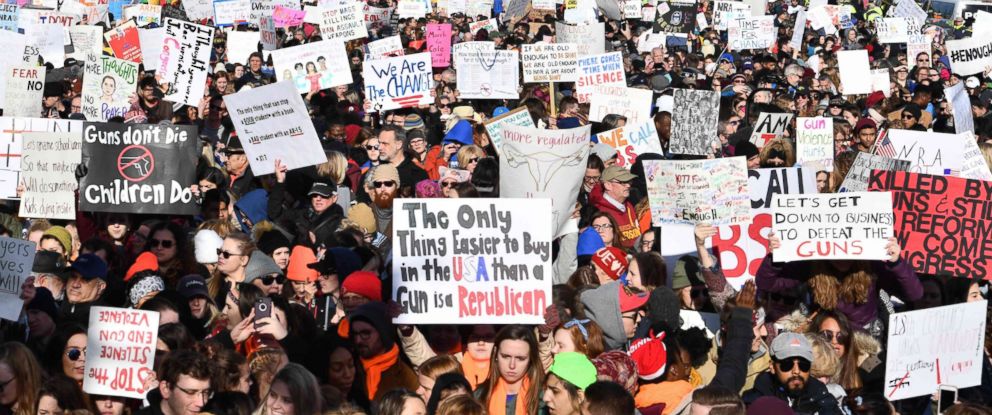 It marks a potentially defining moment for Generation Z, one that may have far-reaching consequences for years to come. They've seen how many have tried and failed to use the horrors of mass shootings to promote gun control reforms. They're also informed and educated enough to know how egregious the gun violence disparity is in the United States compared to other developed countries.
While I applaud the passion of these remarkable young people, I also worry that this event may become a turning point, of sorts. By that, I mean these noble and sincere efforts of these kids could be the catalyst that instills a sense of nihilism that may very well define their generation.
This is something I speculated on when I made my predictions on the collective mindset of Generation Z last year, going so far as to identify Rick Sanchez from "Rick And Morty" as their first icon. I stated that Generation Z would likely be the most nihilistic generation of all time. Now, the success or failure of the March For Our Lives could be the turning point that cements that nihilism within Generation Z.
As I said before, it won't be the same kind of nihilism we associate with the Friedrich Nietzsches of the world. It's the kind of nihilism that is the byproduct of being surrounded by so much information and seeing how little it truly matters in the long run.
Like Millennials, Generation Z is very educated. They've grown up in a world where they have access to nearly all the world's relevant information through their smartphones. They're smart enough and tech-savvy enough to see world events unfolding before their eyes. They're also informed enough to know how hard it is for any event to make for meaningful change.
Now, here they are, having experienced one of their first traumas as an up-and-coming generation. They've seen all those terrible mass shootings inspire nothing but empty thoughts and prayers. They feel inspired enough and bold enough to make an effort, hoping they'll succeed where so many others have failed.
While many are rooting for them, the odds are stacked against them. Even major news outlets are starting to spoil the outcome, applauding the kids while brushing off their ideals as youthful day-dreaming. I don't think they realize just what kind of impression they'll have on their generation as a whole.
Let's say, for a moment, that the most likely scenario happens and the March For Our Lives leads to no meaningful change in gun control laws or in efforts to curb mass shootings. What kind of message does that send to the survivors of Parkland and the entire generation emerging behind it?
Firstly, it establishes that their lives, their pain, and their ideals don't matter. It doesn't matter how passionate they are. It doesn't matter how traumatized they are. What they went through and how they reacted in response doesn't matter. In such a crowded, diverse, and complicated world, their lives are trivial.
That's almost a textbook definition of existential nihilism. Their hopes, their dreams, and their very place in the universe is insignificant. It wouldn't have mattered if ten times more kids died at Parkland. It still wouldn't have changed anything. There would still be no gun control. There would still be more mass shootings. All that time, effort, energy, and pain amounted to nothing.
In previous generations, it was almost beneficial to live in a world that wasn't so connected. They could see horrible events on the news, but find a way to compartmentalize it in their minds so they could go on with their lives. With Generation Z, being so connected and informed, that's just not feasible anymore.
They don't just see that their efforts at Parkland were meaningless. They also see how many other mass shootings have occurred throughout history and how utterly inane such violence is in the grand scheme of things. In a sense, their ability to connect and inform themselves could render them numb to any greater sense of purpose.
That's not to say that the kids behind March For Our Lives or the whole of Generation Z will be a bunch of dispassionate, misanthropic naysayers who are so emotionally flat that they don't respond to stories of human suffering anymore. It just means that they'll be a lot more calculated with their perspective.
Keep in mind, a world of regular school shootings and a never-ending war on terrorism is not some major upheaval to Generation Z. That's their concept of normal. They've always lived in a world where terror attacks can happen at any time, when mass shootings can happen just as frequently, and no meaningful change ever comes of it.
For them, all the yelling, protesting, and outrage that generations of the past have voiced will just seem like background noise. If all the suffering and trauma led to nothing, then why should they bother? That may very well be a question that the Parkland survivors start asking themselves after the March For Our Lives accomplishes nothing.
Now, that's not to say Generation Z won't react differently. That's not even to say that the March For Our Lives won't accomplish something meaningful in the end. It's impossible to predict major trends that go onto define an entire generation, but it's still possible to note the vulnerabilities.
For Generation Z, nihilism might end up being less a reaction and more a necessity. They're coming into a world where all the news is fake, facts battle alternative facts, and dead kids only evoke empty thoughts and prayers. Once this fact settles in, it'll be interesting to see how they seek to define themselves moving forward.
Being the optimist I am, I believe that the kind of nihilism that Generation Z embraces could help inoculate them from some of the detrimental effects of identity politics, fake news, and outrage culture. I think that's critical, given how these forces have corrupted debates and empowered professional trolls.
In any case, Generation Z faces an uphill battle in an effort to set themselves apart from their Millennial peers. A greater sense of nihilism may make them difficult to deal, but that's exactly what will help define them as they seek purpose within a seemingly purposeless world.