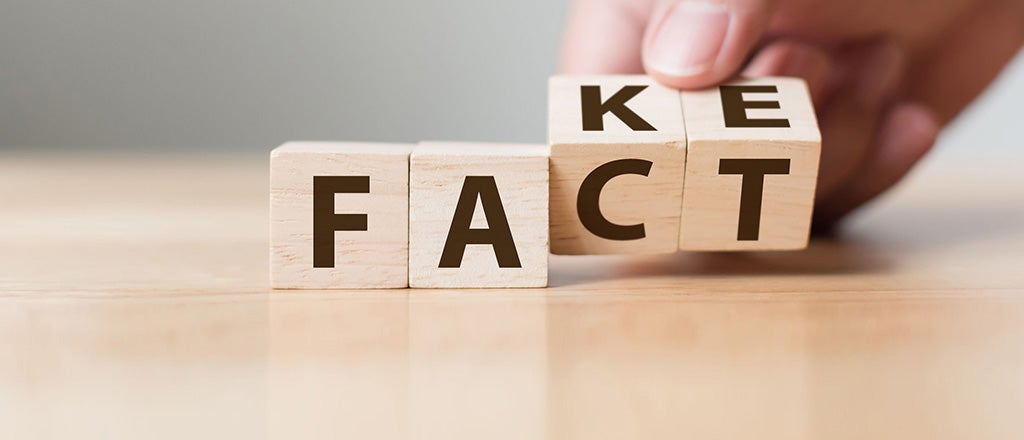 Being informed is important. In some cases, it is literally a matter of life and death. That's a big reason why I've made multiple posts urging people to get vaccinated against COVID-19. It could literally save your life. It's also free, by the way. How many other things that could save your life are also free?
Seriously, people, get vaccinated. I'll belabor that as much as I have to.
However, this isn't only about vaccines or the idiots who refuse to get them. It's about the "information" that these people are using to justify their choices. I put "information" in quotes because calling some of this stuff information is a poor use of the term.
Information, by definition, is supposed to inform. It's supposed to make you more aware and educated about the world around you. Lies, propaganda, and misinformation do none of that. That sort of thing makes you dumber, more vulnerable, and more easy to manipulate by those willing to do so.
It happens in politics, religion, pop culture, business, and even shady marketing schemes. Much of these endeavors don't have facts, truth, or verifiable information on their side. As a result, they require that people buy into whatever misinformation they feed them. It's dishonest, disgraceful, and should be condemned to the utmost.
The problem is that people still buy into it.
Moreover, some people actively seek for this kind of information.
This is something I think many people have experience with, either directly or indirectly. I also suspect it has become a lot more relevant lately, given the rise of anti-vaxxers and conspiracy theories. This sort of mentality was always present. The problem is that the internet and social media have made it disturbingly easy to spread.
Now, it's easy and tempting to blame big tech companies for this phenomenon. Make no mistake. Big tech companies are certainly at fault to some degree. Many of these same companies also have done some incredibly shady things, to say the least.
However, I'm still of the opinion that, no matter how disreputable big tech companies can be, it still ultimately falls on the users to control what information they seek. Whether it's Google, Facebook, or TikTok, these systems don't operate in a vacuum. They simply respond to user input. We are, to some extent, responsible for the information we seek.
I'm certainly guilty of seeking out information that isn't exactly reputable. There have been times, including a few very recent instances, where I find myself seeking information that turned out to be less than truthful. Even if it was for something as innocent as comic book news or NFL trade rumors, it's still misinformation as best and outright lies at worst.
That may not do much harm if the information you're seeking is only damaging to your Fantasy Football team, but if that information involved politics or your health, then that's where the real damage can occur. I've already seen it manifest with friends who fell down some very dark internet rabbit holes. Some of that might have just been by accident, but I also don't doubt it was intentional in some cases.
In recent years, I've tried to make a more concerted effort to seek accurate, truthful information. I haven't always succeeded, but I genuinely try to find true and accurate information, even if it's something I don't like. The fact it takes so much effort has me worried.
On top of that, it has led me to believe that it might not be possible to avoid misinformation. Even without the internet, it will find you. Propaganda and lies did exist before the digital age. It'll likely always exist to some extent, so long as human brains are wired a certain way. Since we can't change that anytime soon, despite the best efforts of Elon Musk, we're likely stuck with misinformation.
This has me genuinely concerned because, even as some tech companies are making greater efforts to combat misinformation, it's still relatively easy to find. On top of that, there are people out there working for nefarious organizations who are actively engaged in creating, spreading, and supplementing misinformation. Even if you shut them all down tomorrow, others will just spring up to replace them.
In some respects, it's a lot like the war on drugs. You could arrest every single drug dealer in the world this morning, but by dusk a bunch of new dealers will emerge to take their place. Like it or not, there's still a demand and there's money, influence, and power to be gained.
Misinformation may not be the same as heroin or pot, but is subject to the same incentives. People actively seek it. Taking it in makes them feel special, important, and smarter than their neighbor. Today, it's misinformation about vaccines, liberals, and gaming culture. Tomorrow, it might be about something else entirely.
It all comes back to how we're wired. Our brains are not designed to seek truth or accurate information. They're designed to keep us alive. Misinformation might be damaging in the long run, but it can make us feel better in the short-term, which is sadly more than enough incentive for some, even if it proves deadly in the long run.
I seriously wish I could end this on an uplifting note. I genuinely tried to find some way of putting a positive spin on this struggle. Unfortunately, the best I could come up with is to simply urge everyone to try harder to seek true and accurate information. If these past two years have taught us anything, it's that bad information can cause a lot of harm.
We can never get rid of it, so long as our brains operate as they do.
We can and should still do our part. Truth and accuracy matters. You may not like it, but it may very well save your life in the long run.