It's that time of year again. That's right. It's Valentine's Day. To some, it's a day where you can get away with being a little extra romantic with your lover. To others, it's a conspiracy by Hallmark to sell more greeting cards. To people like me, namely those who are single and alone, it's sometimes a harsh reminder that loneliness sucks and we all yearn to be loved.
I've talked a bit about my struggles as a single guy whose single status seems to get more taboo with age. I've also shared some difficult personal experiences that highlight why Valentine's Day has been my least favorite holiday over the years. For someone who claims to be such a big fan of romance, I imagine it sends mixed messages.
I still consider myself a fan of love, intimacy, and everything else Valentine's Day stands for. I gladly cheer those who have someone special to spend this day with. It's just tough when you're stuck spending this couples-friendly holiday by yourself. Most people who know me tend to understand I'm a little jaded this time of year.
However, there have been times when I've had a genuinely good Valentine's Day while still being single. One of those times actually happened last year. I didn't share it because I didn't know whether it was worth sharing. Now, as I've come to appreciate that day more and more, I feel like this is something I should put out there on a day like this.
Around this time last year, I was planning to spend much of my Valentine's Day alone again, either writing sexy novels, reading comics, or just doing whatever it took to distract myself. I had gotten so used to spending this romantic holiday that I was kind of resigned to my fate.
Then, I went out to get the mail and got a letter. It wasn't a bill, a coupon, or an ad. It was a letter from my mother. Curious, since she usually texts or emails me when she wants to talk, I opened the letter and found this card inside.
I'm not going to lie. I had the biggest, goofiest grin I've ever had outside of a comic book store or a donut shop when I saw it. My mother had actually gone to the effort of finding me a card, stuffing it in a regular envelope, and sending it to me, postage cost and all. It would've been easier to just send a few texts with some funny gifs, but my mother is someone who goes the extra mile.
In addition to the card, there was a note on the back. Since it's somewhat personal, I won't recite it word for word. That's between me and my mother. What she wrote, though, really made my day and warmed my heart. She reminded me that, even when you're alone on Valentine's Day, you can still feel loved.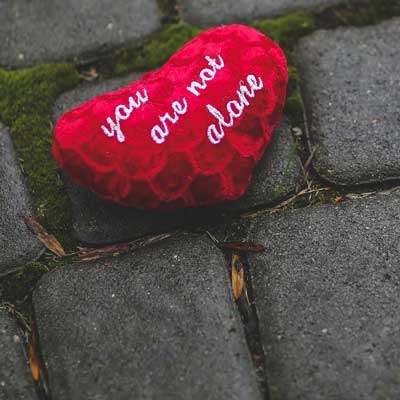 I needed that reminder. I needed it more than I cared to admit. Once again, though, my mother proved that she knows me better than I know myself sometimes. She understands why I've struggled to find love and how hard I've worked to overcome those struggles. She and the rest of my family have helped me every step of the way. Most importantly, though, she always made sure I felt loved.
I still have this card. It's one of those special little mementos that I can turn to whenever I'm feeling miserable, restless, or unloved. On a day like this, though, it carries an even greater meaning. It's a meaning that helps make Valentine's Day feel special, even when you're single like me.
Now, I know I'm exceedingly bias in this sentiment, but I don't care. I'll say it anyways.
MY MOM IS THE ABSOLUTE BEST!
Yes, I used all caps. Yes, I'm shouting that as loud as my computer will allow me. No, I don't care if you disagree or think that's childish. It's a sentiment worth sharing on Valentine's Day and I gladly share it with everyone, single or otherwise.
Also, I know my mother is a regular reader of this blog. Even though it sometimes discusses sexy and exceedingly unsexy issues, she supports me in everything I do and encourages me every step of the way.
With that in mind, I'd like to thank my wonderful mom for making Valentine's Day great for me again. Mom, I know you'll probably read this at some point, but I mean it. You're the best! Thank you for being the best Valentine that a single guy like me can hope for.