Trying to make sense of politics is like trying to understand quantum mechanics while stoned. The process of governing humanity has always been tricky. Ever since we exchanged our basic hunter/gatherer ways for a more formal system of order, the process has only become more difficult over time. You don't have to look far to see the complexities and the overall absurdities of politics.
I've tried to talk about politics before, albeit with a limited focus on hot-button issues. I never claim to be an expert or an authority on the matter. I'm an aspiring erotica/romance writer. My understanding of politics is as limited as most people who don't live, work, and breath these issues. Despite those limitations, I still want to make an effort to talk politics in a novel way.
As it just so happens, I've come up with just such a way and it involves X-Men comics. Considering how much I've written about X-Men and superhero comics in general, this should surprise no one.
More specifically, I want to take the events that have been unfolding in the X-Men comics for the past two years and use it to make sense of the current state politics. I also want to use it to speculate a bit on where these politics might lead us. Again, I am not even close to an expert, but I do believe that art and media have an uncanny way of shining a light on the real world and there are few narratives more uncanny than the X-Men.
The current state of politics, especially in the United States and Western Europe, has been dominated by polarization. More and more, citizens are becoming more tribal. On top of that, people are becoming more divided. That's not just an anecdote, either. According to Pew Research, the public has become more ideologically split over the past 20 years and it's only getting worse.
Rather than try to make sense of these decade-long trends, I want to apply it to the politics in the X-Men comics. More than any other superhero comic or franchise, politics are a major driving force for the X-Men, more so than killer robots. Co-creator, Stan Lee, stated that the inspiration for the X-Men was drawn from the ongoing Civil Rights movement that was in full swing in the early 1960s.
Over the years, this idea of mutants being an oppressed minority who were hated and feared for being different has been the driving force behind the X-Men's story. It is also a big part of what helped them gain such a wide appeal. Some of the X-Men's most iconic stories come from conflicts inspired by the hate and fear that ordinary humans feel towards mutants.
In the real world, hatred and fear are powerful forces that don't need killer robots to cause upheaval. Hatred and fear is at the heart of debates surrounding migrants and immigrants. That same hatred and fear is at the heart of the political polarization.
Liberals hate and fear conservatives because they think they want to turn the world into one big plantation ruled by rich, wealthy slave-owners.
Conservatives hate and fear liberals because they think they want to abandon their heritage, punish people for the sins of their ancestors, and micromanage their lives.
In the world of X-Men, humans hate and fear mutants because they think they're too dangerous, unpredictable, and uncontrollable. On top of that, if they truly are a new species, then that means their survival means humanity's extinction.
The parallels aren't perfect, but they are there. Mutants aren't just a metaphor for any minority who has been oppressed, segregated, and denigrated. They represent just how divided two groups can be. Constant conflict ensures that hatred and fear will fester. However, it's the events of House of X and Powers of X that the entire concept of X-Men has gained greater political relevance.
In case you haven't been following superhero comics, the details of these events are many, but the theme is relatively simple. After years of fighting, running, surviving, and being marginalized because of movie rights, the entire mutant race has decided to reorganize themselves into a new society.
This isn't some exclusive club or superhero team. With help from Charles Xavier and the powerful foresight provided by Moira MacTaggart, the mutants of the Marvel Universe have united within a new homeland, which happens to be a living island. They also have their own mysterious language that only they understand. They are essentially establishing themselves as a new political entity.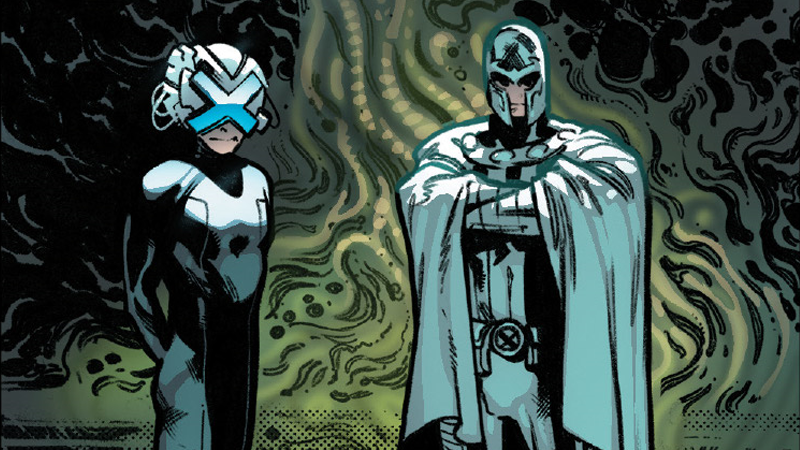 In the scope of the X-Men's 50-plus year history, the idea isn't new. There have been multiple efforts over the years to give mutants a homeland. One was called Genosha. One was called Utopia. Both enjoyed some measure of short-term success, but both ended up destroyed or abandoned. The reasons for this aren't important. What sets them apart from Krakoa is the scale.
To understand it in a real-world context, think of Genosha and Utopia as enclaves within a community. They're akin to neighborhoods in America or Europe that are predominantly populated by a particular ethnic group or religion. Many are quite successful in their own right. Others have become the sites of atrocities and tragedies.
What the mutants are doing with Krakoa in the comics is something bigger than an enclave. They're not just seeking to be recognized as a full-fledged country, either. Charles Xavier, the X-Men, and every other mutant is building Krakoa to be a society that can function with or without humanity. It's not land borrowed from humans. It's land that's theirs and theirs alone.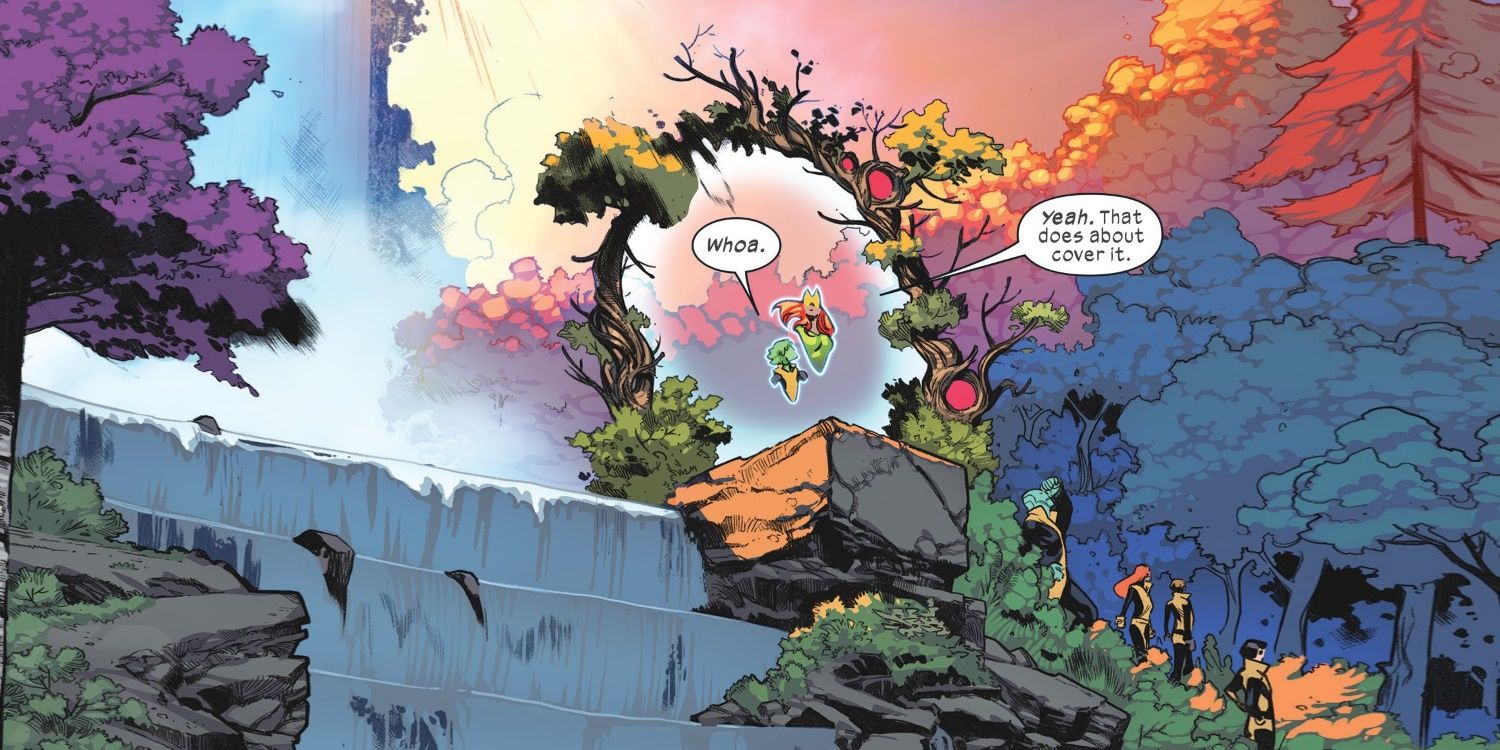 That's not to say Krakoa operates in isolation, as Wakanda once did. They actually seek to maintain diplomatic relations with the world. They even have valuable resources with which to trade. They don't have to make these kinds of deals, but under Charles Xavier, they do anyway. It culminates in "House of X #5," in which Krakoa gains formal recognition by the UN.
This is where the politics of the X-Men comics add some necessary nuance to what we're seeing in the real world. When people feel marginalized, they tend to feel unwelcome. Even if you are legally an American, a German, an Italian, or a Wakandan, being hated and feared by a large segment of the country makes you feel like you don't belong.
Between divided polls and America's colorful electoral map, it's not hard for anyone to feel out of place. The added polarization provided by the internet, social media, and cable news only adds to the divisions and the animosity. As a result, people naturally retreat into groups and tribes where they feel welcome. Whether it's a political group, a religious group, or an identity, they seek some form of sanctuary.
In doing so, these groups essentially create their own little world within their community. It's a world that might as well be a separate reality from what others see. It's how different people can see the same facts, but have wildly different interpretations. Their brains are still working and the facts are still facts. It's how they apply them to their world that's different.
Each group feels they don't belong. They may even feel victimized. It doesn't matter if the group happens to make up the vast majority of the population. They still feel like they're the ones under attack, not unlike the X-Men when they constantly confront fearful, hate-filled humans. They act as though they need to carve their own place in the world and defend it at all costs.
This is where House of X and Powers of X can provide some possible insights into the future of politics. To some extent, Krakoa is a natural byproduct of mutants being hunted, attacked, and denigrated at every turn. They tried isolating themselves on islands. They tried living among humans, sometimes in their most populated cities. Now, they're trying something bigger.
It's not exactly peaceful and not everyone understands it, which seems antithetical to Charles Xavier's dream. However, it's pragmatic in a very political sense. They have a homeland that they can control. They have barriers for entering and exiting that homeland. Nobody who isn't authorized can enter it. It's basically the ultimate immigration control.
On top of that, it has valuable resources that the rest of the world wants. The mutants of Krakoa are willing to share them, but only if they respect their new homeland and treat it like a legitimate country with its own culture, laws, and norms. In a world where people constantly attack others for not respecting their culture or norms, it feels like the ultimate endgame of sorts.
Those who want their culture and way of life preserved will only have more incentive to become more organized. If they keep feeling hatred and fear, they may look for ways to simply function without those they feel don't belong. People won't just become more ideologically divided. They may end up more divided in a very literal sense.
It's the ultimate manifestation of our natural tribal instincts. We seek to join, maintain, and protect our tribe from others, be they real or imagined. It doesn't matter if there are objective facts that show our tribe is somehow wrong or misguided. We still feel inclined to protect it at all cost.
This era of X-Men comics has been exciting. Writer, Jonathan Hickman, has turned the X-Men from just another superhero team into a blossoming community with its own culture, identity, and borders. As an X-Men fan, I've been enjoying it a great deal. As someone in the real world who can't always avoid politics, it leaves me worried about just how divided we'll ultimately become.