What would happen if we went back in time and gave the Genghis Khan nuclear weapons?
What  would happen if we went back even further and gave machine guns to the Ancient Romans?
Let's be even more subtle. What do you think would happen if you gave Aristotle a functioning smartphone with a complete catalog of Wikipedia? How much would that change the course of history? More importantly, how much damage would it potentially incur?
I consider myself an optimist. I generally place more faith in humanity than most people in this age of fake news and heavy cynicism. I have my reasons for doing so, but even my confidence in the human species has limits. I trust most people to do the right thing every time I drive my car on the highway. That doesn't mean I'd trust a caveman from 10,000 BC to drive a fully-loaded tank.
I make this point because these are legitimate concerns consider when assessing how humanity deals with emerging technology. We can barely handle some of the technology we already have. How will we handle things like advanced artificial intelligence, gene hacking, or advanced robotics?
I've stated before that the human race is not ready for advanced artificial intelligence in its current state. I've also stated that the human race isn't ready for contact with an advanced alien species, either. I believe we're close. We may even be ready within my lifetime. However, if aliens landed tomorrow and brought an advanced artificial intelligence with them, I think our civilization and our species would be in trouble.
I also think the human race would be in danger even if those same aliens were peaceful. Even if they brought a super-intelligent AI that was as compassionate and caring as Mr. Rogers, our species would still face an existential crisis. To explain why, I'll need to revisit one of my favorite video games of all time, "Mass Effect."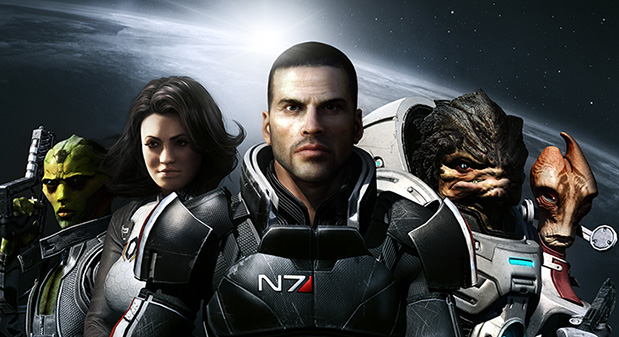 The various themes of this game, and the lore behind it, offer many insights into very relevant questions. In addition to the timeless hilarity of bad dancing skills, the game crafts a rich history between alien races like the Quarians and the Geth. That history reflected the dangers of mishandling advanced artificial intelligence, an issue humanity will have to deal with in the coming decades.
There is, however, another rich history between alien races within "Mass Effect" that offers a similar lesson. This one has less to do with artificial intelligence and more to do with what happens when a species technology that it's not ready to handle. That danger is well-documented in the game through a hardy race of beings called the Krogan.
Like the Quarian/Geth conflict, the conflict surrounding Krogan has some real-world parallels. However, I would argue that their story Krogan is more relevant because it serves as a warning for what could happen when an advanced species uplifts one that is less advanced.
In the mythos of "Mass Effect," the Krogan were once a primitive, but hardy species that evolved on the harsh world of Tuchanka. They're reptilian, high-functioning predators in nature. They're basically a cross between a velociraptor, a crocodile, and a primate. They have a tough, war-like culture, which is necessary on a world that contained hulking Thresher Maws.
They were not a species most would expect to develop advanced technology. Then, the Salarians came along. Unlike the Korgan, this amphibious alien race isn't nearly as hardy, but is much more adept at developing advanced technology. In most circumstances, they wouldn't have given the Krogan a second thought. Unfortunately, they were in the middle of the Rachni War and they needed help.
You don't need to know the full details of that war. The most critical detail, as it relates to advancing an unprepared species, is how this war came to define the Krogan. Neither the Salarians nor the other alien races in the game could defeat the Rachni. In a fit of desperation, they uplifted the Krogan by giving them weapons and advanced knowledge.
In the short-term, the Salarians achieved what they'd hoped. The Krogan helped defeat the Rachni. In the long-term, however, it created another inter-stellar war in the Krogan Rebellions. Apparently, giving a hardy, war-like species advanced weapons doesn't make them less war-like. It just gives them better tools with which to fight wars. That may sound obvious, but keep in mind, the Salarians were desperate.
The details of this war end up playing a major role in both "Mass Effect" and "Mass Effect 3." That's because to stop the Krogan, the Salarians resorted to another act of desperation. They crafted a biological weapon known as the genophage, which significantly curtailed the Krogan's rapid breeding rate.
The damage this did to the Krogan race cannot be understated. Through the entire trilogy of "Mass Effect," characters like Wrex and Eve describe how this destroyed Krogan society. In "Mass Effect 3," Eve talks about how the genophage created massive piles of stillborn Krogan babies. That kind of imagery can haunt even the most battle-hardened species.
In the end, both the Salarians and the Krogan paid a huge price for giving technology to a species that wasn't ready for it. Depending on the decision you make in "Mass Effect 3," the Krogan species is doomed to extinction because of how ill-prepared they were. This haunted more than a few Salarians as well, one of which played a significant role in a memorable side-story in "Mass Effect 2."
Regardless of how the game plays out, there's an underlying message at the heart of the Salarian/Krogan dynamic. When a species is uplifted by another so abruptly, it's difficult to see the long-term ramifications. Even though the Salarians were in a dire situation, they ended up creating one that had the potential to be much worse.
That danger is actually more pressing because, unlike advanced artificial intelligence, the act of uplifting a species effectively skips over the cultural and societal evolution that's necessary to handle new technology. The Krogan never got a chance to go through that process before getting that technology. As a result, they became an existential threat to themselves and others.
The human race still has a long way to go before it creates the kind of artificial intelligence that would constitute such a threat. Aliens on the level of Salarians could land tomorrow and there would be nothing we could do to prepare ourselves. Whatever knowledge or technology we gained could do more than just upend human society. It could irreparably damage our species, as a whole.
Some of that outcome would depend on the intentions of the advanced alien race. It could be the case that they're not like the Salarians and aren't looking to enlist humanity in a war. It could also be the case that they're smart enough to not give primitive humans advanced weapons. That could mitigate the risk.
However, that still assumes humans won't find a way to use advanced knowledge to make weapons. When Otto Hahn discovered nuclear fission in 1938, he didn't have any idea that it would be used to make a bomb that would kill go onto kill over 100,000 people. Even if advanced aliens are really smart, how could they be sure that humanity won't use advanced knowledge to create something more horrific?
Sure, they could try to stop us, but that could only make things worse. The genophage wasn't the Salarians' first recourse. They actually went to war with the Krogan. They suffered heavy losses and so did the Krogan. In the long run, uplifting a less advanced species was detrimental to both of them.
That doesn't just put the famous Fermi Paradox into a new context. It demonstrates a real, tangible threat associated with advancing a species before it's ready. I would argue that the human race is close to that point, but we're still not there. We have issues managing the technology we've created. There's no way we can handle advanced alien technology at the moment.
"Mass Effect," in addition to being one of the greatest video games of the past two decades, offers many lessons for the future of humanity. It shows that humans are capable of great things. We have what it takes to join an entire galaxy full of advanced alien life. For our sake, and that of other advanced aliens, we cannot and should not rush it.