It's all around us. It generates protests, outrage, and angry rants of every variety on cable news. It floods social media, infects college campuses, and drowns out any and all meaningful dialog that might actually lead to productive change. I don't even have to reveal it at this point. Everybody knows what I'm talking about on some level or they at least have a vaguely accurate idea.
It goes by many names. Call it racism, reverse racism, sexism, man-hating, homophobia, islamophobia, or transphobia. It all falls under the same overly-divisive rhetoric that is bigotry and prejudice. It always seems to be in the news. It always makes a conversation awkward and unsexy. It seems to get better some days and regress the others.
Now I know I'm making everybody's panties very dry by bringing this up, but bear with me. This post is not going to get as bleak or depressing as it would if it were a Michael Moore documentary. I prefer to convey a more optimistic spirit to my audience. It puts them in a better mood, which is important if you're trying to sell erotica/romance novels.
On the surface, though, there's no way around it. This is as ugly a topic as it gets these days, the concepts of bigotry and prejudice. If it isn't the stereotypical white male patriarchal types bemoaning how lazy and violent minorities are, it's the radical left-wing hippies who call everyone who doesn't support interracial gay couples kissing in the streets Nazi supporters.
It really is a strange, distressing state in which we find ourselves in. There used to be just one extreme in terms of prejudice, namely that which tried to preserve the overtly-unequal status quo that favored one particular group, be it white men or one particular religious group. Now, the extremes are all over the place.
I've talked about a few of them, like radical feminism. They're just one of the many extremes that have emerged in recent years, often in conjunction with trends in identity politics. It's not peace-loving hippies who put flowers in guns anymore. It's angry, entitled, hashtag-starting narcissists who go into a Hulk-like rage whenever someone dares contest their utopian worldview.
There's an extreme for women, who want men to suffer for their historical crimes against gender. There's an extreme for race, some of which favor completely disenfranchising all white men for their historical crimes. There's even an extreme for those who dare to use the wrong pronouns when describing boys and girls. Yes, it really has gotten that crazy.
That says nothing about the craziness that has emerged from extremes within religious groups, but we're all kind of used to that. We expect extremes in religion, whether they're favoring the execution of cartoonists or demanding that their particular religion be given a right to discriminate. It's just the same bigotry and prejudice, but with holy decrees and a convenient excuse to not pay taxes.
No matter the extreme, the outcome is the same. It divides people. It makes them angry, unruly, and hateful. It makes the comments section in every YouTube video about feminism and race relations a raging tire fire that undermines whatever faith in humanity you might have had at this point.
It's as frustrating as it is tragic. It often leads us to ask the same question Rodney King once asked. Can't we all just get along? Well, with all due respect to Mr. King, I'm sorry to say that there's a wholly valid answer to that question.
Unfortunately, the answer is a definitive no. We cannot.
That's not the solemn musings of cynical man who has read one too many BuzzFeed articles. It's a cold, inescapable fact. However, there is a context here and a fluid context, which means we shouldn't be too cynical. If anything, we should be even more hopeful.
The reason why prejudice and bigotry exist is simple and it has nothing to do with some vast, elaborate conspiracy by cisgendered white heterosexual males. Any conspiracy involving that many straight men probably involves fantasy sports or a "My Little Pony" marathon. Once again, this immutable problem in our society has roots in our biology.
It's another byproduct of caveman logic. Those same settings in our brains that haven't been updated in 200,000 years essentially guarantee that there will always be some level of prejudice and bigotry. The fact we're able to function as well as we do as a global society is nothing short of miraculous.
To understand why this is, you need to recall the circumstances of our distant ancestors. They did not live in big cities full of a diverse mix of people from various cultures and ethnicities. They didn't even live on farms in rural towns where cow-tipping counts as entertainment. They were hunter/gatherers, roaming and foraging in small, close-knit tribes.
For most of the history of our species, that's how we lived. As such, that's how our brains are wired and that wiring has not changed much. Due to the slow, clunky processes within our biology, it really can't and that's the crux of the problem.
Modern neuroscience has revealed a great deal about our brain's capacity to form groups and cooperate. These groups become tribes and we, being the very social species that we are, come to tie our identity to those tribes. We work with them. We trust them. We rely on them. Most importantly, as it pertains to prejudice, we defend them and make endless excuses for them.
Picture, for a moment, how this works in our hunter/gatherer context. You're an individual living 100,000 years ago. You have only a loin cloth, a spear, and functioning genitals. On your own, you're not going to survive for very long. In a fight against a hungry lion, you're basically a walking snack.
Then, you join a tribe. You ally yourself with other people who can help you, share resources, and give you an opportunity to use your genitals with others in a more enjoyable, intimate way. Suddenly, that hungry lion loses its appetite. One human is easy to maul. A hundred humans, each armed with spears and an incentive to impress fertile women, is much harder.
Being in that tribe, you come to rely on them and cherish them. Being around them gives you a sense of purpose and identity. You come to love and respect them. You form your own rituals and quirks. You sing certain songs. You do certain dances. You wear certain loin cloths that you think are stylish as hell. This tribe makes you feel complete.
Then, one day, you encounter another tribe. However, this tribe is not yours. They look different. They talk funny. They believe weird things. They wear weird clothes. They follow different rules. Everything about them is so strange and that freaks you out, so much so that you cling harder to your tribe.
Maybe there's something about that other tribe that's scary. Maybe they have weapons that are bigger. Maybe they have talents that your tribe can't do. Maybe their food tastes better and their gods are more powerful. This is all causing you some serious stress and when your brain gets stressed, it does a lot of crazy things to mitigate it.
The next thing you know, your tribe goes to war with the other tribe. Your tribe loudly proclaims that theirs is the greatest tribe in the world. Their gods are better, their food is better, and their rituals are better. The other tribe is so wrong and misguided that they can't be human. As such, killing them or demeaning them isn't a big deal. It's no more distressing than putting down a rabid dog.
Now, extrapolate this tribal mentality, carry it out a billion times in a billion ways within large multi-cultural societies, and apply the reaction to the comments section of a Justin Bieber video, and you now understand why prejudice and bigotry exists. You also understand why nothing can be done about it for now.
Remember those last two words though. I bolded them for a reason. This is where I offer readers a sliver of hope. Does racism, sexism, and homophobia truly disturb you? Do you wish that our society could move past it and forge a more peaceful existence? Well, you may live to see that day.
Keep in mind, these traits that make us so hateful and divisive all stem from our brains. It's that flawed wiring that still thinks we're hunter/gatherers picking nuts out of elephant shit on the African savanna that fosters so much bigotry and prejudice. We humans are capable of a great many technological and intellectual feats, but we cannot circumvent the wiring of our brains.
Thanks to companies like Neuralink and advances in human enhancement, like smart blood, we are very close to finally tweaking those outdated settings that make us mute certain people on Twitter. It may very well happen in our lifetime. We may see a new breed of humans whose brains can function beyond brutish tribalism.
We don't know how these humans will think, how they'll function with those still stuck in caveman mode, or how they'll relate to one another. If they aren't as hateful or petty as we are today, then perhaps they'll find creative new ways to relate to one another, connect with one another, and make love to one another.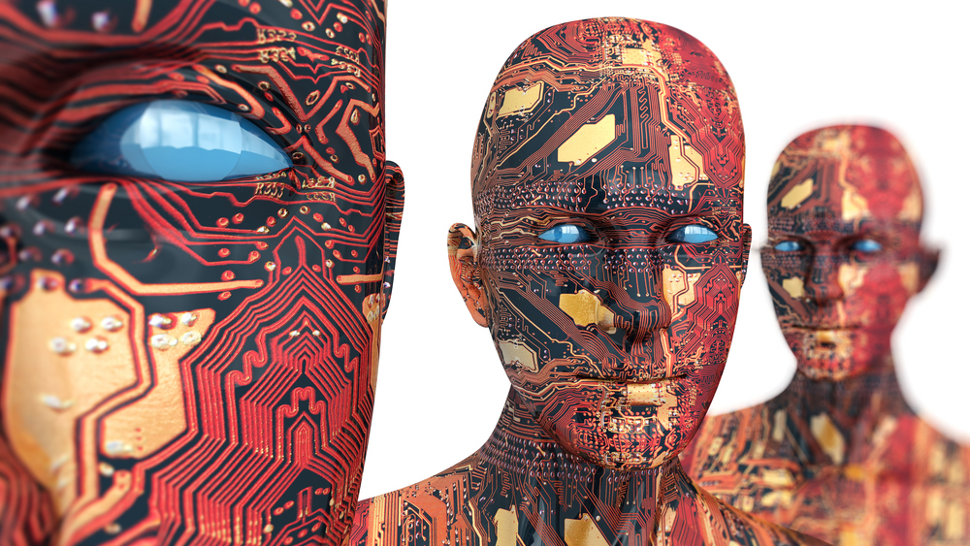 We can only imagine/fantasize for now, but I do take some comfort in the progress we've made as a species. We've done remarkably well, despite our caveman brains. It's fun to imagine how much more we can do once we update the software. It may make for a more promising future and some very sexy stories, some of which I intend to write.