I'm bracing myself right now because I'm about to express a sentiment that's going to put me at odds with a lot of people here in America. It's a sentiment that runs contrary to some pretty loud rhetoric that has been brewing over the past two years. Some of it has even come from close family members. Knowing I'll probably upset them too, I'll just come out and say it.
I'm not that excited about voting.
I'll give my fellow American's a moment to stop fuming. For everyone else, I think a larger explanation is warranted. Bear with me because these are sensitive times for freedom, democracy, and everything in between.
Today, my country will conduct its mid-term election. It occurs every four years, right in between Presidential elections. These elections are a critical part of the foundation on which the United States government is built. These are the elections in which a sizable chunk of governors, senators, and representatives are elected.
While mid-term elections rarely generate the same voter turnout of Presidential elections, this year is different. The impact of the 2016 Presidential Election has galvanized the passions of both sides of the political spectrum. Conservatives seek to maintain their hold on power. Liberals seek to re-establish power after some of the worst setbacks in recent memory. To them, the stakes are very high.
I'm not entirely convinced of that. In fact, I feel like those stakes are so inflated that it makes me feel even less excited about voting. I see people in the media, on message boards, and within political circles calling this election the most important mid-term in history. That makes me suspect they have a narrow concept of history.
Now, I don't deny the sincerity of those who say stuff like this. I get that they're genuinely concerned about the direction of the country they love. They have this ideal vision for how they want America to be and getting like-minded people to vote is part of realizing that vision. Whether it's reigning in the President, outlawing abortion, or legalizing weed, they have a fantasy that they want to make reality.
As someone who writes a lot about the sexy kind of fantasies, I can appreciate that to some extent. When I was younger, I even entertained similar visions. As I've gotten older, though, I've become less enchanted by my country's democratic processes. The reasons for that have less to do with the content of those visions and more to do with the unique quirks of American elections.
The first complications surrounding American democracy, and one that sets it apart from other democratic countries, is that we don't elect the President by a popular vote. We use something called the Electoral College. Simply put, our votes don't go towards who we want to be President. They go towards electing the people who go onto elect the President.
If that sounds confusing, then you're starting to see why I'm skeptical about voting. The logic behind the Electoral College made sense 200 years ago when trying to ensure that heavily populated states didn't gain too much power over all the others. A lot has changed in 200 years and I'm not just talking about the prevalence of powdered wigs.
Since I became eligible to vote, I've seen two of the past three Presidents get elected without winning the popular vote. That means the candidate that got the most votes did not win the election. Call me cynical, but that does not sound very democratic.
To be fair, the Electoral College applies only to the President. Other representatives like governors, senators, and mayors are elected by way of popular vote. While that is more democratic, on paper, the logistics still aren't ideal. That's due to additional factors like gerrymandering, a practice that dilutes democracy to the point of watered down light beer.
Simply put, it ensures that your vote only partially matters because you didn't necessarily pick the candidate. The candidate picked you by making sure you lived in their voting district. It's a big reason why incumbents have such high re-election rates. It doesn't matter how voting trends change. All that matters is aligning districts with a certain type of voters.
It's not quite on the same level as the phony elections conducted by dictators, but it sends a painfully clear message. No matter how passionate you are at voting, there's a good chance that it has little bearing on the outcome. That doesn't mean your vote is thrown away. It still counts. It just doesn't matter and I'm not the only one who has reached this conclusion.
Most of the time, you live in an area where the overwhelming majority of people align themselves with a particular part of the political spectrum. Districts located in rural areas almost always vote conservative. Districts located in cities almost always vote liberal. That divide has only widened over the years, especially since I began voting.
Some of that goes beyond direct influences like gerrymandering and voter suppression tactics. None of those tactics would even work if not for the predictable psychology of the average voter. In a perfect world, every voter goes to the polls as an objective, impartial citizens who weighs the worth of every candidate. However, we live in an imperfect world full of many imperfect people.
According to analysis of past elections, most people adopt the voting patterns of their parents. It's not a minor factor, either. By a substantial margin, your vote was mostly determined when you were still a kid. That's not a flaw in the system as much as it is a flaw in perspective.
If you grow up in a conservative environment, then you'll vote in accord with conservative candidates. The same applies if you live in a liberal environment. The area I live is pretty liberal, for the most part. I've seen the polls for my candidates. The outcome is pretty much a given, no matter how I vote.
On top of all that, and it's more than enough to temper my enthusiasm for democratic processes, voting in America is extremely inconvenient. It's not a national holiday. It's on a Tuesday in the middle of the week and often involves standing in long lines at poorly-staffed polling places. Sure, you can cast an absentee vote, but that process has its own set of complications.
Taken together, I find it frustrating, as a voter. The older I get, the more resigned I've become. Each passing year, I see more and more flaws in the system. I see reprehensible human beings and shameless hypocrites win elections, time and again. I also see the list of candidates and groan at my lack of options.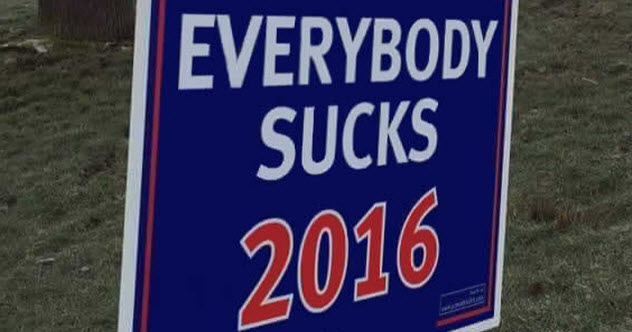 Despite all this, I'm still told that voting is important. Voting is what separates us from tyranny. Ignoring the historical fact that some tyrants come to power through democracy, I'm supposed to believe that my vote will help further the ideals my country espouses. As much as I love my country, I just have a hard time believing that.
Don't get the wrong idea. I'm pretty cynical about voting and the current democratic processes in place for the United States. I'm not completely resigned, though. I still intend to vote, but I'm under no illusions. I know it won't change much in the grand scheme of things. Like renewing my driver's license, it's part of my civic duty.
Regardless of who wins and who gets voted out, I can already sense where this narrative will go from here. I have a feeling that as soon as this day passes, the 2020 Election will be subsequently billed as the most important election in history. Just like before, the act of voting will be framed as taking part in a battle against a fascist army led by Darth Vader and Joseph Stalin.
That narrative, in my opinion, will do more to undermine voting than help it in the long run. At the end of the day, elections come and go. Leaders change, politics evolve, and demographics shift the cultural landscape. Not every election will go down in history as the most important. The act of voting in those elections won't matter that much in the long run. It's still worth doing, but it's also worth maintaining perspective along the way.