Whenever a tyrannical power gains influence, it's only a matter of time before it attempts to control sex and subvert love. Whether it's a theocracy like "The Handmaid's Tale" or a communist dictatorship like North Korea, those in power will eventually get to it. It's just a matter of how repressive they dare to be.
When it comes to the extremes of authoritarianism, those envisioned by George Orwell are the standards by which all are measured. Whether they're fictional tyrannies like those in "Star Wars" or real-life autocracies like Nazi Germany, the extent of their repression is best measured by contrasting it with the one Orwell crafted in "1984."
This isn't the first time I've cited that book or Orwell's writing, but I do so for a reason and it's not just because it's one of my favorite novels. The narrative Orwell envisioned took our understanding of repression and pushed it to its greatest extremes. On every level, the world of "1984" is a worst-case-scenario for anyone who values freedom.
Under the ruling party, Ingsoc, every aspect of human life is controlled, managed, or outright subverted. That includes sex, but it's certainly not limited to it. Through institutions like the ironically-named Ministry of Love and the Junior Anti-Sex League, people aren't just shamed or bullied into certain sexual practices. They're tortured, brainwashed, and forced into it.
It's a level of control that the Catholic Church, the religious right, and even conservative Muslims would find excessive. It's also an important part of the story because so much of the events surrounding "1984" emerge from Winston's relationship with Julia. In fact, the love they share is framed one of the biggest threats to the party.
That, in and of itself, is extremely telling of the power of sex and the love that emerges from it. Even in a world in which the repression is so complete that the party can convince people that two plus two equals five, it still has a problem dealing with sex. If Big Brother can't manage it, then what hope does the Vatican have?
I ask that question within the context of "1984" because I'm seeing more and more issues inevitably link back to sexuality. It's not just from religious institutions, though. They've made their eagerness to shape sexuality to serve their interests known for centuries. They aren't always overt about it, but it's not too hard to understand why they want their adherents having sex only for procreation.
For them, linking sex to making babies means all those sexual thoughts people have will result in more adherents. More adherents means more money. More money means more power and influence. It's often cloaked in sin and morality, but this is the ultimate byproduct of their sexual morals.
However, it's at the other end of the spectrum where a different, but powerful kind of sexual subversion is at work. The link isn't quite as obvious as those espoused by religious institutions, but it is there in that the byproduct is the same and the underlying themes are richly reflected in "1984."
On that end of the spectrum are those who identify as secular, but still hold extreme ideologies. This includes extreme brands of feminism, social justice ideology, and even old school communism. These are people who don't just want to reform the current system through political and social discourse. They seek to overthrow the system and replace it with their own Utopian ideal.
Like the religious zealots they often clash with, they see the current order as oppressive. Whether it's a religious sect facing persecution or the historical oppression against anyone who isn't part of a historic majority, these individuals see revolution as the only way to right these wrongs. Part of that revolution involves destroying sex, albeit indirectly.
Whereas religious zealots rely on outright censorship, those on the opposite end employ a more subtle approach. They denigrate and bemoan sexual imagery, be it in video game characters or a shirt somebody happens to be wearing. They obsess over inequities and victimization, singling out egregious crimes while ignoring others that don't fit the narrative.
Some will go so far as to claim sex as inherently oppressive. A few radical feminists have gone so far as to say that the fundamentals of sex can only ever be oppressive. In the same way some religious preachers will shame someone for looking at anyone with lust, this ideology identifies anyone who has or pursues sex as an oppressor.
That might have been absurd several decades ago, but in the current state of outrage culture where the dress Jennifer Lawrence wears to a movie premier becomes a controversy, it's steadily creeping into the discourse. Concepts like beauty are now oppressive to those not born with beautiful bodies. Anything that may titillate or excite is seen as dangerous or damaging to the oppressed.
It's at a point where the idea of people seeking any kind of release outside the narrative espoused by extremists is pathologized. For religious zealots, it's sinful. For the non-religious extremists, it's oppressive. Both see it as something that needs to be reformed or envisioned.
Chances are these individuals don't see themselves as the authoritarians depicted in "1984." They still see themselves as the underdogs in a "Rocky" movie, fighting to win an epic battle against an oppressive bully. Beyond being an absurd conflation of what they're fighting for, this very approach is envisioned by Orwell and is key to empowering Ingsoc.
In the world of "1984," the Ministry of Truth builds a similar narrative for the masses. They're told that prior to Ingsoc taking power, the world was a terrible, oppressive place. It was only by rallying around the party and Big Brother that they were able to triumph. Moreover, it's through the wisdom and guidance of the party that they escape this oppression.
Part of that process involves reshaping/subverting sex. In "1984," the party isn't just looking to control it. They seek to destroy it. The Junior Anti-Sex League even says it outright at one point.
"The sex inherent aptitude will be eradicated. Reproduction will be a one-year formality like the reclamation of a ration card. We shall get rid of the orgasm."
Even by extreme repression standards, this seems extreme. It might even seem like something that would give zealots of all types pause. However, Orwell's way of justifying such extremes reveal more than just a twisted ideology. He ends up exposing why sex is such a huge concern for any extreme ideology.
"When you make love you're using up energy; and afterwards you feel happy and don't give a damn for anything. They can't bear you to feel like that. They want you to be bursting with energy all the time. All this marching up and down and cheering and waving flags is simply sex gone sour. If you're happy inside yourself, why should you get excited about Big Brother?"
Read over that quote again, but replace Big Brother with the name of any religious sect or political ideology. It has the same meaning and the same implications. In order for both the zealots and the radicals to achieve their goal, they have to destroy sex. It's the only way they can achieve their Utopian ideal.
Religious zealots can't shame or guilt people entirely out of wanting to enjoy sex for non-procreative purposes. They can certainly make it difficult and painful for many, even to the point of serious abuse, but it never works in the long run. The drive to just want to hump for fun is too strong.
Certain brands of radical feminism have a similar issue. They can't stop straight men from enjoying the sight of a beautiful woman. They can't stop anyone from wanting to enjoy something different in their sex lives that they don't like. No matter how much they're triggered, it doesn't turn off that powerful, instinctual drive.
In "1984," the party actively works towards destroying that drive through technology. This is a lot scarier now because that kind of technology is already in the works. In theory, an extremely repressive religious zealot or a very regressive feminist could turn the implants in development at Neuralink into something that removes all pleasure from sex.
From there, they could redirect that energy into serving their ideology/religion. The procreative function could still be utilized, but only to the extent that it's necessary. That may not be the ultimate goal. It's not even the ultimate goal of Ingsoc. It's just necessary in the grand scheme of pursuing and securing power.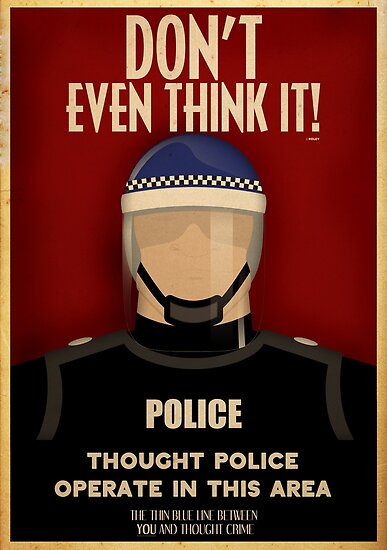 As it stands, those in the religious right and other extremist circles aren't remotely close to gaining the influence and control exercised by Big Brother in "1984." Logistically speaking, it's impossible for them because subverting human nature requires an understanding of it and the scientific process for achieving that understanding rarely adheres to ideology.
It still says something about their goals when the only way to achieve them in the long run requires that they destroy sex. I don't think it's a coincidence that Orwell built a major part of "1984" around two characters falling in love and experiencing the joys of the sex act. That proved to be one of most powerful ways for them to oppose the party.
To that extent, Orwell's understanding of sexuality is nothing short of prophetic in terms of how revolutionaries on both ends of the political spectrum view it. In an Orwellian world, sex and love aren't just a hindrance to a revolution. They're an outright threat.
The fact that it took repression on the level of Big Brother to confront that threat is a testament to the power of sex and love. If Big Brother couldn't contain it, then what hope does any religion or ideology have?