As a fan of all things related to comic books and superheroes, I often find myself digging deeper into the messages and meanings behind these fanciful narratives. I've done it on this site before, using superheroes to highlight the value of uniquely balanced romances and the inherent dangers of excessive boredom. I'll likely keep doing it, so long as my kinky mind keeps making these quirky connections.
Sure, there's are plenty of times when I just prefer to pour myself a glass of whiskey, sit back, and just enjoy the raw entertainment value of a comic book or superhero movie. Given the sizable slate of superhero movies set for release in 2018, I'm probably going to need more whiskey.
There is one particular movie, however, that is making waves that I haven't really talked about before. I'm referring to the upcoming "Black Panther" movie, a movie that is already setting pre-sale records on Fandango. While every movie produced by Marvel Studios these days seems to blow up the box office and enrich Disney, this particular movie is unlike anything they've ever tried before.
There's a reason why I haven't talked much about it. For the most part, I haven't come up with any meaningful discussions that I think are worth sharing. Like most self-professed Marvel fans, though, I am excited about this movie. It takes a character who has been underrated and overshadowed for most of his history and elevates his position in the larger narrative of the MCU.
The fact that Black Panther is one of Marvel's most prominent black heroes is certainly another important aspect. In the ongoing effort to promote more diversity in Hollywood and popular culture, "Black Panther" checks all the right boxes. He's a prominent minority character who holds his own alongside other Avengers, as we saw in "Captain America: Civil War." He's ready for his own movie.
Now, before I go any further, I want to make clear that I don't wish to get into all the racial undertones and white-washing controversies that have plagued Hollywood in recent years. As a comic book fan, I'm just excited to see Black Panther get a chance to elevate his presence. I sincerely hope that Chadwick Boseman can do for T'Challa what Robert Downy Jr. did for Tony Stark.
However, in seeing the growing excitement surrounding this movie, I feel as though the movie is revealing something about the current state of the world that's not easy to see. It also reveals something profound about the character of Black Panther, as well, that might be even more telling in these sensitive times we live.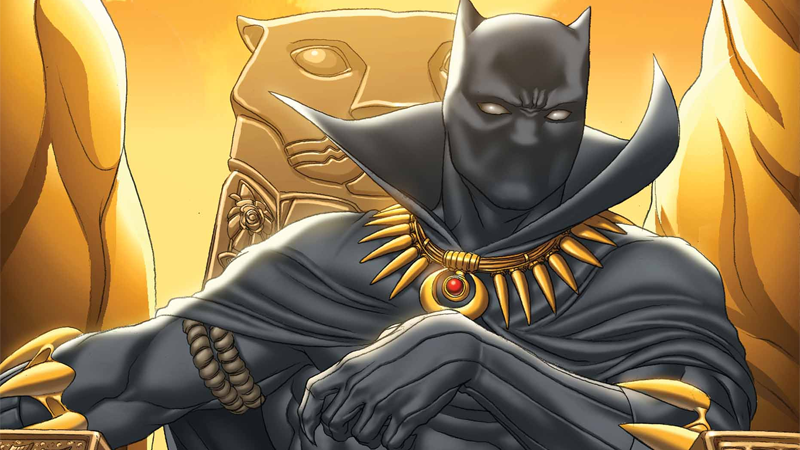 It might not be the message that the "Black Panther" movie is trying to convey. I don't doubt for a second that Marvel Studios and Disney see this movie as just another part of the process of maximizing profits at the box office. However, when you look at the context of this movie and the character it's built around, there's one unexpected, but remarkable insight that emerges.
"Black Panther embodies the ideal king that everybody wants to live under."
Unlike some of the other insights I've tried to ascribe to certain character, it's not too hard to see this concept reflected in the character of T'Challa. Whether you only know him from his role in the movies or are familiar with his history in the comics, this trait is a core aspect to his persona. He's not just an Avenger, a superhero, and a prominent black character. He's the ultimate king that people want to be ruled by.
If it sounds like that conflicts with my assertion that Dr. Doom is the ultimate ruler, then please bear with me. I am going to address that in a way that will hopefully make sense. To understand why this is key to Black Panther's character, as well as being a big part of his appeal, it's important to know a few details about his story.
In both the comics and the MCU, Black Panther isn't just a prominent superhero who also happens to be black. He's the king of the fictional country, Wakanda, a secretive land in Africa that is extremely advanced and extremely wealthy. This is largely due to its rich deposits of Vibraniam, an equally fictional super-material that is more valuable than anything we have in the real world.
The particulars of Wakanda are important because, like Krypton, Asgard, or Gotham City, it embodies a particular concept. Wakanda is, in many respects, the embodiment of an exotic land that prospers without the influence of the modern world. A key trait of Wakanda is that, for much of its history, it shut itself off from the outside world and actively fought those who tried to change that.
That isolation doesn't just give Wakanda its exotic appeal. It also insulates it from what we, in the outside world, see an increasingly corrupt system of world governments that don't do a good job of helping people prosper. Despite all the data that clearly shows the world is improving with each passing year, there's still a sense that there's this one magical place that can do it better.
Wakanda is that place. Wakanda is technologically advanced, fully developed, and extremely prosperous. The fact that it's a country in Africa, which is home to some of the poorest countries in the world, makes it all the more remarkable. The idea that it achieved all this without the aid of other nations helps add to the appeal.
This is where Black Panther's appeal as the perfect king comes in. Beyond just being advanced and prosperous on its own accord, it's not ruled by a flawed democracy, a corrupt dictator, or an inept republic. It's ruled by a wise, competent, and compassionate ruler who also happens to be a superhero on the side. Black Panther, in many respects, embodies all the ways in which rulers wish they were seen.
He wasn't elected, nor did he come to power in a coup. He rules because he's the son of a previous, equally competent ruler. It's basically a traditional monarchy, one that doesn't require corrupt elections or elaborate legal traditions. While that seems antithetical to the freedom-loving crowd who scoff at living under kings, it does have great appeal.
Like Superman, Black Panther embodies everything people want in a ruler. This is what sets him apart from Dr. Doom. While Doom might be smarter and more capable, most people would not be lining up to live under his rule. Black Panther is different. He's the kind of king people actually want to live under, even if it means living under the rule of a powerful monarch.
Black Panther and his exotic homeland are insulated from the corruption and ineptitude we associate with our existing rulers. It's because Black Panther is from such an exotic place that prospered, despite being so isolated, that his ability to rule seems fittingly superhuman. He carries himself as the kind of king who won't create crazy cults of personality or fail spectacularly.
That appeal is even greater these days because of the growing perception that all leaders are inherently corrupt. The 2016 Election was basically a year-long parade celebrating everything people hate about inept, corrupt leadership. It created this sentiment of hopelessness that no matter which leader end up in power, they'll still be corrupt.
The events after the 2016 Election have only further reinforced this notion. In a sense, "Black Panther" is coming along at the best possible time because the general public is so disillusioned with the rulers they know. The idea that there's this powerful, uncorrupted king who benevolently rules a prosperous land isn't just appealing. It embodies a near-universal desire to live in a perfectly governed society.
At this point, it's worth noting that this sort of appeal clashes significantly with the harsh truths of the real world. In the same way there's nobody who can ever be as powerful or as good as Superman, there's nobody who can ever be as good a ruler as Black Panther. His persona, as well as his country, simply could not exist in the real world.
There are actually countries in this world that are extremely rich in resources, not unlike Wakanda. There are also countries that isolate themselves from the rest of the world and attempt to thrive on their own, absent outside influence. Most of these countries are either extremely poor or extremely corrupt.
Even with semi-competent rulers, it's impossible for any country to thrive like Wakanda. It's equally impossible for any ruler to be as effective as Black Panther because no government, be it a dictatorship or a democracy, that can ever manage the never-ending chaos or accommodate infinite needs of the people with its finite resources.
In a sense, rulers like Black Panther and societies like Wakanda are large-scale wish fulfillment for those dissatisfied with their own society. We may not acknowledge that such a ruler and such a society are impossible in the real world, but neither are shape-shifting aliens or silver-skinned men on surf boards. The stories surrounding such concepts act as a unique kind of escapism, which is at the heart of every movie's appeal.
Now, I'm not saying that this sort of appeal will be the sole reason "Black Panther" succeeds at the box office. I believe that if it succeeds on the level that some are already projecting, it'll be because of a multitude of factors, much of which can be attributed to the winning formula that Marvel Studios has refined.
Whatever the racial or cultural undertones of a movie like "Black Panther," it has already struck a chord. It'll likely strike even more after it's released. Most probably won't be related to Black Panther being the perfect king or Wakanda being the perfect society, but the undertones are there. As people become more dissatisfied with their leaders and their society, they're likely to become more overt about it.