For kids across America, this is probably the best time of the year that doesn't involve gifts, candy, or goofy costumes. It's the end of the school year and the start of summer vacation. For most kids who've come to loathe homework, exams, and waking up at the crack of dawn, that couldn't be a better feeling without including a free massage.
The end of the school year is a magical time for many. It's a brief taste of freedom, absent the rigors of school or the toil of a job. As an adult, I don't envy how kids have to deal with schooling that primarily teaches them how to pass a test and how live on a diet of frozen pizza. However, I do envy the brief bit of freedom they enjoy over the summer.
As I've gotten older, I look back on those summer vacations fondly. I may have gone out of my way to be miserable, especially in my teenage years, but even I could appreciate how great those summer vacations were. Between warm weather, the beach, and being able to sleep in, it really was a great time.
So for all those kids out there settling in for the summer, I dedicate this week's entry of Sexy Sunday Thoughts to the end of the soul-crushing headache that was the school year. Granted, my blog isn't aimed at kids and talks about many distinctly adult issues. In an era of unlimited internet porn and Fox News, though, I'm going to assume they've already seen much worse.
---
"If a piece of furniture can support the wait of at least one human body, then someone has or will try to have sex on it at some point."
This is more a warning than a comment. Whenever you visit someone's house, however fancy or modest it might be, it's generally safe to assume that a lot of furniture has been used for sex at some point. The criteria isn't that strict. If said furniture can support a certain amount of weight or even provide some level of stability, then it has been used for sex or at least has the potential to be. That's just a fact of life.
---
"There are so many incentives to be good at sex that anyone who it takes more effort to be bad at it over a long period of time."
Sex is supposed to be like pizza. Even when it's bad, it's still pretty damn good. Given all the benefits and incentives for having great sex, from intimacy to more intense orgasms, there aren't a lot of excuses that people can make for being bad at it.
Now I understand that there are those who have limited sexual experience or have some kind of sexual hangup that undermines the mood. That's a legitimate issue that some people have to deal with. Absent those issues though, sex is one of those skills that's easy and fun to practice so unless you actively try, it's hard to stay bad at it.
---
"When sitting on a crowded bus or train, it's generally safe to assume that at least one person really wishes they could safely masturbate in public."
I've used public transportation before. Most people have at some point in their lives. You tend to encounter some strange people every now and then. Some are far stranger than others. Some are strange, but not enough to notice.
That's why news stories about people caught masturbating on buses should come as no surprise. While most people are able to restrain themselves, it's usually safe to assume that at least one person would do it if they could. Remember that next time you're on a crowded bus or train. It's only the laws and social norms of civilization that keeps that person from masturbating on the spot.
---
"A male speedo will never be as sexy as a female thong, but it will always have the potential to be."
Maybe it's just an American thing, one derived from our sexually mute Puritan ancestors, but men wearing speedos is kind of taboo. We'll cheer and hoot at women who put on a thong and proudly show off their feminine beauty on the beach. When a man tries to do the same, though, it doesn't quite elicit the same reaction.
That said, I believe the male speedo is a highly underrated piece of sexual hardware. I've tried one on before. I think it makes me look good. I think it makes me look sexy. I strongly encourage more men to try it. Men may never be able to inspire the same sexiness as female thongs, but I think it's still worth exploring.
---
"Whenever we buy something, we prefer to see pictures of what we're buying. However, whenever we ask for nudes from a prospective lover, that somehow makes us assholes."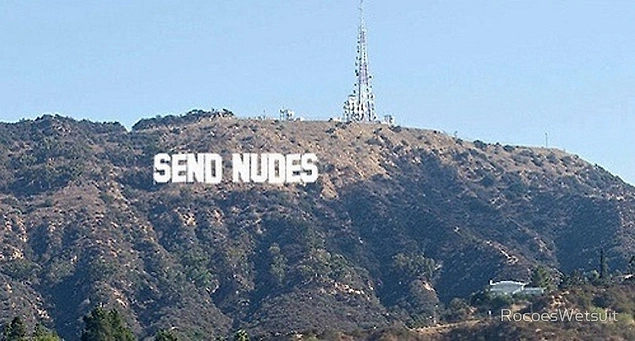 These days, men who ask women to send nudes are looked upon with scorn and shame. We tend to put these men on the same level as those who throw rocks at kittens just for kicks. Never mind the fact that wanting to see naked women is right up there with wanting a hot cup of cocoa on a cold winter day, but think about it from a pragmatic point of view.
In many other endeavors, whether it's buying a car or some clothes, we like to see pictures. We like to see every detail about what we're hoping to buy. When you think about it, asking for nudes is no different than asking for tech specs on a new laptop. Is that really so wrong?
---
"Being a slut and being friendly aren't the same thing, but it's kind of telling that it's impossible to be one without the other."
People throw the word "slut" around more liberally than ketchup at a hot dog stand. To some people, a slut is someone who will fuck anyone who looks at them cross-eyed. For others, a slut is someone who shows any desire to wear a mini-skirt out in public. It's a broad, irrational spectrum.
However you define a slut, they do need one particular trait to fit the label. They need to be friendly, open, and affectionate. These are all positive traits that we associate with fun, happy people. The fact that a slut can't be a slut without these traits, to some extent, says a lot about the mixed feelings we have about sluts.
---
"Horny men have shaped the course of history because religion, government, and civilization dedicates a significant amount of resources protecting and/or regulating how they interact with women."
It's a poorly kept secret. Throughout history, there have been a lot of horny men, some more ambitious than others. Many societies realize, often the hard way, that a society full of horny men is not a stable one. If you don't give men an outlet for their horniness, then they're going to go a little nuts.
It may not paint men in too noble a light, but it doesn't negate the implications. Horny men have shaped the course of history in terms of culture, religion, and government. You might not be proud of it, but how many other forces can claim that kind of influence?
---
"From a biological perspective, most forms of dancing are just an elaborate way of tricking the body into thinking it's having some kind of sex or is about to have sex."
Absent significant alcohol intake, I'm not much of a dancer. I do get the appeal, though. It's a fun, energetic, liberating feeling that takes people into a different state of mind. In that sense, the similarities to sex are uncanny. It's enough to make you wonder whether our bodies know the difference between dancing and sex. Based on the merits of "twerking," I think it has a right to be confused.
---
I'll say it one more time because I remember how great it felt back in the day. School's out and summer vacation is here! To all the kids out there, enjoy it while you can't. To all the parents who have to deal with those kids, let them enjoy it. It'll give them something nice to look back on when they start paying taxes and working for a living.