Superheroes mean many things to many people, especially at a time when superhero movies routinely dominate the box office. For some, they're just gimmicks, fads, and marketing tools by big media companies. For others, they are akin to modern day mythology. It's an apt comparison. Even contemporary heroes have a lot in common with the mythological legends of the past.
Some take it even further than that. Some will go so far as to claim that superheroes are filling the same roles as gods and deities. It's not just the ones based on Norse or Greek mythology, either. In many respects, many iconic heroes fit many of the common traits ascribed to gods.
Superman is all-good.
Thanos wielding the Infinity Gauntlet is all-powerful.
Lex Luthor, Dr. Doom, and even Mr. Fantastic are so smart that they might as well be all-knowing to most people.
Such divine, god-like feats make for iconic stories that offer lessons and insights on everything from morality to justice to society, at large. While superheroes aren't worshiped within organized institutions or granted tax-exempt status by governments, they utilize a similar structure to that of other holy texts.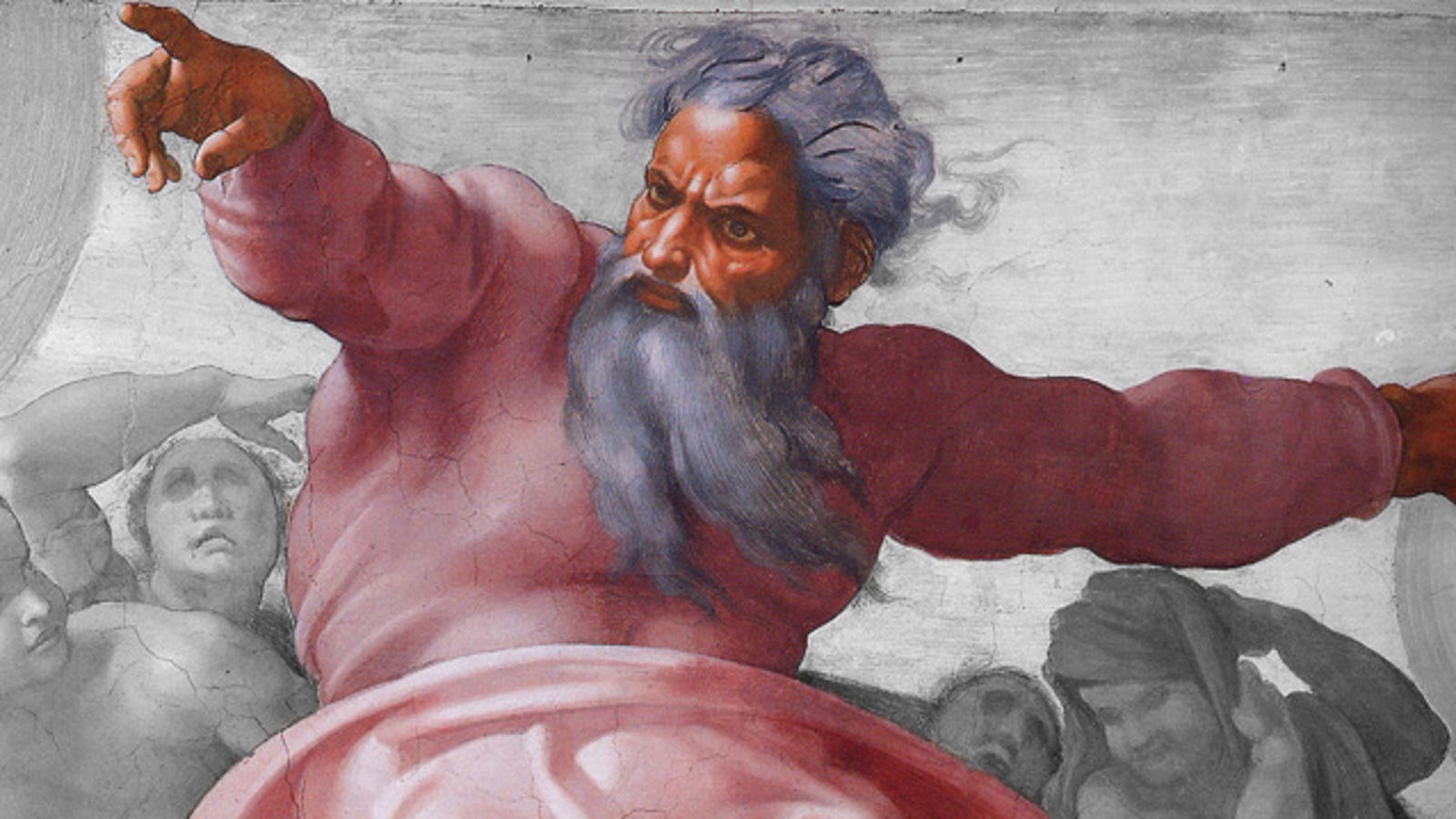 The narrative surrounding superheroes revolves around good, evil, and the struggles that occur in between. Both the good and the evil in these stories takes the form of some grand, larger-than-life character who embodies these traits and implements them on a level that's impossible for ordinary people to comprehend. That's what helps make the message so powerful.
However, it's the qualities that set superheroes apart from deities that offers the most insights. I would even argue those insights are more critical now than they were before Superman, Batman, or Iron Man ever showed up on a movie screen. At a time when organized religion continues to exert immense influence on society, we should be scrutinizing these discrepancies.
I hope it goes without saying that modern superheroes can only do so much to compare with the deities of organized religion. No matter how much money "Avengers Endgame" made at the box office, it will never exert the same influence that the three main Abrahamic faiths have imparted over the two millennia. For better or for worse, history, politics, and the entire species has been influenced by these religions.
The most notable and obvious difference between them and superheroes is that the deities of religion aren't presented as entertaining fiction. To the believers of Christianity, Judaism, Islam, and many other religions, the deities and the characters in their holy texts are real. They're not myths or legends. They're real people and real forces that have real effects.
Regardless of how true that is, and I know atheists will point out how none of those effects can be verified, this is the critical difference between superheroes and deities. Adherents don't just believe that these characters are real. They place their trust and faith in them, believing that doing so will guide them in life and protect them in death.
I understood this difference as a kid. I was both a fan of superhero comics and surrounded by relatives who were devout believers. I knew they didn't see their holy texts the same way I saw Superman comics. Superman was just another character. They knew who created him. They knew he was a licensed fictional character from DC Comics.
However, even back then, I found myself wondering whether those same relatives would see Superman differently if they didn't know he was a comic book character. I imagine if there were old stories about him from centuries ago, written as though they actually happened, they might be less inclined to discount him as fiction. Some might actually be more inclined to place their faith in him over other deities.
It's an interesting thought experiment, but it only scratches the surface of what sets superheroes apart from ancient lore. Aside from how real people think these characters are, and some take it much further than others, the standard superhero narrative reveals something striking about the standard religious narrative.
To illustrate, take a moment to contemplate how Superman goes about being a hero. As the gold standard of superheroes for the past 80 years, he sets the highest bar and embodies the highest ideals for a hero. On top of that, he has powers and abilities on par with many deities. At times, he has been shown as capable of destroying an entire solar system with a single sneeze.
Despite all this power, Superman seeks only to help humanity. He doesn't ask for praise, worship, payment, or sacrifice. He simply does it because it's the right thing to do. He's the ultimate paragon, selfless and compassionate to the utmost. The people of Metropolis, and the world at large, don't need to have faith in him. They just need to trust that he'll keep doing the right thing.
Contrast that with the deities in holy texts. Many are every bit as powerful as Superman, but display qualities that aren't exactly heroic. Certain versions of certain deities have been shown to be petty, jealous, and vindictive, sometimes to an extreme. A deity does often help or guide believers in a conflict like a superhero, but it's rarely done out of pure altruism.
These deities, many of which are believed to have created humanity and the world, exercise a certain level of authority over people. It's not always outright forced, but the nature of the story provides plenty of incentives and/or punishments to those who rebel or subvert that authority. Some become cautionary tales or outright villains.
In this context, the religious narrative builds an over-arching theme that has little room for heroics. These deities and super-powered beings aren't necessarily there to save the day. They're there to maintain the order that they helped create. They function as the glue that holds the universe and humanity together. Anyone or anything that goes against it requires recourse from both adherents and divine forces.
We often see this manifest in the real world when religious people argue that things like homosexuality, which is often condemned in holy books, are this bigger threat to the world. That's why you'll hear plenty of dogmatic preachers claim that homosexuality won't just give people distressing thoughts. They'll say it will destroy society.
Religious dogma, by its nature, depends on a strict adherence to what is the status quo for a particular place, people, and time. Defending it isn't just seen as an act of piety. It's akin to a superhero saving the day from evil forces. Whether those evil forces are demons from the underworld or a gay couple who want to get married doesn't matter. It's all about preserving a system.
Conversely, superheroes like Superman don't limit themselves to a status quo. They're less driven about how things are and more focused on how things could be. Superman doesn't just want to save the day and help people who need it. He seeks to give people an ideal for them to aspire towards. This is perfectly reflected in his father's message to him, as read by the late Marlon Brando.
It is now time for you to rejoin your new world and to serve its collective humanity.
Live as one of them, Kal-El
Discover where you strength and your power are needed
Always hold in your heart the pride of your special heritage
They can be a great people, Kal-El, they wish to be
They only lack the light to show the way
For this reason above all, their capacity for good
I have sent them you, my only son
It's in this defining message that the superhero narrative distinguishes itself from religious traditions. These superheroes, as powerful as they are, didn't create us. They don't hold any inherent dominion over us. They didn't create the current situation, however flawed it might be. They still seek to help people, carrying out feats that others cannot. That's what makes them heroes.
One fights to maintain what society is while the other fights for what society could be. These narratives can exist alongside one another and can carry greater meaning for certain people. There are critical lessons in both, but I believe the lessons of Superman are more relevant than anything offered by the stories of religion.
For much of human history, organized religion was part of that social glue that helped keep society stable. For a good deal of that history, society was only as stable as the conditions around it. People hoped and prayed that there wouldn't be a famine, a storm, or some other catastrophe that they could not control. Survival, even among kings and emperors, was their primary concern.
Things are different now. At a time when food is abundant, poverty is in decline, and education is more widespread than ever, survival isn't enough. For a planet of billions to thrive, people need to prosper. Doing so means aspiring to something greater than the status quo. That's exactly what superheroes embody.
That's not to say that the rise of superheroes is directly linked to the ongoing decline of religion, but the contrasting narratives reflect just how much priorities have changed. Superheroes don't demand faith, sacrifice, and reverence, just to keep things as they are. They go out of their way to save a world that they believe is worth saving, hoping that it can better itself.
They can help, but they can't do it for us. That's another trait that Superman demonstrates, much to the chagrin of villains like Lex Luthor. Like deities of old, he doesn't use his powers to achieve everything for humanity. He seeks to empower them to achieve those feats on their own. That process of aspiring to be greater than is often an affront to a religious narrative, but critical to the themes of superheroes.
Even if superhero movies stop making billions at the box office, the over-arching message will still be relevant. Faith in what is just isn't as appealing as hope for what can be. The gods of religion offer comfort in familiar order, but superheroes can inspire hope in something better. Given the many flaws in this chaotic world, I believe that hope is more valuable than any ancient doctrine.