Last year, I dedicated two days to honoring two unique individuals who literally saved the world. Those individuals were Stanislav Petrov and Vasili Arkhipov. Between the two of them, they literally held the fate of the human race in their hands at one point. Their ability to rise to the occasion and make the right decisions are why we're still alive and the world isn't a nuclear wasteland.
I strongly believe that people like that deserve recognition for doing the right thing during critical moments in our history. They embody a unique aspect of the human spirit that is worth honoring. Today, I'd like to honor another and like Petrov and Arkhipov, most people probably don't know the name of the man I'm about to praise.
His name is Dr. Norman Borlaug. He was born on, March 25, 1914. He's also a Nobel Peace Prize winning agricultural scientist from Iowa and what he did to earn that prize may very well be the greatest over-achievement in history. That's because what he did for humanity cannot be overstated.
To understand why, you need only recall the last meal you had. Whether it was a fully-cooked turkey or a frozen burrito, chances are Dr. Borlaug is partly responsible for making that food possible. That's because Dr. Borlaug was an instrumental figure in the Green Revolution, a culmination of various scientific advances that led to a massive boost in crop yields.
If you don't think that's a big deal, you need only take a cursory glance at history to see the devastation that famine has inflicted on our species. It has defeated armies, destroyed empires, and ended dynasties. On top of that, it does so through the prolonged torture that is starvation. No matter the time, place, or people, the pain of starvation hits everyone hard.
Dr. Borlaug fought that and fought it better than anyone in history, modern or otherwise. Do you remember the last time your entire community endured famine? It's doubtful. Mass famines have been largely eliminated in modern societies. Those that use the techniques and advances that Dr. Borlaug developed enjoy a level of abundance that's unprecedented in history.
Sure, there are times when it's difficult to get food to certain areas due to war, disasters, or just plain incompetence, but the inability to actually produce that food is no longer an issue, so much so that now that most of the food-related problems we face involving having too much of it. Sometimes we eat too much. Sometimes we throw too much away. It's still a problem, but it beats the hell out of famine.
However, Dr. Borlaug did more than just sit in a lab and do science. This man actually went out into the world, got his hands dirty, and fought famine with the ferocity of a young Mike Tyson on crack. Armed with a potent blend of science and humanitarian spirit, the old forces of famine didn't stand a chance.
He started off as a microbiologist working for DuPont, crafting new pesticides and preservatives for food. Regardless of how you feel about big chemical companies like DuPont, that's an entirely noble endeavor, protecting and preserving food. That just wasn't enough for Dr. Borlaug. You don't win a Nobel Prize just by thinking small.
First, he traveled to Mexico, a place that had been hit hard by major crop losses in the late 30s and early 40s. While there, Dr. Borlaug helped develop a strain of high-yield, disease-resistant, semi-dwarf wheat. That didn't just make up for the losses. It more than quintupled the overall harvest by 1944.
Helping Mexico stave off crop failures was an accomplishment in and of itself, but Dr. Borlaug was just getting warmed up. In the early 1960s, he moved to India, which happened to be in the middle of a major drought, and helped them increase their yields by orders of magnitude. If that weren't impressive enough, he did all that while in the middle of a war with Pakistan. Not one to take sides, he even helped them too.
By the late 1960s, both India and Pakistan were self-sufficient in terms of wheat production. At that point, the Nobel committee finally took notice of Dr. Borlaug's greatness and awarded him the Nobel Peace Prize in 1970. Short of Tom Brady's induction into the Pro Football Hall of Fame, there has never been a more obvious choice.
Unlike some recipients, there's no question that Dr. Borlaug's work contributed to furthering peace in this chaotic world. The man himself said it best.
"You can't build a peaceful world on empty stomachs and human misery."
Even after getting that prize, he just kept raising the bar impossibly high. In the mid-80s while Africa endured a terrible famine due to severe drought, Dr. Borlaug came out of retirement to help the governments fix a broken agricultural system. Just as he'd done before, his techniques and know-how helped crop yields soar once more.
When considering just how much he was able to improve agricultural output and how hard he worked to promote these techniques, it has been estimated that Dr. Borlaug saved over a billion lives through his work. That's not a typo. This man, without superpowers or help from aliens, saved a billion lives by helping mankind produce abundant food.
Unlike Petrov or Arkhipov, Dr. Borlaug wasn't just in the right place at the right time to make the right decision. He worked hard for years on end, researching and cooperating with others to increase food production so that future generations need not starve like so many others before us. Rather than simply prevent ourselves from self-destruction, he gave us the means of prosperity.
I know everyone has a different definition for hero, especially someone who reads as many superhero comics as I do. However, such a title is almost lacking for a man like Dr. Borlaug. There aren't many people who can honestly say their efforts saved billions of lives, present and future alike. Dr. Borlaug could make that claim right up until his death at the age of 95 in 2009.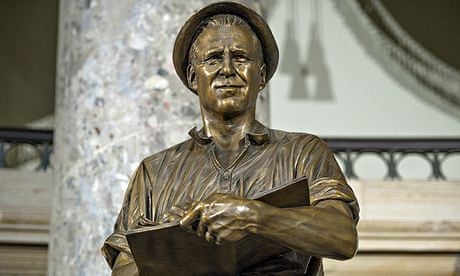 That's not to say he didn't have his critics. Even Superman has plenty of villains to deal with and if Dr. Borlaug had a Lex Luthor in his life, it was those who believed that his advances were unnatural and potentially damaging to the environment. Even today, his reputation among environmentalists and organic food enthusiasts is mixed at best.
Most of those critics, however, are not poor farmers in third-world countries who are just one crop failure away from starvation. Many are affluent enough to afford the overpriced asparagus at Whole Foods. They'll probably never know or appreciate the abundance that Dr. Borlaug's work has given them and how many lives are saved every day because of it.
Then, there were doom-sayers like Paul Ehrlich, who wrote a best-seller in 1968 called "The Population Bomb" that said that the rapid growth of the human population was unsustainable. He claimed that there was simply no way food production could keep up, which would result in massive war or unprecedented famine. Even by 1960s standards, this was pretty scary stuff.
Rather than despair, Dr. Borlaug just kept on working so that we did have enough food. With all due respect to Mr. Ehrlich, his predictions failed because men like Norman Borlaug confronted these problems rather than whined about it. That's not just heroic. That's an important lesson that's more critical now than it has ever been.
Today, even without Dr. Borlaug among us, we face many challenges including war, disease, poverty, and unskippable video ads. However, as daunting as they may be, we can take comfort in the knowledge that more people than at any point in history need not do so on an empty stomach.
I've often commented on how survival and reproduction are the two key drives for humanity. While I tend to focus heavily on the latter, I don't often have to mention the survival part because Norman Borlaug made that unnecessary. It's because of this man's work that we have more food than we've ever had before in our history.
His spirit lives on in the work of other researchers looking to further improve our food production. From vertical farming to in vitro meats, the promise of abundant food and full stomachs will continue as our population keeps growing.
More than anything else, though, Norman Borlaug embodied a humanitarian spirit that helped improve the human condition for all. It's not unreasonable to say that the world is better because of him. So at some point tomorrow, March 25, take a moment to appreciate the contributions of a man whose name you probably didn't know before now.
The next time you eat and go to bed with a full stomach, be sure to thank Dr. Borlaug for his contributions to the world. Most importantly, honor the humanitarian spirit he embodied. That's how we're going to make a more peaceful world.