Brace yourself because I'm about to talk about two topics that make people very uncomfortable. One is abortion, a heated political topic that is poised to get even more heated, due to recent political upheavals. The other is Hell, a distressing theological issue that makes us dwell/lament on our impending death. If that weren't volatile enough, I'm going to tie both topics together.
Rest assured, I'm not doing this to combine a couple of controversial issues for dramatic effect. While I loathe talking about issues like abortion, I don't avoid it when it reveals something important about a particular movement or can demonstrate important lessons about society.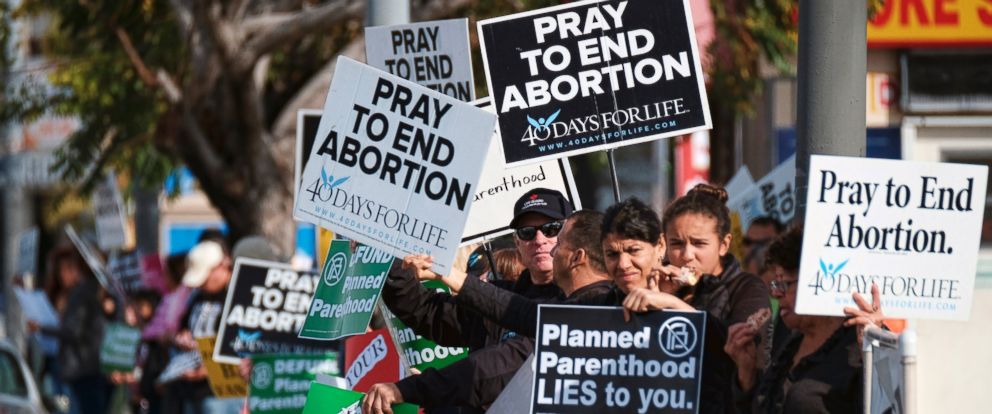 When it comes to Hell, a topic that heats up any debate between believers and non-believers, the conversations are just as difficult. I still feel they're worth having. This one, in particular, counts as one of them because there are certain implications that warrant a more nuanced discussion.
It's no secret that those who are vehemently anti-abortion also happen to be religious. Anti-abortion protesters even cite bible passages to justify their position. Now, I can understand and even accept certain ethical aspects of the pro-life position. However, when religion enters the debate, that's where some real disconnects emerge.
That's because when those factors enter the pro-life equation, both the morality and the math break down. To understand why, it's important to focus on an aspect of the abortion debate that the late, great George Carlin famously emphasized. He sought consistency in the anti-abortion debate and noted its rarity in the most hilarious way possible.
Consistency is important if your argument is going to have merit. Even with emotionally-charged topics like abortion, consistency is key to ensuring that an argument has some semblance of logic. Since logic and faith tend to conflict, especially in matters of science, bringing religion into the mix can easily derail that consistency.
This is where the issue of Hell enters the picture. It's a very unpleasant, but very critical concept to certain religions, namely Christianity and Islam. It's central to their theology, which emphasizes punishment for the sinful. It's a very morbid, but very relevant concept because everybody dies and nobody knows for sure what happens afterwards, if anything.
In the abortion debate, Hell matters for the anti-abortion side because their most frequent refrain is that abortion is murder. Having an abortion is the taking of a human life and murder is an egregious sin. It's one of the few sins that's enshrined in both secular law and the 10 Commandments.
By holding that position, though, it raises an important implication for both the consistency of the anti-abortion position and the theology used to justify it.
If abortion really does take a life, then what happens to that life? Does it go to Heaven or Hell?
That's a critical question to answer, but it's here where both the consistency and the moral underpinnings of the anti-abortion debate break down. In fact, it doesn't even matter which way the question is answered. It still has critical implications that make an anti-abortion stance for religious reasons untenable.
To understand why, we need to look at the possible answers to the question and examine the bigger picture. Say, for instance, that you believe the deity you worship saves the souls of aborted fetuses. They all get to go to Heaven because sending unborn children to Hell just doesn't make sense for a loving God.
By that logic, though, wouldn't abortion actually be the best thing a woman could do for her unborn child? If, by aborting a pregnancy, she guarantees that her child goes to Heaven, wouldn't that be the greatest act of love a mother could give?
In that moral framework, any woman who gives birth is basically gambling with their child's soul. By bringing them into a sinful world, they put them in a position to live a life that will eventually send them to Hell. It doesn't matter if that chance is remote. It doesn't even matter if the deity reserves Hell for the worst of the worst. Any child born still has a non-zero chance of damnation.
In that context, being anti-abortion is the worst position to take for someone who believes that their deity sends aborted fetuses to Heaven. If anything, they would have to be in favor of abortion for every pregnancy, planned or unplanned, because it means more souls in Heaven and fewer in Hell.
The implications are just as distressing if you answer the question the other way. If your deity sends aborted fetuses to Hell, then logic follows that this deity cannot be just or loving. A fetus, by default, has no ability to even contemplate sin, let alone commit it. Sending it to Hell implies that sin, itself, is an empty concept.
It also undercuts key aspects of Judeo-Christian theology, which says that someone must sin to warrant damnation. Holding both a fetus and a young child with a limited capacity to understand such concepts is untenable. Keep in mind, Hell is supposed to be full of torture and suffering. What kind of deity puts a child through that?
Even if the deity knows which fetus or small child is destined to sin and punishes them accordingly, that still renders the anti-abortion position pointless. If the deity already knows which life is damned, then why does it matter whether a woman opts to have an abortion? If that has already been determined, then abortion has no religious implications whatsoever.
Whatever the case, the very concept of Hell creates an illogical loop that is incapable of consistency. Even if you grant the most generous assumptions of a religious argument, it still falls apart as soon as you try to put it into an ethical framework.
While the very concept of Hell is subject to all sorts of moral complexities, it effectively supercedes those complexities in the abortion debate. Either Hell is full of innocent aborted souls or is devoid of them. In both cases, it reveals more about the deity and the adherents of a religion than it does the actual issue.
None of this is to say that those who make anti-abortion arguments on the basis of faith aren't sincere. I don't doubt for a second that they are. They genuinely believe that abortion is immoral and constitutes murder. However, when it comes to making a moral argument, consistency matters. Without it, the arguments are entirely arbitrary and there's no winning that debate.