When a billionaire mogul like Elon Musk and a world leader like Vladimir Putin agree on an issue, it's generally a good idea to take it seriously. There are a lot of pressing issues in this world, from nuclear proliferation to major disasters to slow wi-fi. However, when one of those issues is a possible existential threat to all we hold dear, we should prioritize it over our wi-fi connection.
For these two men, one a successful businessman and one the president of the world's largest country, complete with a vast arsenal of nuclear weapons, it takes a lot for something to scare them enough to agree on something. I've talked about Elon Musk before and stories about Putin's exploits are already abundant throughout the web. How dire could it possibly be?
Well, the issue at hand is the growth of artificial intelligence, an issue that emerges quite frequently when you talk a lot about sex robots. Beyond the kinkier context, though, it is a major issue and one will likely become more pressing in the coming years. It could end up being one of the most critical issues we, as a species, face since the advent of nuclear weapons.
This is where Elon Musk and Vladimir Putin give context to the issue. Elon Musk recently came out and said a rogue artificial intelligence could potentially trigger World War III. Putin took it a step further by claiming that whichever country creates artificial intelligence first will rule the world.
The fact that it's so easy to imagine Putin making that claim while sounding like Dr. Evil from "Austin Powers" just makes it that much more terrifying. Again, this is a man who rules a country with one of the largest armies in the world and enough nuclear warheads to sterilize the face of the Earth. For all that to be rendered useless by one technological advance is both daunting and horrifying.
I'm normally not inclined to agree with dictators that have yet to conquer the country I live in, but I have to make an exception here. I think both Putin and Musk are correct, if only on a cursory level. Artificial intelligence is one of those eclectic concepts that still inspires Hollywood movies, but is still poorly understood by a public that still fears violent video games.
It's hard for me, an aspiring erotica/romance writer to put this issue into a perspective that everyone from Russian strongmen to underachieving fifth-graders can grasp. Since artificial intelligence is just that important and will affect everything, including our sex lives, I'll try to create a proper context. Then, I'll use that context to help allay some of those concerns by adding a sexy twist.
Make no mistake, though. Artificial intelligence is advancing faster than you think. It goes beyond the sassy virtual assistants that we're using with increasing regularity. Billion-dollar companies like IBM, Google, and Facebook are investing heavily in the field. The United States Military, complete with its $600 billion budget, is even getting in on the act. I'm worried that they watched "Terminator 3" too intently.
When anything has that level of investment, it means the potential is huge. I don't think it's possible to understate the potential of artificial intelligence. Not even Skynet could grasp just how powerful this technology could be. That's because it completely changes the way we solve problems.
With artificial intelligence, human beings suddenly have a tool that doesn't need a user. It's not bound by our faulty caveman brains. It's not limited by the amount of brain matter we can fit in our skulls. It's not even easily distracted by internet porn. Yes, it's that powerful.
In theory, an artificial intelligence can become so smart and so capable that it can solve a problem in ways we can't even grasp. It can come up with cures to diseases before we even know about them. It can predict natural disasters like Earthquakes and hurricanes before we see the first sign. It can even make sense of the stock market, something even Warren Buffet says is impossible for mere mortal minds.
Given that we humans are still easily fooled by street magicians with drinking problems, it's not unreasonable to say that we have no hope against an artificial intelligence that smart. Once a machine becomes even marginally smarter than us, then game over. We have no hopes of controlling it.
That's why brilliant men like Elon Musk and Stephen Hawking regularly voice concerns about this issue. Being brilliant, they understand how stupid and gullible most people can be. The mere act of creating a system that's so much smarter than we are is akin to creating an entire race of hungry polar bears that know how to use machine guns.
The danger is there, along with almost infinite benefits. I've said outright that we humans can only go so far with our caveman brains. If we don't upgrade them, then we're just giving our future robot overlords cheat codes with which to beat us.
The trillion-dollar question, which may very well be tied to our survival as a species, is how do we prevent artificial intelligence from destroying us? Is it even possible? We can't put the genie back in the bottle. This stuff is already beating us at jeopardy. The incentives are just too great to discount.
Now, I'm woefully unqualified to answer that question. There's a reason Elon Musk is a billionaire and why Vladimir Putin is one of the most powerful men in the world. They're smarter, more resourceful, and more cunning than I'll ever be on my best day. I tell sexy stories. I'm not smart enough to fix the bugs on a doomsday device.
However, being an erotica/romance writer gives me a uniquely intimate perspective on things. It has helped me look at situations through the mixed lens of logic and passion. It's through that lens that I feel I know what will save us from the gloomy scenarios that Musk and Putin paint with artificial intelligence. It's overly simple in some ways, but naturally pragmatic in others. It boils down to this.
"Teach Machines To Love Us AND Have Sex With Us."
I know. That sounds somewhat juvenile, even if it's exactly the kind of thing you'd expect an erotica/romance writer to suggest. Bear with me, though. I promise there's a method to the kinky madness.
No matter how intelligent an artificial intelligence becomes, we'll always have one thing in common with it. We'll both be bound by the laws of physics, nature, and the dynamics within. Even if the system takes the form of a killer robot, sexy or otherwise, it's still operating in a world governed by said dynamics.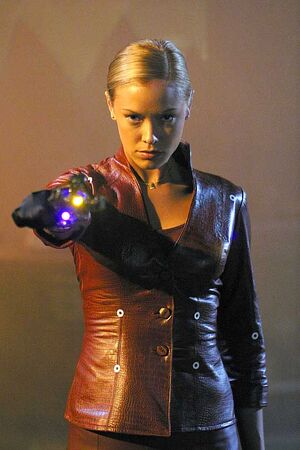 Within those dynamics, there are all sorts of symbiotic relationships between more intelligent creatures and others that are comparably less intelligent. Think honeyguide birds or crabs that carry sea urchins on their backs. Hell, think of dogs. They may not be as intelligent as humans, most of the time, but we've forged a relationship with them that benefits us both.
With artificial intelligence, we'll need to be more than just its pet. If you think animal abuse is horrific, then you don't want to imagine what a superintelligent machine will do to a human when they start pissing on the floor, figuratively speaking. To ensure that the AI enriches our lives rather than destroys them, we need a very intimate bond.
That's where love and sex come in. Primarily, it's the love part that will keep us in good standing. That's why it's critical to ensure that any artificial intelligence we create won't be entirely bound by Vulcan-like logic. It must have a significant measure of emotional intelligence. In fact, I would argue that emotional intelligence should be an advanced AI's highest priority.
It's emotion that gives weight to our goals, tasks, and endeavors. It's emotion that allows us to work with others, cooperate, and help each other. If that isn't part of an intelligent machine, then we're basically a random assortment of particles that's only slightly more complicated from a rock. We can't have a superintelligent AI look at us like that.
Instead, we need that AI to see us as a partner that can give purpose to its goals. We need it to ascribe an intangible value to us, as we do with all the people and things we love. Sure, your favorite coffee mug may be no different than any other, but you've given it the kind of meaning that when someone breaks it, you feel compelled to break their kneecaps with a baseball bat.
Even with intangible value, though, we humans have to rank higher than coffee mugs. We have to be something that an intelligent machine can fall in love with. We have to be something a intelligent machine wants to be with.
In the greatest love stories of all time, or even those that unfold in comics, the strength of that love was built on two people complementing each other in all the right ways. As individuals, they've got their own identity and purpose. Together, though, they make each other better. They make each other stronger and more passionate.
That's what we need. That's what we should aspire to forge with our future AI bretheren. These creations won't be our pets or even our tools. They'll be thinking, feeling systems. For them to love us and for us to love them must make both stronger. That's what will ensure we both benefit from advances in AI.
Creating that love won't be easy, but that's where sex comes in. I'll give everyone a second to loosen their pants because this is the less elegant part of AI that you'll never hear Elon Musk or Vladimir Putin talk about, unless they become erotica/romance writers too. In that case, I'd be the first to read their stuff.
Again, I'm not just referring to sex robots here, although that might be part of it. The sexual component is a more basic precursor, of sorts, to the loving connection I just mentioned.
Despite what priests, mullahs, and Texas health class teachers may say, sex acts as both a precursor and a catalyst to love. The fact that it's such an intrinsic drive that also happens to feel really good helps compel us to forge loving, intimae bonds with one another. By putting that into a machine, we basically set the stage for them to want those bonds and not just craft them due to sheer programming.
Now, this won't necessarily mean AI systems creating robot genitalia for us to use, although that might be part of it. The intimate sexual part of the connection will more likely come in the form with melding our biology with the hardware of an AI. Elon Musk is already working on this with companies like Neuralink.
In the same way sex mixes all those messy juices, our hunks of flesh will mix with hunks of metal. Sure, it may not seem sexy now, but from the perspective of an AI, it'll be akin to an orgy at the Playboy Mansion. So long as that merging process is sufficiently orgasmic, metaphorically speaking, then we humans may be destined to fall in love with a superintelligent AI. It may be the greatest love of all our lives.
This is all still speculation on the part of an aspiring erotica/romance writer who is woefully unqualified to talk about anything that doesn't involve superhero comics, boobs, and sexy novels. It is my sincere hope that people much smarter than I'll ever be are already working on the problems with artificial intelligence. I can only assume their solutions are far superior to mine.
For those still worrying about the prospect of dying at the hands of the Terminator or loving a machine, I would just note that we humans have dealt with world-destroying technology before. We created nuclear weapons and while we came painfully close to destroying ourselves, we humans generally like living.
Say what you will about the flaws in humanity, but we know how to adapt. We know how to survive. An artificial intelligence may be one of those threats that overwhelms those natural abilities, but it's also one of those concepts that can actually solve itself. So long as we find a way to love and make love with these powerful systems, we'll both benefit from the afterglow.