At every wedding or marriage ceremony, we've all heard those sweet, romantic words. Two people stand before friend, family, and whatever deity they happen to worship, and pledge to love, honor, and be faithful to one another until death do they part. It's a powerful romantic sentiment, one that holds a special place in our culture and our understanding of love.
It's also a sentiment that's becoming increasingly hallow because the divorce rates throughout the world are pretty staggering. It runs anywhere between 40 and 65 percent. If every promise someone made to you had a failure at that level, you'd never leave your house without a lawyer and branding iron.
As rough and agonizing as divorce can be, it exists for a legitimate reason. Staying married to the same person your entire life is hard. I'm not just talking about staying sexually monogamous either. Being with only one person, putting all your romantic and emotional energy into a single individual, is not easy. You're putting your entire heart into one person's hand and trusting them not to crush it.
It didn't used to be that hard. In fact, it wasn't that long ago that it was a fairly pragmatic arrangement and by that, I mean as recently as the 1950s. I've talked about the history of marriage before and at the heart of that history is a sort of romantic pragmatism, if that's even the right word.
For most of human civilization that have some form of marriage arrangements, people lived on farms or in small towns, rarely venturing more than fifty miles from their homes. Most of the time, people didn't even choose their spouse. Their parents chose for them.
You weren't expected to love each other. You only really had to tolerate each other and be willing to have children. Those are some pretty low standards, but that was all it took for a successful marriage, so to speak. Sexual fidelity was necessary for the woman to ensure the passage of property, but it was pretty much expected for men to have a few mistresses here and there.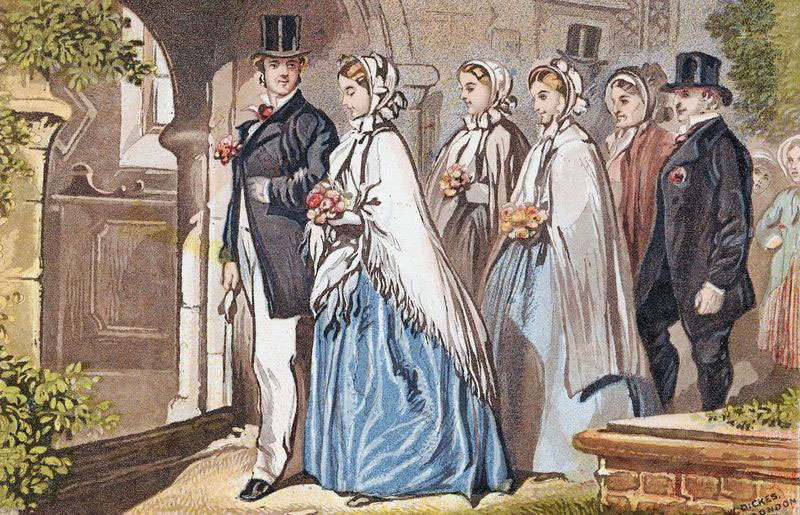 Even with mistresses, this form of marriage worked because it was practical. Staying with one person your whole life made sense in a world where you barely ever left the farm or the town you were born in. Getting divorced, even if there was some cheating on the sides, just didn't make sense. It was more trouble than it was worth.
Then, society changed, technology improved, and civilization revamped its idea of marriage. Instead of the low standards and cold pragmatics of the past, we needed our marriages to be built around the kind of ideal love that's been in every Disney movie since 1944. We need a lover who is our heart, our soul, and our everything. They need to be the personification of a Barry White song mixed with a One Direction song.
Those are some mighty high expectations and I've mentioned how unreasonable they are. Add a little thing called "No-Fault Divorce" to the list, a legal term that rips men's hearts out through their wallets, and suddenly that ideal of love is much trickier. Stories about couples who have been together for 70 years are endearing, but that's because they're the exception and not the norm.
There are still a lot of flaws to dissect in our current understanding of love and marriage. I'll probably do more posts about that in the future. For this one, though, I'm afraid I have to dig deeper into those flaws and the implications are not good. I may end up painting a sad, unsexy picture about the future of our love lives, but bear with me. I'm going to try and inject a little hope and sexiness towards the end.
I've often speculated on how emerging technology like brain implants, biotechnology, and bionic genitals will improve and redefine our love lives, including the sexy parts. In my recent discussions about boredom among immortals, it revealed a relevant issue that we're going to have to address at some point.
In a future where we can live for centuries, maintain our youth, and continue to enjoy a robust sex life, how will we go about love, sex, and marriage? It's a legitimate question because there's no way our current system can work. That system is failing without the impact of bionic genitals. What hope does it have when lovers become full-blown shape-shifters?
Beyond the way we look and our ability to have sex with bionic body parts, the immortal factor may be the trickiest. That's because, as I've pointed out with characters like Vandal Savage and Superman, an extremely long life makes people more prone to crippling boredom. When people become bored, they tend to become dispassionate and that's not a recipe for a functioning romance.
Couples already get bored with each other with stunning regularity. What happens when those couples start living to be 500-years-old and never get too old to attract new partners? The idea of "till death do us part" suddenly becomes woefully impractical. Despite what vampire novels might have us believe, monogamy for an immortal just isn't practical. It might not even be that romantic, in the long run.
Romance and practicality aside, it's still important to maintain those passionate connections between people, even if they are immortal. Without them, they'll inevitably end up like Vandal Savage, who comes to see humans as aging meat-bags in dire need of his exploitation.
However much we enhance our bodies and mind, we humans are still a social species. We are also a passionate species. We seek love, intimacy, and connection with one another. No matter what the economics may say or what religious zealots may decree, we're driven to find love and connection. When we become immortal super-humans, complete with smart blood and bionic genitals, that won't change.
That begs the question, which also happens to inspire another sexy thought experiment. How exactly does a society of immortal humans go about making love and forging romantic bonds? That's a difficult, if not impossible, question to answer, especially for an erotica/romance writer. If I could predict the future that well, I'd play the stock market and become a billionaire by next Tuesday.
However, being an erotica/romance writer, I'm pretty adept at coming up with sexy ideas with plenty of romance mixed in. Anyone who has read my novels knows this all too well. So here's how I imagine a future society of immortal humans will make love.
---
Scenario 1: The Monogamy Scenario (But Not In The Way You Think)
As much as I poke fun at monogamy on this blog, I don't discount its value or its beauty. I also don't think it's going away anytime soon. Even among immortals, there will always be certain individuals for whom monogamy just works. With human enhancement, though, it gets a badly-needed upgrade.
The monogamy I'm talking about isn't the same monogamy you associate with your grandparents who have been married since the stone age. Monogamy in this, context, may also include sharing a mind link, not unlike Cyclops and Jean Grey of the X-men. Two people could be so committed to each other that they want to link minds and stay linked, effectively becoming a single conscious entity.
It may sound creepy, but it also takes monogamy to a whole new level. It also makes use of brain implant technology, like the ones being developed by Neuralink. Monogamy like this could be deeper on a level that would impress the Edward Cullens and Bella Swans of the world. It would be, by our understanding, a perfect monogamous union. You might think their sex would get boring, but it wouldn't matter to them.
---
Scenario 2: The Family Scenario (Not THAT Kind Of Family)
Don't flex your gag-reflex just yet. When I say "family," I'm not talking about incest. I'll leave that to the very specific, very targeted genres of porn that specialize in that sort of thing. For the purposes of this scenario, I'm going to use family in a way that it hasn't been used before, at least outside of a creepy sex cult.
The family scenario focuses on a small group of tight-knit individuals. It may never be more than a dozen people of varying genders. These people may or may not have some sort of mind link via brain implant, sort of like the monogamy scenario. The difference is that this small group shares a collective loving bond.
They exchange intimacy, sex, and love amongst themselves. There aren't any couples or hookups, per se. There's no such thing as an affair or cheating. They all see themselves as a family unit, loving and supporting each other in addition to meeting their sexual and emotional needs. In a future of immortal, enhanced humans, I think this would probably be the most common scenario.
---
Scenario 3: The Community Scenario (Kind Of What It Sounds Like)
This one is less suggestive. It means almost what you think it means. In this scenario, larger groups of individuals, each with enhanced bodies, live or connect in a common way. That connection is fairly loose, though. They opt to maintain most of their individual autonomy, but they see themselves as part of one romantic unit.
Traditional, non-enhanced brains can't function in that way without calling it an orgy. Brains that are enhanced, in that respect, are better able to see themselves as part of a larger unit. It could be among hundreds, if not thousands of people. They may or may not live in a similar area. However, they would all see themselves as romantically linked, just as most monogamous lovers today see themselves romantically linked.
There would be plenty of variety, in terms of sex. Finding a sexual and romantic outlet would be almost casual. It would be like a private sex club, of sorts, one where you get to skip all the small talk and flirting. With enhanced brains and bodies, it's that much more effective. It allows for larger groups of people to function romantically without becoming a Jerry Springer episode.
I imagine a scenario like this would be pretty messy. It would strain even the breadth of human enhancement. For certain individuals, though, namely the ones who want to still be individuals, it would definitely appeal. They get the same love and sex they need. They also get to be their own person, even if they're an asshole sometimes.
---
Again, these are just a few scenarios conjured by one aspiring erotica/romance writer and without the aid of a brain-enhancing neural implant, no less. There's only so much I can speculate and even less I can do to speculate accurately. I'm good at thinking kinky, sexy thoughts and telling kinky, sexy stories with those thoughts. That limits my ability to predict the future, especially a future with enhanced brains.
However accurate, or inaccurate, my scenarios might be, the way we make love with our enhanced selves will be a big part of who we are and the society we inhabit. Chances are it'll be nothing like anything we imagine and it's entirely likely that ever religious group and social conservative will hate it.
It will happen, though. If history has taught us one thing, it's that we're constantly adapting to the crazy new situations we create for ourselves. Part of being human is seeking connection, love, and intimacy with others. As we embrace new technology, new ways of thinking, and new ways of life, our ability and capacity for love, sex, and everything in between will adapt with it.