Back in August of 2013, a very heinous, very unusual crime made headlines around the world. In Dunkan, Oklahoma, a group of three teenagers allegedly murdered Christopher Lane, an Australian exchange student just out for a jog, in cold blood just because they were bored.
Think about that for a moment. A bunch of teenagers got so bored and were so desperate form stimulation that they resorted to cold-blooded murder just to get their adrenaline flowing. We, as a society, are so used to crimes of passion and desperation. They're basically the premise of every episode of "CSI" and "Law and Order."
The fact those shows keep getting renewed show that we have a certain concept of what inspires and propagates crime and deviance. People who commit these crimes usually have some sort of overpowering motivation that overshadows any sense of decency they have. They're desperate for money, they're hopelessly in love, or in some cases, they're pathological psychopaths with fatal flaws in their biology.
What makes the murder of Christopher Lane so horrifying is that it completely upends that narrative. The killers, in this case, weren't motivated by revenge, money, or personality disorders. They were just bored.
That is extremely disconcerting because we've all felt bored at some point in our lives. There was this one time the power got knocked out at my house for nearly two days and I couldn't do damn near anything. When it got dark and I had no more light with which to read comics, it got to be damn near agonizing. I never did anything stupid because of it, but this crime should give everyone pause.
The fact that we're all capable of being exceedingly bored reveals a disturbing possibility. If three bored teenagers are capable of such a heinous act, then are others just as capable? Are we, personally, capable of such horror? Depending on how bored you've been in the past, that's a disturbing question to even think about.
However, it may become an increasingly relevant question in the future. Usually, when I talk about the future on this blog, I explore the more positive ramifications of our advances in technology. I talk about how this technology will cure infectious disease, enhance our cognitive abilities beyond our caveman limits, and improve our sex lives to amazingly kinky heights.
I know, at times, it sound downright utopian in my vision of the future. By our current standards, wherein we live in a world where 3.7 million children die before their fifth birthday, it certainly seems rosy by comparison. However, I stick my fingers in my ears and start singing John Lennon songs when I contemplate potential problems in that vision. This is one issue that's easy to overlook, but has major implications.
At this moment in history, society has a great many distractions in terms of entertainment and productivity. Most people have jobs, of some sort, to keep them busy. The three teenagers who killed Christopher Lee were on summer vacation and had nothing productive to do. It's hard to know whether a part-time job at a fast food joint would've averted a murder, but they would've had to find a different excuse.
Whether you're toiling in the fields of a small farm or running around an office like an episode of "The Office," we've always had some kind of work to keep us, as a species, occupied. For most of human history, we had to work. If we didn't, then we starved to death. It was that simple.
It's another rare instance where caveman logic seems to apply equally across time and history. It doesn't matter whether we're hunter/gatherers or sweatshop workers putting together barbie dolls. We're a species that's wired to work. It may not always be the work we prefer, but we know why it's necessary on some levels. We need to gather and manage our resources to survive.
That, however, is where the chink in our boredom-busting armor might start. For most of human history, we've always had to work ourselves to the bone to keep our species and our civilization moving. That's rapidly changing due to trends in automation. Add in the growth of artificial intelligence, the rise of 3D printing, and the possibility of lab-grown food, and suddenly we don't need millions of people toiling anymore.
Now by most measures, it's a good thing that we don't need people to endure back-breaking labor just to get the bare minimum of sustenance. Most people would rather not work in fields of cow shit or work 12-hour shifts in a factory. They'd rather work a reasonable number of hours that provides them abundant leisure and family time. That's wholly possible in a modern economy.
However, at some point, technology will make even that reasonable set of hours won't be necessary. Our ability to make our food, purify our water, and generate power might become so efficient that the amount of work needed is minimal. Given our tendency to screw up on the job, it may get to a point where having human workers is a liability.
It could lead to a huge mass of unemployment or under-employment. However, that wouldn't mean everyone would have to live in poverty. On the contrary, it may eliminate poverty altogether because we could allocate the basic necessities of life so efficiently. Policies like the universal basic income, which I've talked about before, may effectively decouple the link between work and survival.
This is all well and good for people who hate doing menial jobs for low pay, but it creates a situation that we, as a species, have never dealt with before. What happens to our bodies, minds, and biology when we don't have to work at all and are subject to the constant threat of boredom?
That's not entirely a rhetorical question. It's also one of those questions that's impossible to answer now, but might be possible to address in the future. We've never had a functioning society where nobody has to work and everybody has access to the basics of life, free of charge. It's so unprecedented that it's hard to know whether we're even wired for it.
The ghastly murder of Christopher Lane implies that our minds and bodies don't react well to boredom. It makes us think crazy thoughts, do crazy things, and act on crazy impulses. What else other than boredom can explain people dedicating so much time and energy into making paperclip chains?
It doesn't just reflect to our basic caveman settings. These are essential survival instincts that every species that has ever lived have built into their biology. Every creature, be it a lion or a dung beetle, dedicates a significant amount of its existence simply securing food, avoiding predators, and finding a mate. Given the never-ending competition of nature and evolution, there's literally no time to be bored.
Humans are in an unprecedented situation compared to other species. We're basically like players in a massive multi-player video game armed with cheat codes. We are so dominate, so powerful, and so adaptable that no other species has a prayer. Sure, a deer may kill an unlucky human every now and then, but deer are just not able to dominate the way humans dominate.
The problem is that this undermines the very mechanics of evolution and survival instinct. What happens to a species where it doesn't need those instincts to survive and reproduce anymore? With our tools and technology, humans can kill any predator and beat any disease.
That means our only concern would be reproduction. That might already be playing out to some extent. There have been some links, albeit weak ones, between adolescent boredom and teen pregnancy. When you think about it from a survival standpoint, it makes sense. If there's no food to gather or predators to avoid, your next instinct is to mate. At the very least, having kids gives you something to do.
However, technology may make that unnecessary as well. Between advances in contraception and artificial wombs, even that most basic instinct won't be necessary for the propagation of our species. In that scenario, sex would have no reproductive purposes. It would just be another thing we do with our bodies when we're bored. While that might mean more people get laid, it also means risking even more boredom.
Can we, as a species and as individuals, function with that kind of boredom? In a future where we have so few concerns to our survival, safety, and propagation, can we actually tolerate life? Again, it's not entirely a rhetorical question.
Just imagine yourself in that situation. You wake up in a nice, comfortable dwelling every day. You don't have to work. Anything you want to eat is readily available. If you want to have sex, there are apps to connect you with people or sex robots that make that as easy as ordering a pizza. You have all the time you want for hobbies, sports, and what not.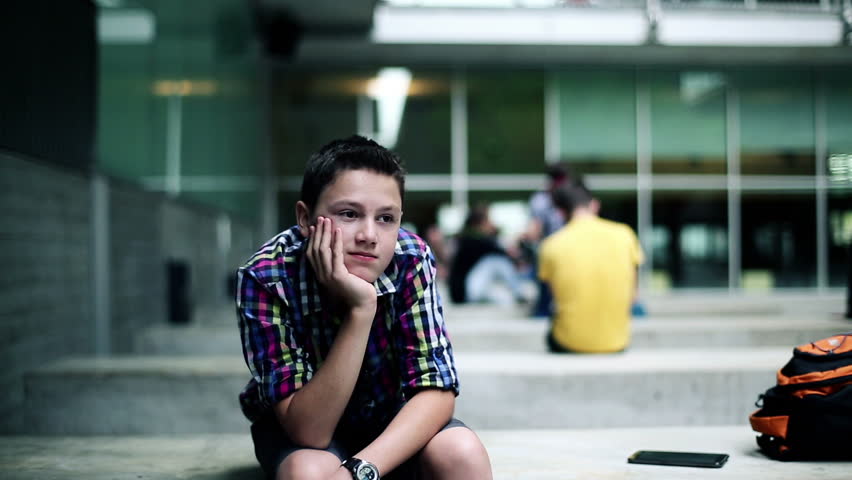 It might be fun at first, but what happens when you get bored? How do you fill every hour of every day? What happens when you've read all your books, beat every video game, and collected every stamp? What will you do to entertain yourself?
That's not to say some people will resort to the lengths that those teenagers in Oklahoma went to when they murdered an innocent man. However, the fact that this happened today when we're still a long way from that rosy future is telling. It might even be a warning that we're not prepared for the boredom pandemic to come.