As an unapologetic romance fan, I concede that I often talk about love the same way dog lovers talk about puppies. I go on and on about how wonderful it is, but often gloss over the nasty parts. In the same way those dog lovers don't dwell on all the times their beloved companion shits on the rug, I don't dwell on the more painful aspect of romance.
Well, in the same way ignoring the pile of dog poop doesn't make the stench go away, ignoring those painful elements of romance doesn't make them any less relevant. Even those who aren't romance fans understand that romance often involves tragedy. It's no coincidence that some of the most famous love stories, from "Romeo and Juliet" to "Titanic," involve a hefty bit of heartache.
I would argue that's exactly what makes love and stories about romance so powerful. There's a significant risk of heartache, rejection, and loss. There's real pain that comes with pursuing romance, but the we gladly risk that pain because the rewards can be as fulfilling as they are sexy. I've done more to highlight the breadth of those rewards in my novels, especially with stories like "Passion Relapse."
However, the pain that comes from the other side of that coin can be just as dramatic, if not more so. Anyone who has ever seen old episodes of "Jerry Springer" understands this to some extent. It's not usually the kind of drama that ends with two lovers dying in each other's arms or Rose not making room for Jack on that floating plank. More often than not, it's a more frustrating kind of drama.
In many respects, the unsexiest version of this drama has to do with cheating. To some, that's the much more dreaded C-word. Cheating is to romance what food poisoning is to Thanksgiving dinner. It is the worst-case scenario for those seeking the joys and appeals associated with romance. It is also one of those unfortunate elements that plays out in real life more often than it does in sexy romance novels.
It's unromantic, but inescapable. Cheating happens and it happens a lot. While it doesn't happen as often as "Jerry Springer" might have us believe, it happens often enough that it's a legitimate concern among lovers. That's why modern marriage laws, however skewed they might be, often account for infidelity.
In the same way there has never been a drug-free society, there has never been a society where cheating and infidelity has not occurred to some extent. From our caveman ancestors to the increasingly-uptight Millennials, the risk of cheating is there and the rise of social media and online dating sites like Ashley Madison are only making it easier.
I've talked a bit about cheating when I've discussed jealousy and our approach to marriage in modern society. Within the context of those discussions, cheating is a significant portion of those issues, but it's still only part of a larger whole. It's still a significant stain on the pursuit of romance, but it doesn't completely overshadow it.
To make sense of it, as difficult as that may be, it's necessary to focus on the reasons why people cheat. To anyone who has ever been the victim of a cheating lover, that may mean poking at old wounds and for that, I apologize. I admit it's somewhat underhanded to suggest there are reasons why people cheat instead of just excuses, but to make sense of cheating overall, we need to accept that there are reasons behind it.
Listen to any story about cheating, be it a magazine article or a poorly-directed reality show, and you'll notice a few themes about cheating. For one, there is a gender disparity in the numbers. Statistically speaking, men do cheat more often than women. However, the difference in those numbers isn't quite as vast as the "Mad Men" stereotypes would have us believe.
As to why the gender disparity exists, there are just as many theories about that as well. I've talked somewhat about those disparities in discussions about sexual promiscuity and gender double standards. However, those theories don't always explain the reasons behind cheating. In fact, the process for gathering data on cheating is exceedingly tricky.
Absent an underlying theory, we're left with a diverse list of reasons that men and women give for their infidelity. According to WebMD, men and women cheat in different ways. For men, it's often physical, a method of meeting unmet needs. For whatever reason, they're no longer satisfied with their spouse and cheating is either a way to meet those needs or escape from that spouse.
For women, the act of cheating often has more emotional connotations. While meeting a physical need is part of it, women are more inclined to seek an emotional connection when they cheat. That's not to say that some women just want some sexual variety or some men don't fall in love with those they're cheating with, but these are the popular narratives and some of it does bear out in the data.
Like I said earlier, though, the disparity in that data is not exceedingly vast and there are a lot of issues associated with gathering that data in the first place. If you accept the rule of the great Dr. House, "The most successful marriages are based on lies," then it's almost impossible to ascertain just how much cheating is going on and why it's happening.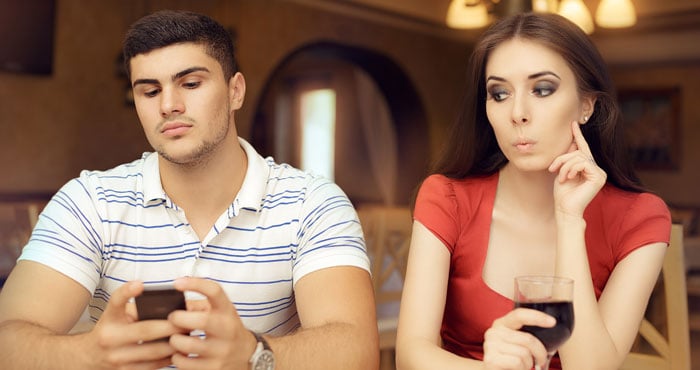 Even if it's impossible to know, there are lessons we can learn from the reasons and excuses that people give. Chief among the reasons men give for cheating involve seeking new intimate experiences, either out of dissatisfaction or boredom. Given how I've explored the impact of boredom before, I think that is likely a bigger factor than most care to admit.
With women, the reasons often involve a lack of satisfaction that goes beyond physical. It's not just that they feel unsatisfied. The underlying theme often involves their sentiment that their partner is no longer putting in the kind of effort they did when they fell in love. That lack of effort gives the impression that they don't care anymore, leading women to seek out someone who does care.
In scrutinizing these reasons that vary widely between gender, cultures, and personality types, there does appear to be one common theme that binds both genders when it comes to cheating. Whether it's physical or emotional, it often comes down to the perception that someone in the relationship isn't putting in the effort anymore. Either they don't have the energy or just don't care enough.
In either case, the context of the cheating seems less about meeting a need and more about finding someone who will match your passionate efforts. Regardless of whatever gender disparity may or may not be at work with cheating, there's no denying that men and women are passionate creatures. We each seek outlets for our passion and if we're not getting it from that outlet, we're going to seek another.
That's not to say that some who cheat are just looking for an exciting and novel experience. That's another inclination that is hard-wired into both genders in ways that go beyond sex, romance, or fidelity. When it comes specifically to cheating, though, the primary catalyst often comes back to passion and how it's being channeled.
Cheating and being cheated on often comes with many hard lessons, some of which leave deeper scars than others. Whether you're a romantic like me, a jaded heart with cynical views on love, or believe that human beings aren't meant to just love one person for the rest of their lives, the betrayal and dishonesty associated with cheating still hurts us. If nothing else, it's a harsh reminder of how deep our passions run.
If there's a lesson that both genders can and should learn from the pain of cheating, it's the importance of understanding and channeling those passions. When two people share the kind of passion that keeps their love, sex, and relationship strong, then there's no reason for either of them to cheat. It's not easy sharing that kind of passion, but the fact we risk the pain of being cheated on shows it's a risk worth taking.