Whenever I talk about the future on this blog, which is an awful lot for an erotica/romance writer, I always feel I need to make the same disclosure. I've made it before whenever I try to make predictions about the future. I still feel it's worth making because I don't want to give the impression that I'm smarter than I actually am.
Here's the honest truth. Nobody knows for sure what's going to happen in the future. Nobody knows for sure what kind of technological breakthroughs there will be. Nobody knows for sure how our understanding of physics, biology, and chemistry will change. Nobody knows for sure whether Kardashians will be broke and sell insurance tomorrow.
It's the same advice I gave everyone frustrated by news, politics, and everything in between. Nobody knows anything. They can make educated guesses that may or may not be accurate. Some are far less educated than others. At the end of the day, though, nobody really knows for sure.
I say all this because I'm going to take a moment to predict and/or speculate on what sort of taboos we'll have in the future. I talked a bit about taboos and why they exist. No matter how advanced we get as a society, relatively speaking, there will always be sort of taboo operating behind our social norms. Most of those norms will have to do with sex, gender, and how much poor people are screwed over.
Now, those dynamics might change when technology like brain implants or smart blood become sufficiently advanced. They might change even more if we adopt policies like a universal basic income. For our entire existence, as a species, we've been at the mercy of our caveman brains, whose wiring is basically set by the painfully slow processes of evolution. Once that changes, then all bets are off.
With that massive flaw in the dynamics of taboos, I'm still going to try and make a few predictions. If you think I'm stupid, dead wrong, or just plain trolling, then please know that I'm at the mercy as the same limits as everyone else. I'm just as capable of making a stupid predictions, just like the idiots who thought the internet was a fad.
So, with no illusions as to the accuracy of my predictions, here are the taboos that I believe we'll see in the latter parts of the 21st century. Some of them deal with technology. Some of them deal with social policies. Yes, some even deal with sex. I'm sure that will shock no one. Whatever they involve, the issues are the same. These will be things that will carry with them an odd, but unique stigma for future generations.
---
Taboo #1: Having Babies The Old Fashioned Way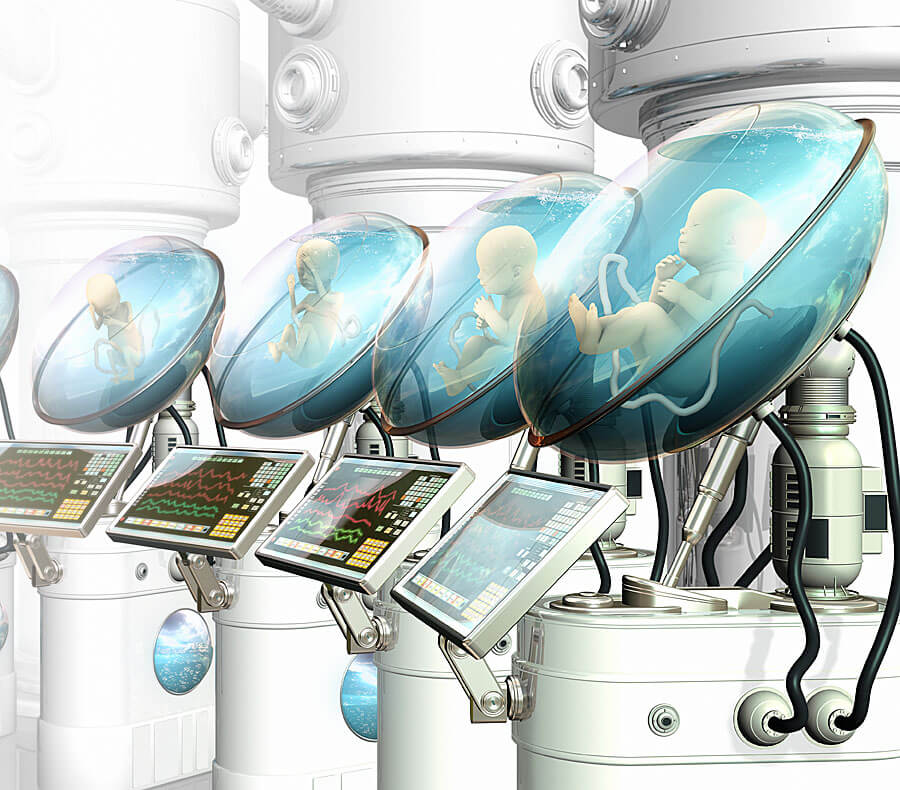 I've talked about artificial wombs before, primarily as a means of leveling the playing field between genders. Initially, the technology will be used to save infants born prematurely and help infertile couples have children. This is all technology that's in development right now and we'll likely see it refined within our lifetime.
It's when you push it out beyond that when things get really interesting. At some point, using artificial wombs will be healthier, more efficient, and more convenient than old fashioned birthing. It'll probably be a lot more comfortable too. Talk to any woman who has ever endured the joys of childbirth without pain killers and they'll tell you how much they'd love to see technology like this advance.
So if there's a method for making babies that's safer, easier, and involves much less screaming, why would anyone opt to make babies the old fashioned way? That's like people who opt not to drink unpasteurized milk, which is fraught with a lot of health risks.
We may come to a point where people who give birth naturally will be seen as irresponsible, reckless, and downright weird. Whenever the health of babies is an issue, taboos tend to follow. No matter how advanced we get as a species, our concern for the health of infants will still be an issue.
---
Taboo #2: Identifying As A Gender And NOT Going Through A Complete Transition
This taboo is something we're already seeing, to some extent, with ongoing transgender issues. At the moment, most of those issues involve discrimination, harassment, and the "ick factor" that a lot of minorities tend to deal with at some point in their history. Those issues are relevant for a reason, but that reason will change considerably in the future.
At the moment, sexual reassignment surgery is a messy, expensive, tedious process that's full of various risks. It's also not entirely perfect. Transgender women still can't give birth and transgender men still can't father children. They can look like their preferred gender all they want, but the biological mechanisms within still won't be the same.
With advances in biotechnology, especially advances like smart blood, we may advance to a state where we can basically shape-shift our bodies the same way Mystique from the X-men does. If someone wants to be a particular gender, then the technology will be there for them to make that transition so completely that nobody would ever know they went through such a transition.
When that time comes, the act of being transgender won't be taboo. However, those who identify as another gender, but don't go through a transition, may get their share of odd glances. That would be like someone offering you a limb you once lost and then refusing it. If you can be whatever gender you want to be, why would you continue to live in the wrong body?
---
Taboo #3: Allowing Yourself To Be Sick
This also ties into biotechnology and the advances we'll make in fighting disease. Tools like CRISPR are already in development. There may come a time in the near future when nearly all disease, especially the infectious kind, is effectively cured.
So when those diseases are gone, why does anyone get sick? Why would anyone even allow themselves to get sick? Throughout history, society has had all sorts of rules and rituals as to how they treat the sick. A society full of sick people is an unstable society and it's always in everyone's interest to minimize that.
Like with those who drink raw milk or religious groups who refuse modern medicine, there may be a segment of people who choose not to use tools like CRISPR or smart blood. When those people get sick, they'll likely be major anomalies in a society where most of these diseases are cured. Like someone getting measles again, it's a dangerous act that will likely carry plenty of stigma.
---
Taboo #4: NOT Being On Some Form Of Contraception
This is where our sex lives come into play. Admit it, you know I was going to get to something like this. I've talked a lot about contraception and the future of birth control, often with plenty of side-notes as to how this is going to affect our sex lives and gender dynamics. Naturally, that's going to include plenty of taboos.
In a future with artificial wombs to grow the population, the mere act of not being on contraception will be inherently risky. Pregnancy already kills a lot of women, even today with all our advanced medicine. In a future where we don't need women to put themselves at that kind of risk to grow the population, why would society even encourage it?
While this may be outrageous for those currently locked in the pro-life/pro-choice debate, technology will change the dynamics. If birth control technology gets to a point where it's safe, effective, and cheap, then it requires people to go out of their way to avoid using it. Like people going out of their way to avoid seat-belts, we'll see that as irresponsible, reckless behavior.
This would definitely have huge implications for our sex lives. In a world where contraception is the default setting for everyone, people would likely treat sex as something separate from reproduction. We've already done this with food, thanks to technology, so it's possible sex will undergo a similar process.
Like someone who tries to poke holes in condoms or get pregnant from a partner, which does happen, people who forego contraception will likely become deviants who disrupt the norms surrounding sex and reproduction. Deviants often put a face on taboos and it's rarely a pretty face.
---
Taboo #5: NOT Being Healthy Or Physically Fit 
In the same way that not being on contraception will be taboo, not being fit could also become an anomaly that someone has to go out of their way to achieve. That's hard to imagine now with obesity being a major issue throughout the industrialized world. Right now, the weight-loss industry is a multi-billion dollar industry that's full of fads, diets, and pills that turn peoples' insides into raging tire fire.
In the future, advances like smart blood will make obesity nothing more than a subject of niche genre porn. Even those without eight-pack abs can still be healthy and fit because enhancements to our biology and brains will make that as easy as downing a tub of ice cream on a hot summer day.
Biotechnology will basically allow us to hack the biology of our bodies and make it so we don't have to eat and work out like the Rock to be fit. We just need something like smart blood in our bodies to let it know that we want it to look a particular way and anything that might make us not look that way should go straight to the colon.
In that future, one where women all look as fit as Jennifer Lawrence and men are all as toned as Hugh Jackman, being unfit and unhealthy would be a conscious choice rather than struggle. It would also make people more prone to health issues and illnesses that would burden a society full of beautiful people. That would definitely make it a taboo.
I'm not saying those who opts not to use this technology to look as sexy as possible are wrong or bad people. They may have legitimate, personal reasons for doing so. However, that choice makes the society around them seem less healthy and less sexy. That's usually an easy way to become taboo and not look good while doing it.
---
These are just a few ideas. Again, it's very likely they'll be dead wrong. Most reading this blog might not even live long enough to see some of them. Either way, it's fairly certain that we'll still have taboos in the future that seem weird to every other generation that ever lived. It's just a matter of how weird they get.
With that in mind, I'd love to hear what others think might be taboo in the future. Please let me know in the comments. If enough people submit them, I'll do another post on this subject. I'd like this blog to be more interactive. This is just one opportunity for doing so.