There aren't a lot of terms in the English language that I wish could be uninvented. As someone with a strong appreciation for language, as well as someone who aced every essay question in school, the concept of throwing away words is akin to throwing away a box of fresh donuts. It's an abhorrent thought.
That said, I do find myself making exceptions every now and then. Sometimes, you have to because a set of words comes along that's so loaded, so skewed, and so esoteric that its only real use is to embolden assholes and inspire disdain. Given how there are enough assholes in this world, male and female alike, such words can be powerful weapons.
That leads me to one of the few terms I wish we could expunge from the English language, as well as every other language, including those invented by Tolken and Star Trek.
Toxic Masculinity
You've probably heard it before and never in a positive context so get ready to cringe. You may find yourself cringing again, just by reading over it. For that, I apologize. However, this term and what it entails is worth discussing because it affects men, women, and everything in between.
In terms of contemporary meaning, it's worth noting that the idea of toxic masculinity is fairly new in terms of context. It only recently emerged as a major buzzword of third wave feminism, which I've mentioned before and is still evolving. It's definition is somewhat vague, which is one of its many problems, but according to Wikipedia, it embodies all sorts of problematic concepts.
The concept of toxic masculinity is used in the social sciences to describe traditional norms of behavior among men in contemporary American and European society that are associated with detrimental social and psychological effects. Such "toxic" masculine norms include dominance, devaluation of women, extreme self-reliance, and the suppression of emotions.

Conformity with certain traits viewed as traditionally male, such as misogyny, homophobia, and violence, can be considered "toxic" due to harmful effects on others in society, while related traits, including self-reliance and the stifling of emotions, are correlated with harm to men themselves through psychological problems such as depression, increased stress, and substance abuse. Other traditionally masculine traits such as devotion to work, pride in excelling at sports, and providing for one's family, are not considered to be toxic.
In simplest terms, toxic masculinity is the idea that the very traits and social norms associated with manhood are both destructive to modern society and detrimental to women. It is basically the invisible hand that guides people towards regressive, patriarchal attitudes that prefer that everyone live in a 50s sitcom.
Granted, that's an extremely oversimplified understanding of the concept, but it would take way too many blog posts to get into all the nuances that have been ascribed to toxic masculinity. For this piece, I want to focus on the bigger picture and not the fine print.
Now, to be fair, the idea of men being beasts is not new. It pre-dates feminism and modern society by centuries, going all the way back to pagan folklore. However, that concept always came with a particular context, one that the very idea of toxic masculinity seems to ignore.
Dig deep into any mythos about snarling, beast-like men and you'll usually encounter the same themes. Put a man in a situation where he's stripped of humanity, love, community, and family and he becomes a pretty dangerous person. That's basically the entire concept behind the appeal of characters like Wolverine from the X-men.
With toxic masculinity, though, that important caveat gets overlooked or cast aside. In applying toxic masculinity in its current context, there's no circumstance behind all these negative traits associated with men. Just being a man and having any concept of masculinity is inherently toxic.
This is the most nefarious, not to mention insulting, aspect of the concept. It eschews any idea of context and calls the entire experience of being masculine toxic. It creates a situation where the only way to not be toxic is to be feminine, which is overly convenient for those arguing certain brands of feminism.
In essence, it readily embraces one of the most common and well-known fallacies of all time. You've probably heard it before, but it can't be belabored enough.
It's behind every major superstition and many failed scientific observations. It's also the only way in which toxic masculinity works, with respect to criticizing an entire gender.
With toxic masculinity, there is no circumstance or context. There's no need to subject anyone to a dehumanizing process, be it complex social pressures or an adamantium bonding process. Just being a man who exercises his masculinity in any capacity is inherently toxic.
That's a wonderfully simplistic understanding that encapsulates an entire gender for all the wrong reasons, but as is often the case with wonderfully simplistic ideas, it's not accurate. With toxic masculinity, though, it's far more dangerous.
Being such a new word that hasn't had time to develop traditions and complexity, toxic masculinity is a lot like other concepts, such as "fake news" and "alternative facts." They're so new and so vague that you can basically use it as linguistic cheat code to discount anything that you either don't agree with or don't care to scrutinize.
A man commits more crime than a woman? That's toxic masculinity.
A man blames a rape victims for putting herself in a dangerous situation? That's toxic masculinity.
A man makes an inappropriate joke that offends women? That's toxic masculinity.
A man denies sexually harassing a woman? That's toxic masculinity.
A man uses vulgar, profane insults while playing video games? That's toxic masculinity.
There's a clear pattern here in that there doesn't need to be a pattern. Just take any undesirable trait ever ascribed to a man and call it toxic masculinity. Then, like magic, there's no need to scrutinize context or circumstance. There's no need to run any tests or dig deeper. You know the diagnosis and the treatment is obvious. If masculinity is so toxic, then that means we just have to discourage masculinity altogether.
Again, it's an overly simple interpretation of an exceedingly complex phenomenon. It's one that lumps all men, as well as the many dynamics behind masculinity, into a singular collection of traits that just happen to have all sorts of negative connotations. It provides a clear antagonist for those seeking gender equality or women's rights. It also provides a potent mechanism for shaming men.
Ironically, this concept of treating certain gender traits as outright diseases is not unprecedented. In fact, there was a time when the roles were reversed and it was feminine traits that were considered "toxic." However, people didn't call it that. They actually had a medical term for it, which was "female hysteria." Look at the definition and notice some of the parallels to toxic masculinity.
Women considered to have had it exhibited a wide array of symptoms, including faintness, nervousness, sexual desire, insomnia, fluid retention, heaviness in the abdomen, shortness of breath, irritability, loss of appetite for food or sex, and a "tendency to cause trouble".
It seems funny and disturbing now, but back then, it was a serious issue. Society really did get to a point where being too feminine was considered a disease. Just being a woman carried with it an inherent shame that people couldn't escape.
However, at least with female hysteria, the treatment wasn't that bad in that it involved regularly being masturbated to orgasm. In terms of medical treatments, that beats the hell out of headaches and constipation. For toxic masculinity, though, there is no such treatment.
Since the term is so vague and its concepts so loaded, it creates a situation where the only way to avoid it is for a man to constantly denounce, deny, and disparage a core part of his identity. That usually involves a lot of virtue signaling and adopting the role of a beta male. The fact that approach has one too many similarities to gay conversion therapy should give anyone pause.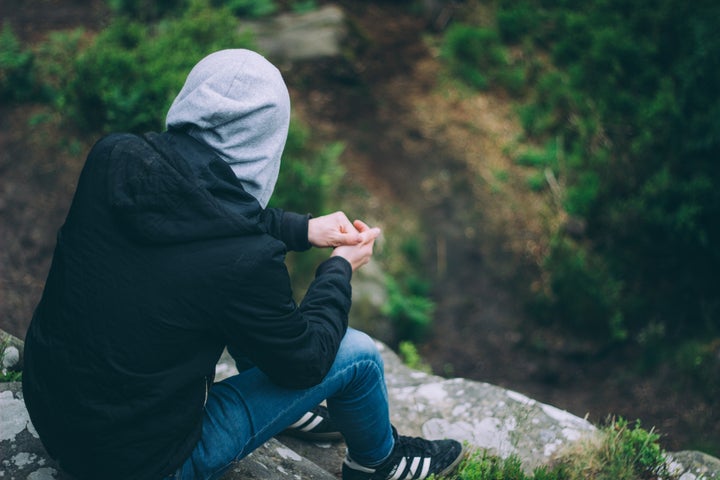 As it stands, the newness and ambiguity of toxic masculinity makes it a useful term for those who need an easy way to disparage men or extrapolate specific male behaviors to suit an agenda. That's what makes it such a dangerous term for men and women alike, but that's also what makes it an easy term to drop.
Now, I'm not denying that men have their share of undesirable traits. I also don't deny that there are some aspects of masculinity that are worth scrutinizing. However, little good has ever come from creating terms that treat basic human traits as a disease. It creates a dangerous precedent that skews what it means to be sick and healthy.
Since it's in the best interest for society and aspiring erotica/romance writers for genders to get along, ditching such a flawed concept like toxic masculinity will definitely help. It won't solve all the issues associated with masculinity and feminism, but if we can do it for female hysteria, we can do it for toxic masculinity.