We know them, love them, laugh at them, and cringe at them every now and then. They entertain us. They educate us. They amuse us in any number of ways, both with real-life antics and those only possible through animation. They are the clumsy, bumbling, oafish father figures of popular culture. Compared to many other tropes, they make up a sizable chunk of the overall comedy footprint in our media landscape.
Don't get the wrong idea. I don't write that with disdain or dismay. In fact, I'm quite fond of the bumbling father figures that make up a sizable chunk of sitcoms, animated shows, and movies. I grew up on a steady diet of "The Simpson," "Family Guy," and "Married With Children." Characters like Homer Simpson, Peter Griffin, and Al Bundy have had a profound impact on my world and not just in terms of laughter.
As I get older, though, I find myself scrutinizing the dynamics of these faltering father figures more and more. I also find myself paying more attention to the context and circumstances surrounding them, especially as our media and culture evolves in accord with changing trends, some less positive than others.
Maybe it's because I'm an adult now. Maybe it's because, as both an adult and a man, I have too much experience with the larger complexities of the world. I can still laugh every time Homer does something foolish or Peter does something stupid. However, a part of me can't help but contemplate the larger implications of bumbling dads.
Some of it has to do with double standards, which I've talked about many times before. Some of it deals with the struggles/inexperience in developing complex fatherly characters who aren't blatant rip-offs of Superman, John McClane, Jack Baur, or Ward Cleaver. Most of it simply reflects a sentiment that I find frustrating at times.
Think, for a moment, about the dumbest, most hilariously idiotic antics in a show featuring bumbling dads. "The Simpson," alone, should give plenty of content to draw from. With those antics in mind, contemplate what those antics say about the bumbling dad as a character and what it says about male characters, as a whole.
Whether he's Homer Simpson, Peter Griffin, or a guy you know in real life who once threw up in a kiddie pool after doing shots of habenero sauce on a dare, the themes are fairly consistent. At the heart of every conflict in the story is a selfish, moronic, thick-headed guy who, if he didn't have his wife and kids, would've been dead by now.
The bumbling dad isn't just the catalyst for most of the conflicts in the show. He basically embodies the inherent ineptitude of men, as a whole. Whereas strong, independent women are celebrated as a trope of their own, the bumbling dad acts as a case study as to why men can't function on their own. Unless they have a woman and a family to restrain them, they'll collapse under the weight of their own stupidity.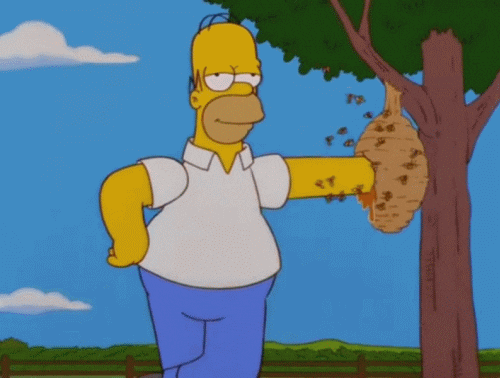 It doesn't just reflect poorly on male characters. It sends a pretty frustrating message to female characters as well, saying that women basically have to act as referees on top of being spouses and mothers. Their role, in the context of the bumbling dad trope, is to either clean up the mess or reign the man in before he does some serious damage.
In a sense, the bumbling dad is the catalyst for the nagging woman, a character not nearly as hilarious that can be every bit as frustrating. One causes all the chaos and problems in a story. The other whines about it and tries to limit the damage, often while failing to teach the bumbling dad any meaningful lessons that'll help him be less bumbling.
Granted, there are some exceptions to that dynamic. Compared to Marge Simpson and Lois Griffin, Peggy Bundy from "Married With Children" completely subverts this trope. Then again, that whole show went out of its way to undermine every standard sitcom trope that ever existed. As I noted before, it's the kind of show that could never be made today.
Those exceptions aside, the bumbling dad represents another point of frustration that has more to do with the implications of character development, as a whole. It's a frustration that even plays out in other forms of media that don't involve idiot married men who only still have their limbs because their wives won't let them near fireworks.
When you take a step back and look at the kinds of roles bumbling dads have in so many narratives, you notice a number of recurring themes that don't just reflect poorly on them as men and fathers. They also help enable a lot of the themes that reflect poorly on certain female characters as well.
Essentially, the bumbling dad is allowed to be an idiot with flaws, ineptitude, and shortcomings of all kinds. It's okay that he make a fool of himself, getting hurt and causing all sorts of damage with his antics. When Al Bundy and his idiot male friends keep falling off a roof, it's funny and entertaining. If a female character did that, though, that just wouldn't have the same impact.
Even in shows like "Married With Children," the female characters were never allowed to fall off a roof, get hurt, or get into fights of any kind. Even when they're not nagging or trying to be the voice of reason, the female characters are treated as more fragile, needing to fill a more specific role rather than explore the vast array of buffoonery that their male counterparts get to experience.
A female character can't be bumbling, idiotic, or self-destructive. That would imply she has too many flaws. Even in the days before the recent push for more female representation, that was considered taboo.
A female character can't be the catalyst for a problem either, unless it involves the moral crusades of Lisa Simpson. The idea of a female character causing anywhere near the problems as a man would just trigger too much outrage for daring to hint that women can be as flawed as men. That last sentence was sarcasm, by the way.
This, essentially, is the driving force behind the frustration. The bumbling dad trope basically gives the impression that men are the only ones who can be foolish, self-destructive, unreasonable, and unlikable. Women can occasionally do those things, but never to the point of the bumbling dad.
In terms of character development, that's limiting to characters of any gender. It means all the conflict, plot twists, and memorable story elements have to come from the male characters. All the female characters ever do is react, recover, or rebuild from the male character's antics.
The bumbling dad basically sets up the expectations alongside the comedy. We expect them to do something stupid. We expect them to make a fool of themselves, get hurt, and not think things through. We also expect the women to basically bring them back in line again because without them, they just couldn't function.
Beyond the expectations, the bumbling dad is basically the crash test dummy for all the chaos within a plot. They're the ones that get hurt. They bear the brunt end of the physical comedy, be it a slap in the face or constantly falling down a cliff. The idea of women getting hurt just as much, even in an era where the push for tough female characters has never been greater, still doesn't sit right with audiences.
That says as much about lingering gender norms as it does about bumbling dads, as a whole. Beyond just relegating the comedy and the personal journey to a particular male character, it gives the impression that women aren't capable of doing foolish things. Anyone with a stable internet connection knows that's just not true.
Again, this is not to say the bumbling dad trope is inherently "toxic." I've already made clear how much I despise that terminology. There will always be a place for bumbling dads and the comedy they inspire. There's also plenty of room for non-male, non-dad characters to be foolish as well. When it comes to gender, age, race, and sexual orientation, stupidity is the ultimate egalitarian.