Not long ago, the internet stopped for a brief moment and had a shared orgasm over the "Avengers: Infinity War" trailer. I'm not going to lie. I enjoyed my share of the collective ecstasy. I had a smile on my face for the rest of the day. Sure, I had a hard time hiding my comic book loving boner, but compared to other awkward boners I've dealt with, I was more than happy to wear loose pants for the rest of the day.
I honestly didn't think I could be more excited about the impressive slate of superhero movies set for release in 2018. Then, Entertainment Weekly had to come along and offer a first glimpse into "X-men: Dark Phoenix," a movie I've talked about before with the same anxious excitement as Wonder Woman. Honestly, I don't think anyone not named MC Hammer makes pants loose enough.
I don't know if the timing was on purpose. I just know that my erection can only get so hard when it comes to superhero movies. Me being an unapologetic X-men fan, which I've belabored more than once on this site, I'm inherently more excited about this movie than I am "Avengers: Infinity War."
I get it. Marvel Studios and Kevin Feige are on a win-streak that would make an entire team of Michael Jordan's envious. To date, the Marvel Cinematic Universe has raked in over $13 billion and "Avengers: Infinity War" is guaranteed to add to it and at a time when even highly-touted X-men movies can't rake in more than $800 million.
Why, then, should anyone who isn't an unapologetic X-men fan be more excited about "X-men: Dark Phoenix?" There are many reasons, more so than most who aren't X-men fans probably realize. Some are more obvious than other. The first, and most notable, can best be summed up by two words: Sophie Turner.
In case anyone needs a reminder why she's such a big deal, take a look at these first glimpses of Ms. Turner in all her Jean Grey/Dark Phoenix glory. Be sure you have loose pants and clean underwear handy. Don't say I didn't warn you.
I'll give everyone a moment for their heart to settle and their pants to untighten. Take all the time you need. Believe me, it took me longer than I expected.
That one picture, in addition literally burning with Ms. Turner's sex appeal, checks the most important box I listed in my article about how to not screw up a Dark Phoenix movie. It unleashes the fiery passion of the Phoenix and uses Sophie Turner's sex appeal to do it.
While I doubt that director Simon Kinberg read that post, it's a big deal that he's emphasized this aspect of "X-men: Dark Phoenix." That's primarily because that critical element that makes the Phoenix Saga one of the greatest X-men stories of all time was omitted from the last attempt to do a Dark Phoenix movie, "X-men: The Last Stand." The less said about that craptactular failure, the better.
Beyond capturing the necessary elements for a decent Dark Phoenix story, it also reflects a fundamental difference between this movie and "Avengers: Infinity War." At its core, the Phoenix Saga is about a beloved friend and hero becoming corrupted. It involves high drama, heart-breaking sacrifices, and beautiful redheaded women kicking ass.
The core of "Avengers: Infinity War" is decidedly not that, especially after Black Widow died her hair. This movie is banking less on high drama and more on over-the-top battles involving the most powerful heroes of the Marvel Cinematic Universe against Thanos, one of Marvel's most overpowered villains with a disturbingly extreme death fetish.
Now, there's nothing inherently wrong with that approach. In fact, it's probably the best possible approach for a movie that has been built up over the course of over a dozen big-budget films. Nobody can ever claim that Kevin Feige hasn't been thorough in establishing the scale for this movie.
The problem, if you can call it that, is because of that scale, it's difficult for a movie like "Avengers: Infinity War" to be anything other than what you expect it to be. It's going to be an intense, over-the-top battle that will triple down on the themes that made the first Avenger's movie so successful. At this point, that's all it can do.
"X-men: Dark Phoenix" offers something more than that. Like "Avengers: Infinity War," it's expanding the scope and scale of the movie to a level that no previous X-men movie has ever attempted. Whereas the first X-men trilogy tried way too hard to stay grounded, this one is letting the X-men push the boundaries like they do every other week in the comics.
"X-men: Dark Phoenix" will let the X-men go into space. It'll let Jean Grey get overwhelmed and surrounded by cosmic fire, something "X-men: The Last Stand" barely even attempted. It'll even let Sophie Turner get naked. That alone is worth the bloated ticket price.
Those elements, both the cosmic fire and the nudity, don't even have to be forced. They're actually in line with the canon X-men comics. Jean Grey has been known to fly around in the cosmic buff every now and then. I won't say it's a critical element to Phoenix Saga movie, but as someone who values nudity more than most, I can safely say it's a hell of a bonus.
While I doubt anyone will pay extra to see Thanos get naked in "Avengers: Infinity War," there's one more element that helps sell me on "X-men: Dark Phoenix." It has less to do with spectacle or nudity and more to do with underlying theme.
In a sense, "X-men: Dark Phoenix" is an opportunity to go beyond superhero movies. Like "Logan" and "Deadpool" before it, this movie has elements that can help it go beyond superhero movies, just as the original Phoenix Saga dared to go beyond stories about super-powered people in spandex costumes defeating villains.
There are all sorts of genres that "X-men: Dark Phoenix" can encompass. It can be a tragedy. It can be a sci-fi adventure. It can be a romance, which I've touched on before. It can be so many things, all within a single narrative. The ability for one movie to encompass all those elements, be it a superhero movie or a Disney musical, is a rare and special thing.
"Avengers: Infinity War" has its place and chances are, it's going to make more money than "X-men: Dark Phoenix." It may end up making more money than any movie in history that doesn't involve exploding death stars or blue aliens.
For me, someone who isn't one of Fox or Disney's accountants, you can't put a price on the breadth of experiences offered by "X-men: Dark Phoenix." Given the early fan responses to these new teasers, it's safe to say I'm not a alone in this sentiment. Hopefully, those sentiments only grow once the first trailer drops.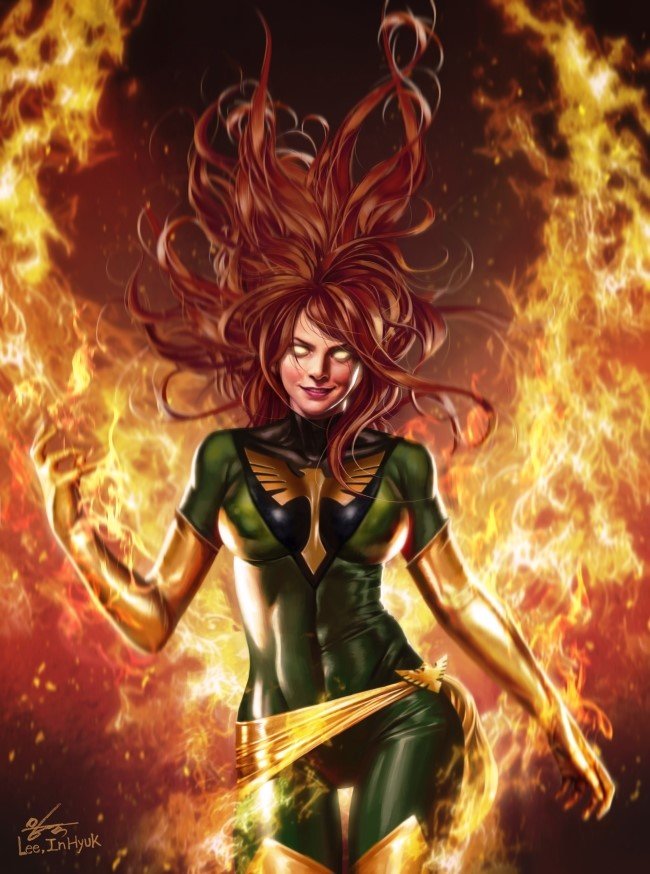 If Fox, Simon Kinberg, and Sophie Turner can get it right in all the ways X-men: The Last Stand" failed and/or didn't attempt, then it promises to be a truly special cinematic experience.
Also, and it's worth repeating, the prospect of Sophie Turner getting naked outside a disturbing scene in "Game of Thrones" should appeal to everyone. Besides, why should Jennifer Lawrence's nudity-loving Mystique have all the fun?