It's a great time to be fan of superhero comics, but it's especially great if you're a Spider-Man fan. Even if you're not a big fan of the superhero genre, it's hard to deny the prominence of this famous Marvel franchise. Between a successful spin-off movie in "Venom," the remarkable acclaim for "Into The Spider-Verse," and the recent trailer for "Spider-Man: Far From Home," it's an amazing time for wall-crawler enthusiasts.
At this point, hoping for more is just being greedy. With a sequel to "Venom" in the works and other spin-off projects in the pipeline, it almost feels wrong to hope for something specific. Marvel, Sony, and Disney are already giving us so much. What more can they possibly offer?
Well, I'd like to make the case that there is one particular branch of the evolving Spider-Man universe that warrants greater attention. It's something that was already hinted at within "Into The Spider-Verse" and I feel she could have a greater than any other Spidy-centric media. The timing is right. The market is ripe for her ascension. It's just a matter of building on foundation that is already rich with potential.
I'm referring to Spider-Woman, also known as Gwen Stacy, but best known as Spider-Gwen. In the mythos of Spider-Man, she's a fairly recent development. However, her rise to prominence has been nothing short of spectacular and I believe she has done plenty to warrant her own place in the franchise.
Most Spider-Man fans know the name, Gwen Stacy. She has had a prominent place in the Spider-Man comics for decades. However, like Miles Morales, Spider-Gwen emerged in an alternate universe where known characters are different and events unfold differently. Her sequence in "Into The Spider-Verse" offered a brief overview of who she was, but her story is far richer than that.
That story still contains many of the iconic themes associated with Spider-Man. Issues like power, responsibility, and dealing with J. Jonah Jameson are a huge part of Spider-Gwen's story. However, there are a few distinct variations that help set her apart and it's because of those traits that I believe she can carry her own movie.
What follows are just a few reasons for why I feel that way. There are probably plenty more that other Spider-Gwen fans will resent me for skipping. I understand and accept that responsibility. Since these are such great times for Spider-Man fans, I like to think we don't need that many reasons to give someone like Spider-Gwen her own movie.
---
Reason #1: She Sets Herself Apart From Peter Parker (Aside From Being A Woman)
If the success of "Into The Spider-Verse" taught us anything, other than the inherent appeal of cartoon pigs, it's that you don't have to be Peter Parker in order to embody the themes of Spider-Man. Miles Morales did a lot to set himself apart in terms of personality, circumstances, and abilities. Spider-Gwen does plenty of that too, but she takes it even further.
In the world of Spider-Gwen, the story of Gwen Stacy unfolds very differently. She's not a nerd like Peter. She's not a biracial teen trying to fit in at a new school. She's the same sweet girl that Spider-Man fans know from classic stories. That all changes when she gets bit by that radioactive spider instead of Peter.
The Gwen Stacy that emerged after is still Gwen, but she goes about utilizing her powers very differently compared to Peter. They change the way she carries herself. She doesn't approach them the same way as Peter or other Spider-Man characters. She follows her own path, complete with her own sense of power and responsibility.
Her approach is not radically different from that of Peter Parker, but it still feels distinct. How Gwen becomes Spider-Woman and how this affects her, as a character, is not a story that can be told with Peter Parker, Miles Morales, or any other character, for that matter. The fact she's a woman at a time when female superheroes have been subject to greater scrutiny is just a nice bonus.
Moreover, the story of Peter Parker has been told and retold many times, already. There have been three distinct timelines with three different actors taking on the role. There's only so much more that can be done at this point. Gwen Stacy is a different story, but one that's familiar enough to fit into the greater Spider-Man mythos.
---
Reason #2: Her Story Brings A Unique Set Of Challenges (Aside From Being A Woman)
Being a masked vigilante is hard. Five decades of Spider-Man comics and three movie franchises have done plenty to establish that. However, Peter Parker never had to deal with being a vigilante while having a cop for a parent. He also never had to be the prime suspect in the death of a friend that he tried desperately to protect.
Those are just some of the challenges Gwen faces throughout her story in the comics. Unlike Peter, she's not just another high school student trying to balance her personal life with her superhero life. She faces far greater challenges than not having a date to the prom or showing up late to class.
One of her biggest challenges, throughout her story, revolves around being a vigilante while her father, George Stacy, is a cop with the NYPD. On top of that, he's initially tasked with arresting Spider-Woman because she's implicated in the death of Peter Parker. Learning that his daughter is Spider-Woman only compounds that challenge.
There's a lot of drama in that dynamic. If you want to see how it plays out, I strongly recommend checking out the comic series written by Jason Latour. These challenges are things that you won't find in a Spider-Man story with Peter Parker. Like her counterparts, Gwen bears many burdens and responsibilities, but having a cop for a father only makes it harder.
At a time when the conduct of the police is under more scrutiny than ever, I think a Spider-Gwen movie could explore those conflicts better than most. Beyond giving Gwen different obstacles, it offers a different perspective on what it means to be a hero and how difficult it is to manage when family affairs get involved.
---
Reason #3: The (Fitting) Tragedy Of Peter Parker In Her World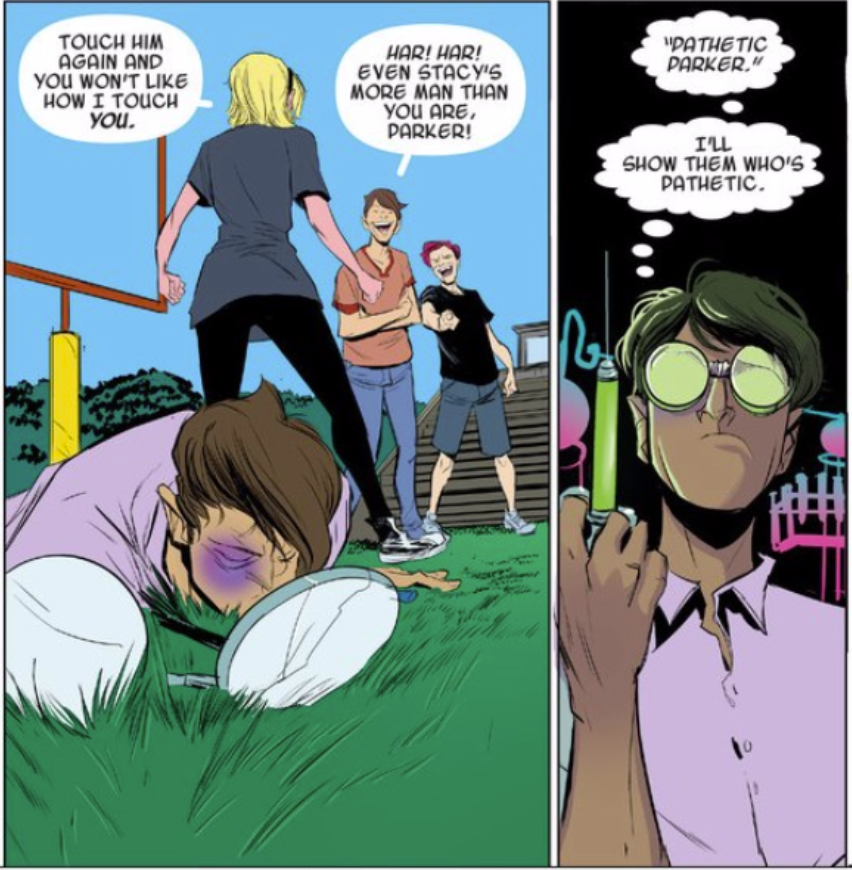 It's impossible to tell the story of Spider-Gwen without telling the story of Peter Parker in her world. Her version of Peter is very different in that not getting bit by that radioactive spider sent him down a darker path. His story is one of tragedy, but it's the kind of tragedy that complements Gwen's story and fits perfectly with the themes of Spider-Man.
In many respects, Peter fills the role of Uncle Ben in the world of Spider-Gwen, but not in the same way. It's not a classic case of failing to stop him from getting hurt by a random accident. Gwen actually went out of her way to protect Peter. Getting superpowers actually made that easier for her. She sees him as her friend and wants to help him.
However, in doing so, Peter makes some fateful decisions that result in his death. It's not just tragic. It's gut-wrenching for Gwen. She has to watch this boy she cares about die because he wanted to be more like her. She's very much responsible for what happened to him. On top of that, Spider-Woman is blamed for his death, thanks to shoddy reporting by J. Jonah Jameson.
This version of Peter is powerful in how it twists the classic Spider-Man narrative without warping it entirely. By helping Peter like she did, Gwen ultimately failed him. That's a different, but effective way to learn the importance of power and responsibility.
---
Reason #4: She's Likable In Many Ways (More So Than Peter)
Even in stories where she doesn't have powers, Gwen Stacy is a genuinely likable character. She's sweet, fun-loving, and genuine. She's the kind of girl you can be friends with and/or fall in love with. She's honest and blunt in how she deals with people. She's also compassionate and understanding. Getting superpowers only enhances these traits.
What we saw in "Into The Spider-Verse" was just a small sample of a much richer persona. Her attitude, as well as her ability to connect with others in awkward situations, is plenty endearing. In the comics, we see this manifest in many other ways. From the way she deals with her father to how she interacts with her band-mates in their all-female band, the Mary Janes, is likable on so many levels.
I would go so far as to argue that she's a lot more likable than Peter Parker, if only because she's less prone to brooding and whining. Throughout the comics, she ends up in some pretty rough situations, which include being actively hunted by the NYPD and unable to go home to her father after he learns of her identity. It's rough, but at no point does she just whine about it.
As sweet as Gwen is, she also has grit. She knows how to endure a lousy situation and when the going gets tough, she finds a way to get stronger. She still messes up along the way. In fact, she messes up a lot in the comics, but she learns from her mistakes and she grows along the way.
I'm not saying Peter Parker hasn't grown over the years, but even after five decades of comics, cartoons, and movies, his growth tends to regularly stagnate. Every time he seems to move forward with his life, he takes a step back, whether it's undoing a marriage or losing his billion-dollar company.
Spider-Gwen may not have had as much time to grow and regress, but her story has been allowed to evolve in many ways since her debut. That development is full of opportunities. Even though she has only been web-swinging since 2014, she has plenty of material for a great movie.
---
Reason #5: Her Story Is Not Bogged Down By Continuity
This is more a logistical issue than anything else. Peter Parker has been around since the Kennedy Administration. His story has years upon years of continuity that effectively shackle him from radical change. I've mentioned before how all superheroes are subject to these constraints. I've even argued that Spider-Man is more inept than most at dealing with them.
With Spider-Gwen, however, there are far fewer constraints and many potential avenues for growth. Her story, and that of her distinct alternate universe, is in its infancy, relative to other superheroes. She hasn't been around long enough for complications and retcons to accumulate. She can follow many different paths, both in the comics and in the movies.
One of the common complaints that comic fans will levy against a movie is how closely it follows the source material. Since Peter Parker is such an icon, there's not a lot of wiggle room. With Spider-Gwen, there isn't much source material from which to deviate. "Into The Spider-Verse" already captured the basics. A full-fledged Spider-Gwen movie will have plenty of flexibility.
There are plenty of other reasons I could list to justify Spider-Gwen getting her own movie. She's a great character who embodies unique aspects of the greater Spider-Man mythos. Given the current state of the superhero genre, especially with respect to box office returns, I don't think Sony, Marvel, and Disney need many to make Spider-Gwen their next success story.