In the modern era of superhero movies, Spider-Man is one of the bedrock franchises that has guided the genre through its journey from niche market to global box office dominance. Alongside the first "X-men" movie, Sam Raimi's original "Spider-Man" is credited with ushering in this golden age of superhero cinema.
It has been a bumpy road at times. We had high points with "Spider-Man 2" and not-so-high points with "Amazing Spider-Man 2." Regardless of how these movies fared, the story of Peter Parker shouldering the power and responsibilities of Spider-Man has become ingrained in pop culture. We still could've done without that awful dance scene, though.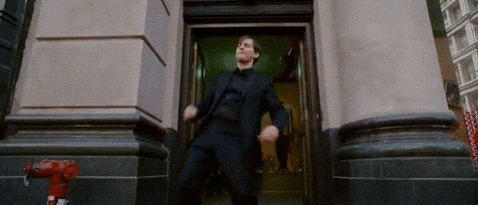 Given all the weight Spider-Man has for the genre, a movie like "Into The Spider-Verse" has a lot going for it and just as much working against it. The story of Peter Parker has been done, redone, and overdone so much that it feels like there's no room left for nuance. Well, "Into The Spider-Verse" definitively proves there's still untapped potential and it runs even deeper than anyone thought.
I don't want to spoil much about this movie, but I will spoil this. "Into The Spider-Verse" is every bit as awesome as critics and audiences alike have said. It's a truly groundbreaking achievement for superhero movies, animation, and the Spider-Man franchise. The fact that it managed to do this without being part of the Marvel Cinematic Universe makes that accomplishment all the more remarkable.
This movie succeeds on so many levels. It takes a concept drawn directly from the comics and expands on it, creating a whole new world in which all things Spider-Man do not revolve entirely around Peter Parker. That's not a typo, by the way. This is a Spider-Man movie in which Peter Parker is not the main driving force of the story.
He's still there. He still plays a major part in the story. However, this movie is a story about Miles Morales. Those who follow the comics will recognize that name. He's not just some unknown character who gets thrust into a central role in the vein of the "Ghostbuster" reboot. Miles has a fairly comprehensive history going back to 2011 and this movie captures the heart of that history perfectly.
Miles is not like Peter in many ways. Beyond the fact that he's half-black, half-Latino, and the nephew of a dangerous super-villain, his powers are slightly different. His personality is different, as well. He's not the same nerdy dork that Peter Parker was, but he is very much an outsider who struggles to fit in.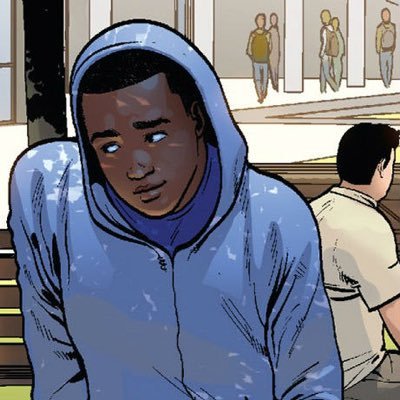 Miles has more confidence, but not in the arrogant hipster Andrew Garfield sort of way. He's someone who isn't sure of who he wants to be or where he wants his life to go. On one hand, he's got his parents who want him to aspire to something greater than a life in Brooklyn. On the other, he has influences like his Uncle Aaron pulling him down a darker path.
Him getting bit by a radioactive spider only compounds these conflicting forces. Part of what makes Miles work when other would-be Spider-Man replacements failed is that his struggle feels genuine. He never comes off as a rip-off or a substitute. What makes Miles a Spider-Man worth rooting for is how Peter Parker inspires him to take on that responsibility.
The comics went about that in one particular way that worked brilliantly. "Into The Spider-Verse" utilizes a different, but similar approach that's every bit as compelling. Peter Parker has a major influence, but the movie throws in many other influences that send Miles down the path to becoming Spider-Man.
Some of those influences come in the form of other famous alternate-version Spider-Man characters, including the likes of Spider-Gwen and Spider-Ham. "Into The Spider-Verse" manages to give them their own stories that show how they fit into the greater Spider-Man mythos, but for Miles, they embody the responsibility before him.
Like Peter, and so many other Spider-Man characters, he's initially reluctant to bear that burden. Over the course of the movie, he endures plenty of agonizing decisions and crippling self-doubt. He struggles in ways that we're not used to seeing Spider-Man struggle, but that's exactly why "Into The Spider-Verse" works so well in the current landscape of superhero movies.
Going back to the first "Iron Man" movie, we've come to expect struggles and setbacks from our heroes. Miles has a lot more than most and not just because of his youth or inexperience. He has huge shoes to fill and the history of characters filling the shoes of iconic heroes is mixed at best.
By the end of the movie, though, Miles effectively proves that he's worthy of being Spider-Man. He deserves a spot in the greater Spider-Man mythos. It doesn't have to revolve entirely around Peter Parker. For some Spider-Man fans, that may seem outrageous. "Into The Spider-Verse" shows that there's plenty of room for characters like Miles.
How it goes about this has greater implications for the future of superhero movies than it does for the present. I would even go so far as to say that "Into The Spider-Verse" might end up being a major turning point for the superhero genre because of how it tells Miles' story alongside that of Peter Parker.
Aside from just raising Miles' profile, "Into The Spider-Verse" does something that is overdue for Peter Parker's story. Specifically, it ages him. The Peter Parker in this story is not some wide-eyed kid with Tom Holland's baby face. He's an older, more jaded version of Peter who has made mistakes and lost confidence in himself, as often happens to those who survive to middle age.
It's part of the paradox of heroism that I've mentioned before in that many popular superheroes aren't allowed to age beyond a certain point. In fact, that was cited as the primary reason for breaking up Spider-Man's marriage to Mary Jane Watson in the comics. Aging a hero beyond the mold Frank Miller's version of Batman just seems like a dead end.
"Into The Spider-Verse" makes the case that this doesn't have to be the case. Peter Parker can grow up and even endure a mid-life crisis. For a character who has been around since the early 1960s, it almost feels overdue. His struggle doesn't have to be the end of his story. If anything, it helps further Miles' ascension to becoming the new Spider-Man.
It's a theme that has played out in the comics more recently. Older heroes are inspiring a new crop of younger heroes. Miles Morales was among the first. Others like Kamala Khan and Riri Williams have followed. It feels like a natural progression of the superhero archetype, inspiring others to take up the responsibility and aspire to something greater.
Miles Morales isn't a replacement for Peter Parker. He's a supplement to the greater Spider-Man mythos and "Into The Spider-Verse" establishes how well this can work. His story is every bit as endearing as Peter's, but without supplanting him. As such, it provides a new template for superhero movies in the future.
Not every story has to rely on rehashing and revamping iconic characters from the Stan Lee/Jack Kirby/Steve Ditko era. It's possible for new characters to emerge without replacing older ones. The world of superheroes can grow and evolve with subsequent generations. It'll have to and not just because of actors' contracts expiring.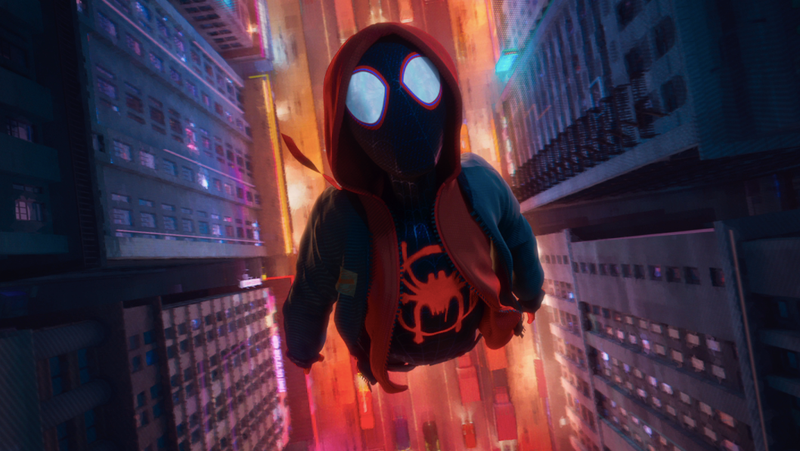 If I had to score "Into The Spider-Verse," I would give it an 8 out of 10. It's a great movie, but it does have some shortcomings. They're very minor. The pacing of the movie is erratic at times and the designs for certain characters, namely Kingpin and Scorpion, have room for improvement. It never feels chaotic or disconnected, though. The movie has a unique artistic style that fits perfectly with the story.
Every now and then, someone will claim that superhero movies will one day go the way of the western. That may still happen at some point, but "Into The Spider-Verse" shows that there are whole new paths to explore and they have to exist in the MCU. This movie is an incredible achievement beyond just being a great superhero movie and one I hope inspires others for years to come.
Also, the tribute to Stan Lee at the end will bring a tear to your eyes. Be certain of that.