In general, I don't always write these posts with a sense of timing in mind. My brain just doesn't work that way. Usually, I get an idea, either through inspiration or just something that comes to me in the shower, and I just go with it. I find that to be the most effective means of exploring sexy and non-sexy issues alike on this blog.
Every now and then, I get lucky and fall ass-backwards into a perfectly timed topic. Sometimes, I even get obscenely lucky because that topic can relate to comics, which I love tying into sexy topics on this blog every chance I get. Well, whether by luck or outright fluke, I have a chance to link an issue I've been discussing lately directly to a comic book.
Trust me, I didn't plan it. I didn't expect it. I'm just going to run with it because it's so relevant to the recent issues I've been exploring. It also involves X-men, which I go out of my way to talk about every chance I get, and a very particular character that I've mentioned before named Emma Frost. In case you need a reminder, this is Emma Frost.
I'm assuming I have your attention now, especially if you're a heterosexual man or a homosexual woman with functioning genitals. I swear that pic isn't some juvenile fan art, like the ones that drew big tits on Flintstones characters. That's how Emma Frost actually dresses in the X-men comics. Can you now see why I'm so fond of them?
Sadly, I'm not writing this to talk about Emma Frost's overtly sexy costumes. I'm writing this because recent events in the X-men comics tie directly into what I've been discussing with respect to conditioning our brains for love. While it's an issue we'll probably have to address once we start hacking our brain's wiring, it's something that comic book characters deal with regularly.
I've already mentioned how Carol "Captain Marvel" Danvers dealt with it during her early history. I've also cited past stories involving mind control, including one infamous story in Action Comics where Superman was brainwashed into making a porno tape with Big Barda. It's one of those odd, but disturbing kinks that's unique to worlds filled with psychics, aliens, and talking raccoons with machine guns.
However, this is one instance where a story about the mental manipulation of emotions and/or horniness isn't quite as disturbing. If anything, it's tragic in that reveals a lot about what some people are willing to do in the name of love.
To understand that tragedy, it's necessary to understand the comic in question and the context behind it. The story unfolds in the pages of "X-men Blue #9" by Cullen Bunn, which is one of several ongoing X-men titles. This one focuses on the exploits of the time-displaced original five X-men, who are currently stuck in the future due to some time travel shenanigans that began back in 2012.
I'll skip the part where I make a bunch of "Back To The Future" jokes and make clear that X-men Blue has much higher stakes compared to other X-men comics. That's because what happens to these five time-displaced X-men, who also happen to be teenagers, could potentially affect the entire history of the X-men, which has already been subject to the kinds of time travel upheavals that would make Doc Brown's head explode.
That's where Emma Frost comes in. She knows, as well as any X-men regular who has encountered time travelers, that influencing these time-displaced teenagers could alter how things play out in their future. That's important to her because she has a good, albeit tragic, reason to want to change that outcome.
Shortly before the events of this issue, Emma Frost endured a terrible loss. In an ominously-named event called "Death of X," her former lover, Cyclops, died in her arms. To make matters even worse, it was one of those rare situations where there was nothing she could've done to stop it.
This isn't akin to Spider-Man not stopping the Green Goblin in time or Superman not being able to save Lois Lane. This is basically someone being in the wrong place at the wrong time for the right reasons. In a sense, it's a lot more realistic than the deaths most superheroes endure. It comes out of nowhere and there's nothing anyone can do to stop it.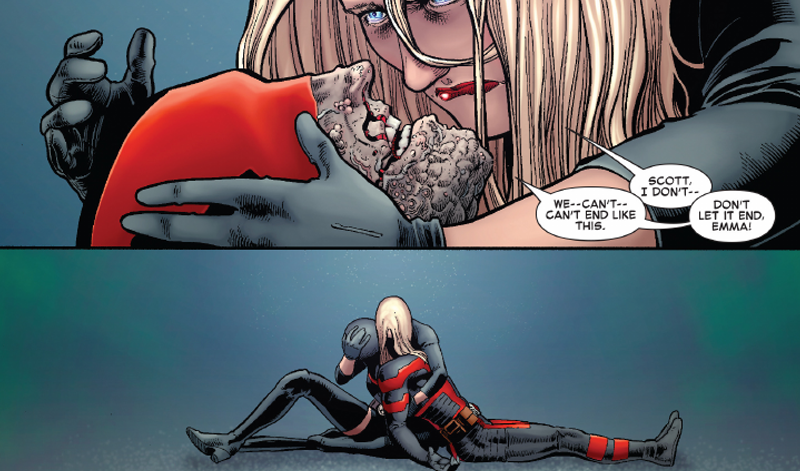 However, Emma Frost isn't the kind of person to just accept that kind of tragedy and move on. This is a woman who once watched an entire classroom of her students die in an outright mutant genocide. When tragedy hits her, she hits back and looks damn sexy while doing it.
Granted, she does tend hit harder than she needs to or ought to. It has made her a lot of enemies, even alienating some of her former allies. However, Emma Frost isn't one of those characters who does what she does out of malice. She's not the Red Skull, Thanos, or even Dr. Doom.
She does see herself as a hero. She carries herself as a hero and has been on the front lines of some major Marvel conflicts. She's also not a sociopath. She is capable of great love, both for her students and for lovers like Cyclops. So when Cyclops died, it hit her very hard.
When hit with a loss that hard, who wouldn't jump at the chance to undo it? Even if it means crossing certain lines and hurting others, isn't that worth getting back the person you love?
That's a question that a lot of heroes and non-hero's alike might debate in a philosophy class or a message board. However, there's no debate for Emma Frost. She sees an opportunity to get her lover back and she takes it. Specifically, she sets her sights on the time-displaced, teenage Cyclops who has yet to grow into the man she fell in love with.
Finally, in X-men Blue #9, she's in a position to get what she wants. As part of an ongoing event called "Secret Empire," an event that's hitting every major Marvel series, she abducts the time-displaced X-men and singles Cyclops out for some special treatment. Trust me, it's nowhere near as sexy as it sounds.
Emma basically does exactly what I described in my post about managing the future of brain hacking. She tires to twist and contort young Cyclops' mind into being the man she once loved. She knows it may ruin the timeline. I'm sure Doc Brown would scream at the top of his lungs to get her to stop. It would still do no good.
That's because Emma wants her lover back. She wants the man who has helped save the mutant race on more than one occasion. She's willing to risk a time paradox and undermining the free will of someone who made clear in the issue that he doesn't care for her. She's just that desperate to get the man she loves back.
I won't spoil how the book ends. I'd much rather people go out and read X-men Blue #9 because it's a great comic that's worth supporting. I'll just say that the tragedy surrounding Emma Frost and her misguided efforts to subvert that tragedy really strike a chord.
It's a tragic, but potentially prophetic story that may become more relevant over time. There's no doubt that Emma Frost's love for Cyclops in X-men Blue #9 is sincere. It's not part of an agenda or some elaborate trick. It's real, honest love that got destroyed through forces nobody could've foreseen.
Who's to say that someone wouldn't do something similar if they were in her position? I've said before in other posts that love is a powerful drug. It's medically proven that love affects our brains like a drug. Compared to love, crack is watered-down diet soda.
Emma Frost is a powerful telepath, one of the most powerful in the Marvel universe, in fact. That means she can manipulate minds, twist thoughts, and conjure emotions in others. It does have limits, but it's not that different from the kind of brain hacking that is in development as we speak.
What happens in the future when someone loses a loved one and refuses to accept it? What happens when someone just can't stand the idea that someone they once loved no longer loves them? If there exists technology that could conjure or recapture that feeling, who wouldn't be tempted to exploit it?
Our desire to love and be loved is a core, emotional need that every non-sociopath human feels. We don't have the technology of Neuralink or the telepathy of Emma Frost to force it when we can't have it. However, once it becomes possible, how long will it be before someone tries it?
Emma Frost didn't need much temptation in X-men Blue #9. She just needed an opportunity and a plan. Again, it's wrong to call it an evil plan. She was just trying to get back the man she loved and was willing to cross lines to do it. Love makes us do a lot of crazy, stupid things. What Emma Frost does in this comic is as much a lesson as it is a warning, albeit the sexy kind.