Not long ago, I dedicated several posts to the defining traits of villains and why Walter White was such a game-changer, beyond getting Bryan Cranston more Emmys than he'll ever need. I could've done many more posts because quality villains are every bit as integral to any story as a quality hero. Just look at Batman's rogues gallery, and the number of cos-players that dress as them, for proof of that.
In these discussions, I kept things fairly general and if I did, I singled out a specific character like Walter White or Magneto. Well, recent events and ongoing trends have inspired me to re-address the issue of villains from a different angle. Specifically, I'd like to talk a bit about female villains.
Quickly, take a moment and recall your favorite female villain of all time. Chances are it'll take you a moment and not just because a great many female villains made us both scared and horny at the same time. It may also be difficult because some female villains don't exactly carry themselves as villains. Catwoman may be a thief, a deceiver, and the subject of one of the worst comic book movies of all time, but she's not an outright villain.
Female villains are one of those difficult concepts to flesh out and not just because men can't resist turning female villains into sexy anti-heroes, some more egregiously than others. It's just one of those elements that either gets under-used or overlooked.
Well, as is often the case with the ever-changing/insanely-erratic tastes of pop culture, that may be changing. At a time when a new generation of strong female characters, badass female superheroes, and women who just do more than give the male characters something to obsess over, it was only a matter of time before female villains caught up.
Now I generally suck at making predictions. I'm the same guy who was convinced that Cleveland Cavaliers would never win the NBA championship last year. I'm not proud of the things I had to do for the bets I made on that game, but it does show that everybody, including aspiring erotica/romance writers, can be dead wrong. With this, however, it's not just a prediction. It's based, in part, on an observation.
As most regular readers of this blog already knew, I love comic books and superheros. Specifically, I have a special affinity for X-men comics. So it should come as no surprise that I follow the events of the X-men comics very closely. Well, this past week, something pretty damn major happened in the X-men comics and it has to do with this woman.
Her name is Emma Frost. Trust me, she's even sexier than her fan art would imply. She's a prominent character in the X-men comics and has had numerous roles throughout the series for over 30 years now.
At times, she's been a devious villainous vixen. At others, she's been a cunning heroic vixen. In every role she's in, she generally makes it a point to be sexy as hell. She doesn't mind getting naked, she doesn't mind having sex, she doesn't give half-a-tortoise fart about what anyone things. In short, she's a perfect blend of Regina George and Wonder Woman.
Now Emma Frost is somewhat unique in that she's had so many roles, but she's never defined herself completely as a hero or villain. She hasn't even been an anti-hero. If you were to do the villain's journey test I laid out in a previous post, she wouldn't complete it, but she would come pretty damn close.
The same goes for the hero's journey. She would check some boxes, but not all. She'd just look a million times sexier than anyone else on that journey.
Why is this important? Well, in a major X-men crossover event that just concluded recently, Emma's role changed again. After a clash between the X-men and the Inhumans, one Marvel built up over the course of two years, Emma crossed a line that effectively sealed a new fate for her. She's a villain now. However, she's a very different kind of villain.
What do I mean by that? Why is that even relevant? Well, to answer that, think back to what I said about listing your favorite female villains. Go back to that list again. Exactly how many of those villains are refined, well-rounded, complex characters? Chances are your list will shrink considerably or outright disappear.
That's because female villains have a history of being annoyingly flat. Going all the way back to the Wicked Witch of the West, they rarely had many compelling traits. Most of the time, they were just evil witches or devious vixens. Basically, just think of every evil female character in a James Bond movie. That's the extent of the depth female villains usually get.
This is what makes the development with Emma Frost so intriguing. Emma Frost isn't like Pussy Galore or the Wicked Witch of the West and not just because she looks better in a thong. As a character, she has a rich history. She even had her own comic series at one point. She has various layers as well. She's not just out to be a total bitch and look good doing it, although she does make it look pretty damn easy.
Emma Frost has real, genuine motivations. They're not always pure either. For a time, she was a stripper who didn't mind using her sexuality to get ahead in the Hellfire Club, who have been major X-men villains for many years. When she was a teacher, she watched many of her students die in an attack that she had no chance to stop.
However, she has never been one to play the part of a victim. She never uses tragedy or excuses to justify her actions. She does what she thinks needs to be done and anyone who disagrees with her can just kiss her perfectly shaped ass. Hell, she could probably charge for that and it would be worth every penny.
The recent events in the X-men comics pushed her to extreme actions and for good reason. As part of the story that set up the clash between the X-men and the Inhumans, she lost someone near and dear to her. Cyclops, a character she had been romantically involved with, died in her arms. It affected her profoundly, which is saying a lot for someone who killed her own sister.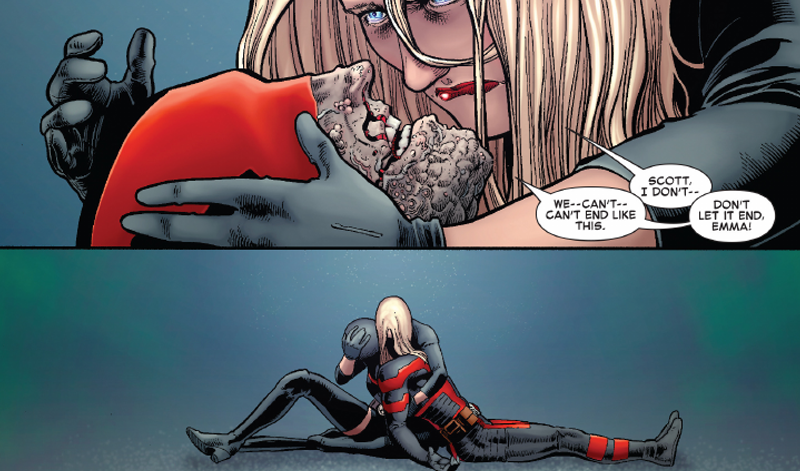 That effect leads her to do more than just lead a conflict. They put her in a position to become a hardened, but complex villain, both to the X-men and anyone else who generally pisses her off.
Her timing really couldn't be better. Just as everyone from Disney Princesses to Taylor Swift prove that there's a market for strong female personalities, she's entering a domain that's ripe for new energy. Emma Frost could very well be the first of a new push for better female villains to go along with the female heroes that every comic company and movie studio is pushing these days.
I feel like this is a trend that needs to happen. Women can kick ass as heroes. That much they've proven. Why not show they can do the same as villains? Emma Frost is unique in that she has the kind of complexity that allows her to be a hero when she needs to be and a villain when she wants to be. I believe there will be a market for that kind of complexity.
Sure, some parents would still prefer that their daughters dress up as Disney princesses rather than Emma Frost, if only to avoid any Honey Boo Boo comparisons, but having strong female villains still does something important. It adds balance to the greater narrative between heroes and villains as a whole.
Now I'm somewhat guilty myself of not fleshing out female villains. In my book, "The Escort and the Gigolo," the main villain was a woman named Madam Felicity. While I did make an effort to give her some complexity, I admit she's not more ground-breaking than a James Bond villain with boobs.
I'd like to change that in future novels. I just hope that by then, Emma Frost will have set the bar and set it high. As any X-men fan will tell you, Emma never does anything haphazardly. If she's going to usher in a new wave of strong female villains, then she's going to make damn sure she's the best and looks damn sexy while doing that. For that, she'll always have a special place in the hearts and pants of X-men fans everywhere.