Celebrities sometimes say dumb things. I doubt most people would contest that. Sometimes, celebrities say things that aren't dumb, but badly taken out of context. I imagine most people would agree with that too. However, in an era where outrage is a national pastime and social media makes it way too easy to blow things out of proportion, it's easy for a celebrity to cause controversy for all the wrong reasons.
Brie Larson, whose star is set to rise considerably with the release of "Captain Marvel," is learning this the hard way and a large consortium of angry people on the internet are intent on making it harder. What should've been a culmination of a young woman's career and a female hero's ascension to the superhero A-list is now mired in the ugliest kind of gender politics.
The origin of that controversy actually had nothing to do with Ms. Larson's role on "Captain Marvel." Back in June 2018, she made some overly political comments while accepting the Crystal Award for Excellence in Film. While celebrities making political statements is nothing new, Ms. Larson's statement was hardly extreme.
It wasn't some radical feminist tirade.
It wasn't some angry rant about the outcome of 2016 Presidential Election.
It wasn't even some act of elaborate virtue signaling by some smug celebrity.
All Ms. Larson did was advocate for greater diversity among film critics. She didn't just make such a statement on a whim, either. She did so in response to a study published by the USC Annenberg School for Communication and Journalism that revealed a significant lack of representation in the industry of film criticism.
That's not an unreasonable concern. The western world is becoming more diverse and the success of movies like "Black Panther" and "Crazy Rich Asians" shows that there's a market for such diverse tastes. Advocating for greater representation in the field of film criticism makes a lot of sense.
Unfortunately, that's not the message that some people gleamed from Ms. Larson's comments. All they heard was that she doesn't want to hear from white men anymore. They somehow got the impression that Brie Larson resents white men and her movies, including "Captain Marvel," aren't made for them. They're not even welcome in the conversation.
Who these people are and the politics they represent is difficult to discern. I don't think it's accurate to call them conservative, liberal, feminist, anti-feminist, leftist, or any other political label. Outrage culture rarely gets that specific, but given the heated politics surrounding movies like "Ghostbusters" and "Star Wars: The Last Jedi," it's a frustratingly familiar narrative.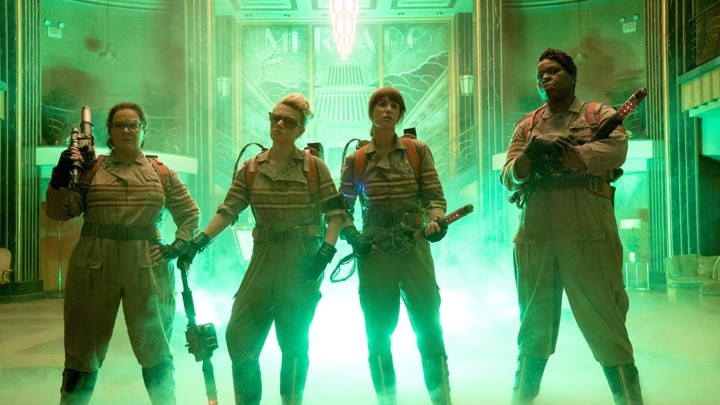 While I can understand some of the outrage surrounding "Ghostbusters" and "Star Wars: The Last Jedi," in this case I don't think it's justified. That's not just because I'm a big fan of Marvel Comics, superhero movies, and all things Captain Marvel. It's because the actual substance of Ms. Larson's words don't warrant the controversy she has generated.
For specific reference, here's what she actually said during her speech in June 2018. Read it very slowly and try to understand the context of her statement.
"I don't want to hear what a white man has to say about 'A Wrinkle in Time.' I want to hear what a woman of color, a biracial woman has to say about the film. I want to hear what teenagers think about the film. If you make a movie that is a love letter to women of color, there is a chance that a woman of color does not have access to review and critique your film. Do not say the talent is not there, because it is."
Remember, she said these words after learning how little diversity there was among movie critics. Unlike most people, she was actually in a position to do something about it. Being an Oscar winning actress who was poised to join the Marvel Cinematic Universe, her words carry more weight than most.
Even so, those words were construed as racist and sexist, two exceedingly loaded terms that bring out the worst in people, especially on the internet. Never mind the fact that she made clear in her original speech that she did not hate white men. Never mind the fact that she has since clarified her words. She is still being attacked as some angry radical feminist who hates men, especially those who are white.
It would be one thing if she had said outright that white men should be banned from criticizing certain movies. Many celebrities, including a few still relevant today, have said far worse. However, that's not what Ms. Larson said. She never, at any point, advocated disparaging white men. She didn't even say that people who hate her movies are racist and sexist, something the "Star Wars" crowd is painfully familiar with.
Again, all Ms. Larson spoke out against was a lack of diversity among film critics. That part is worth emphasizing because it renders the outrage surrounding her statement as utterly absurd. It also makes the targeted attack on the fan reviews for "Captain Marvel" both asinine and misguided.
Even though the movie isn't out yet, the movie is being targeted with negative comments on Rotten Tomatoes. Since it has only screened for a handful of audiences, it's unlikely that any of these people actually saw the movie or were inclined to see it in the first place. Some are even claiming that this has already impacted the projected box office for the movie.
Whether that impact manifests remains to be seen, but it's worth noting that when "Black Panther" was targeted with similar attacks, it failed miserably. At the moment, early reactions to "Captain Marvel" have been glowing so the chances of these attacks hurting the box office are probably minor at best. If the pre-ticket sales are any indication, the movie will likely turn a hefty profit for Marvel and their Disney overlords.
Even if there were an impact, it would be for all the wrong reasons. It would send the message that there's a large contingent of people who are willing to work together to tank a movie because of comments a celebrity said that had nothing to do with that movie and weren't the least bit controversial, when taken in context.
In this case, it was simply twisting someone's comments to make them sseem like they said things that they never said or even implied. Then, those who bought into that narrative simply use that as an excuse to disparage a movie that they haven't seen. That's not just absurd, even by the skewed standards of outrage culture. It sends the worst possible message from those who think they're protecting their favorite movie genre.
It tells the world that they don't care what a celebrity actually says. They actively look for an excuse to hate someone who doesn't completely buy into their preferred status quo. It would be one thing if that status quo was just and reasonable, but that's not the case here.
All Ms. Larson did was advocate for more diversity among film critics. If that is somehow too extreme, then the problem isn't with her or celebrities like her. It's with those determined to hate her. There are a lot of issues in the world of celebrities and movies that warrant outrage, but advocating for more diversity in film criticism isn't one of them.
I can already hear some people typing angry comments stating that if she had said those same words, but changed the demographic to something other than white men, then it would be an issue. However, the fact remains that this isn't what she said.
It also doesn't help that Brie Larson identifies as a feminist and that term has become incredibly loaded in recent years. However, she has never embraced the kind of radical rhetoric that other, less likable celebrities have espoused. Until she does, those determined to identify her and "Captain Marvel" as racist, sexist propaganda are only doing themselves and their politics a disservice.