There were a lot of wonderful moments at New York Comic Con this year. While I've already shared a few, it's safe to say that the biggest highlight for me was being able to attend the panel for the "Dark Phoenix" movie. Since I've made my excitement and concerns about this movie very clear, I don't think that should surprise anyone.
The panel itself was very well-attended. Anyone who claims that nobody is interested in this movie since Disney is buying Fox can officially piss off. As soon as Tye Sheridan and Sophie Turner walked out onto that stage, there was a huge cheer that echoed throughout the Jacob Javits Center. It was a really powerful moment.
I had to fight my way through a lot of equally-eager X-men fans to get a good seat. These pictures, by the way, are not taken from some comic reporting site. I took these with my phone and I'm very proud of how close I managed to get. It's probably the closest I'll ever get to celebrities like this for the rest of my life.
While at the panel, I learned a few things of note that made me all the more excited about this movie. Some of those things have already been reported by some sites. Here are a few others I picked up on.
---
Sophie Turner and Tye Sheridan have great chemistry, more so than James Marsden and Famken Jansen did in the original X-men movie.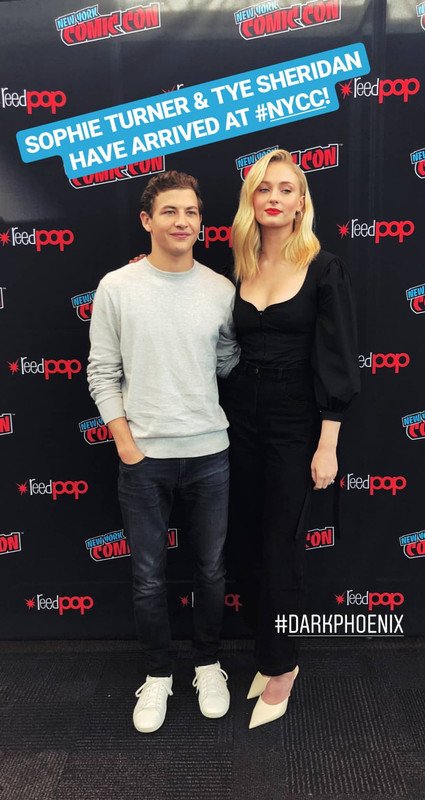 This was obvious by how how well they got along, how close they sat, and how much they smiled around one another. You can usually tell when an actor and actress don't get along. It really shows and it tends to undermine the movie. If you don't believe me, just look at how that worked out for Hayden Christiansen and Natalie Portman in "Star Wars: Attack of the Clones."
---
This movie will fully embrace the cosmic nature of the Phoenix Saga.
Those aren't my words. That's what Simon Kinberg said outright during the panel. He flat out admitted that "X-men: The Last Stand" did not do justice to the Phoenix Saga, which actually drew some cheers. He then made clear that the cosmic part of the Phoenix will be a big part of the movie and the footage they showed definitively proved that.
This is huge because anyone who claims this movie is just a remake of "X-men: The Last Stand" will not be able to say that with a straight face after seeing how it plays out.
---
Jean Grey is NOT the one in that grave during the funeral scene depicted in the trailer.
I was kind of surprised that Kinberg confirmed this, outright. He said during the interview that the funeral scene was not for Jean. There was someone else in that grave and the identity of that person, which he did not reveal, is what really divides the team.
On top of that, Kinberg made clear that this moment really undermines the faith the X-men have in Charles Xavier. Before this moment, they trust him implicitly. Jean, especially, trusts him. After what happens here, though, the team somewhat turns against him and he struggles to regain their trust.
That's another powerful bit of drama that "X-men: The Last Stand" did not do much to develop. Xavier makes some hard choices and the consequences of those choices hurt many.
---
Cyclops really steps up and becomes the true leader of the X-men.
This also got plenty of cheers from the crowd. To hear Tye Sheridan talk about his character was a powerful moment. He talked about how Cyclops finds himself in a tough position where he has to make decisions that put him against others. He has to go against the will of friends, teammates, and even Charles Xavier. He isn't given the role of leader. He earns it.
For the many Cyclops fans who hated how he got treated in the original X-men trilogy, this should be music to your ears. I could feel Tye's enthusiasm for the character, along with many others in the crowd. I also noticed Sophie Turner smiling a lot when he talked about it, which I also think was a promising sign.
---
Jennifer Lawrence, more than any other cast member, tried to get "Game of Thrones" Spoilers out of Sophie Turner.
This was a serious question that also got some cheers, mostly from people dressed as "Game of Thrones" characters. Sophie Turner didn't hesitate when she answered. She said that Jennifer Lawrence made her love of "Game of Thrones" very clear on set. She tried on more than one occasion to get some details from Turner. She didn't say how much she succeeded, but I wouldn't be surprised if Lawrence knows something we don't.
---
There are a lot of other details I could mention from this panel. I'll keep them to myself, though. They are now among my most precious memories of New York Comic Con and I honestly don't know how they'll be topped in the years to come. After being part of this panel, though, I'm a lot more hopeful about this movie. I genuinely believe it's going to be the movie X-men fans have been waiting for.