I talk a lot about taboos, double standards, and various gender quirks. I don't just do that because it highlights significant disparities among people trying desperately to get along and/or make love to each other. I do it because it offers some fascinating insight into the conflicting mentalities that drive such conflicts.
A lot of those conflicts, however, are on a larger, more impersonal scale. A typical couple, be they heterosexual, homosexual, or something else entirely, can only do so much to impact larger cultural forces that they had no role in choosing, propagating, or subverting.
These forces, from our approach to marriage to the assumptions that guide our understanding of romance, usually only effect individuals and couples indirectly. We're all somewhat at the mercy of what our culture has built for us and we can only do so much to guide it forward.
However, there are a few lesser-known aspects of that culture that we can influence on a day-to-day basis. One such aspects involves porn and whatever porn collection that you or your significant other might have, be it hidden or not. I'm sure just mentioning it has made certain individual's tense for various reasons that I won't state outright.
Regardless of how you or your lover feels about porn, it exists and it exists in a big way. It's also a huge multi-billion dollar industry. The fact it's so huge is a telling sign that both you and your lover have probably consumed it at some point. It's also very likely that anyone claiming that porn is immoral has probably consumed it as well.
Despite this prevalence, porn is still immersed in taboos and quirks. I don't want to focus too much on those, since I've already touched on a few. The ones I want to focus on have to do with how those in a romantic relationship react to it. That reaction, in many ways, goes beyond double standards and reflects something deeper about our concept of relationships as a whole.
Most people probably don't need much imagination to surmise how their lover would react to their porn collection. Whether or not it's a secret, there's this underlying sentiment about someone in a relationship who consumes porn. That sentiment usually manifests in two scenarios. This is the first and probably most basic.
A woman casually walks by her lover's desk. Their computer screen is open and so are a wide number of files. Curious, she takes a closer look, only to find out that there's a sizable collection of pornographic videos on the computer. She's utterly shocked at just how much content there is.

There are videos featuring extreme, hardcore scenes. There are videos featuring bondage, S&M, and various fetishes. When her lover returns, she is outraged. She sees this level of porn consumption as an affront to their relationship and demand that the files be deleted.
This isn't just a basic thought experiment. This sort of thing does happen in real life. A part of what inspired this article were stories like this one where a woman kicked her husband out of the house after finding some porn on his phone. Granted, her reaction was extreme, but it reflects a similar sentiment.
There are those who, when they find their lover's porn stash or just part of it, see it as an insult and an affront to their relationship. They see their lover's desire to seek another sexual outlet as proof that they aren't enough and their lover isn't attracted to them anymore. For some, it can be fairly traumatic and for understandable reasons.
Now, I didn't specify the gender of the person who voiced that outrage like I did in the scenario. I did so because I don't want to generalize too much. From a purely anecdotal perspective, which is admittedly flawed, women are more angered by their lover's porn consumption than men.
Again, that's a generalization. It also says nothing about how homosexual or transgender relationships couples react to porn. I honestly had a hard time finding research to that effect. However, I found plenty that indicated how common porn consumption is among couples and how reserved many are to admit it.
That leads me to the next scenario, which isn't as common, but is a bit more colorful. It involves a different kind of reaction for a couple that probably has a very different dynamic from the first, but that dynamic is key in understanding the implications.
A man casually walks by his lover's desk. Their computer screen is open and so are a wide number of files. Curious, he takes a close look and discovers a sizable collection of pornographic videos. For a moment he's shocked, but then he's impressed at the sheer breadth of the collection.

There are videos featuring lesbian couples. There are videos featuring bondage, S&M, and various fetishes. When he confronts his lover, it's awkward and a little funny. However, he's also genuinely intrigued by this side to his lover and says they should talk about it so as to re-evaluate their outlook on their sex life.
It's not nearly as dramatic, which is probably why it doesn't make the news as often. Again, I was vague with the gender dynamics here and I'll probably get in trouble for saying the person in the scenario was a man. I get it. That's a general assumption fueled largely by existing cultural expectations.
Men are okay with porn. Women are a bit more sensitive about it. Not everyone is like that. Some women don't have a problem with porn and even enjoy watching porn themselves. Some men don't care for porn and are genuinely averse to it. Everybody has their own attitudes towards it.
That said, there is this prevailing sentiment that men are anxious about revealing their porn habits to their significant others and women don't like the idea that their lover has a sexual outlet other than them. In both cases, there's an anxiety over what this means for them and the relationship.
To some extent, porn consumption and learning that your lover consumes it undercuts the romantic script that we think we have to follow. Within that script, two people are in love. They only desire one another. They're only attracted to one another. Anything that might diver that attraction must be a bad thing. Porn does all of that and then some.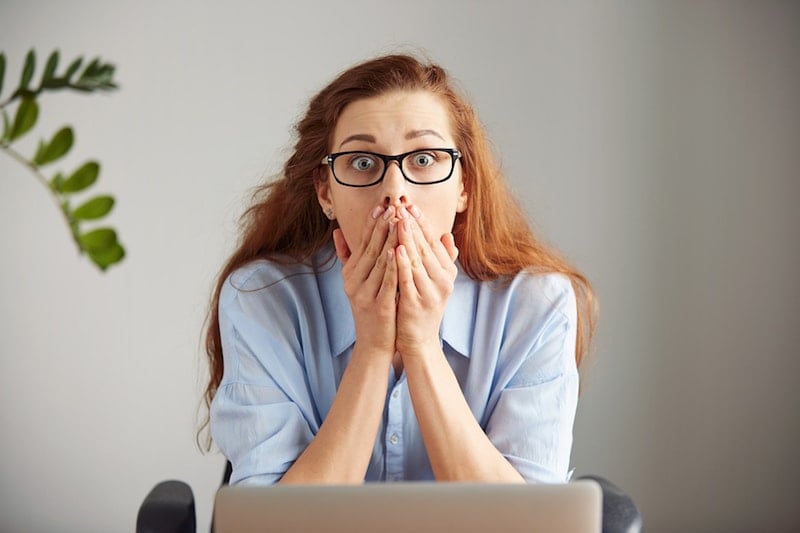 In that context, it's understandable why some would react harshly to their lover's porn collection. It shatters the romantic ideal they once assumed. Suddenly, their love is not on part with Romeo and Juliet. Their relationship is not some epic romance. The idea that they're still sexually aroused by other people makes it seem less special and less meaningful.
At the same time, such a reaction has more distressing implications. If someone is  disgusted by the notion that their lover is sexually aroused by something other than them, then that implies they somehow own their lover's desires. They own their ability to have sex and be intimate. The idea of owning another person to that extent goes beyond love and into the realm of obsession.
In that circumstance, even a stray thought anyone has towards someone other than their lover is an affront. Given the many indications that humans aren't entirely built for monogamy and the high divorce rate, this is wholly unrealistic and a little scary and it sets unreasonable expectations among couples that are bound to disappoint.
There are, indeed, certain cases where someone's porn consumption is detrimental to a relationship. However, from a pure numbers perspective, those instances are the exception and not the norm. From a pure betting perspective, there's a good chance that your current lover or future over consumes porn. How you deal with it will likely reveal the strength and/or weakness of your relationship.