Picture a scenario with a man and a woman. No, it's not one of those scenarios. They're both fully clothed, in public, and otherwise normal. Then, imagine the kind of outrage/public shaming that would occur if this took place in front of one too many cameras.
Woman: I'm so sad! I'm so lonely! Why does the world so cruel?

Man: Maybe it's because you're really fat. Were you abused as a kid or something? Just exercise more or get some surgery.
You feel that? That's the inescapable urge to roll your eyes because you know what kind of outcry this is going to cause. You know the kind of arguments, insults, rants, and raves that'll emerge from this topic. Human can be pretty crazy and unpredictable when it comes to certain topics. Topics that involve marriage or gender issues, though, are annoyingly consistent.
So why do I bring up this scenario and the predictable outcry it tends to cause? Well, it was inspired, in large part, by a video I came across recently. It involves a small talk show discussing recent trends in marriage, namely why men are more and more reluctant to get married.
I've talked about this issue before, namely the part where the legal system gives men and women one too many tools to screw each other over and not in the way they enjoy. I generally avoid talking about it because it tends to make people less horny, which isn't good for any erotica/romance writer. However, sometimes I do feel compelled to comment on something that feels overly relevant.
With that in mind, here is the clip in question. To get to the part that really annoyed me, fast forward to the 2:20 mark. I should warn you though. You may feel the urge to punch your computer screen.
Did you see it? Is your computer screen still intact? Are you confused as to why someone who is single, in his 30s, and worried about his romantic future would feel uneasy with this exchange? Well, let me break it down in a way that I hope won't cost anyone a new computer screen.
The argument the man in the clip makes is not a new one. They've been made before, the pitfalls of marriage and the reasons men aren't too eager to participate. In fact, Fox built one of its most successful sitcoms about the ills of marriage and what it does to men. These are not new issues is what I'm saying.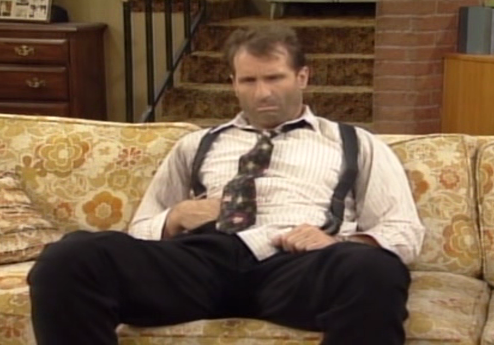 Even so, there's still this imbalance of sorts between men and women when it comes to the decline of marriage. There's still a stigma against those who are reluctant to join an institution that has become exceedingly unjust for legal, political, and social reasons that are too complicated and unsexy to get into.
That stigma, however, doesn't apply to both genders equally. I know this because I've actually felt this inequality to some extent. It plays out like this:
You're a woman and you don't want to get married? You go girl! You don't need a man! You just need to be you! Girl power!

You're a man and you don't want to get married? What the hell is wrong with you? Are you gay or something? What kind of creep stays single all his life?
See the difference? The clip itself doesn't do justice to the extent of this difference, but the man does get crap for making these arguments. When he calmly and reasonably lays out his arguments, the first response isn't to take them seriously or ask more questions. The response is, "Were you hurt?"
To the man's credit, he laughs it off. That shows he has more maturity and self-awareness than 95 percent of the people I see on talk shows these days. It's still a very telling assessment though, assuming outright that the man is criticizing marriage was somehow hurt in the past.
Even as a man who does want to find love and does want to marry someone, I find that pretty insulting. I get that marriage has rarely, if ever, been an equal institution. I get that for most of human civilization, women had it pretty rough with respect to marriage. I'm not denying that.
However, if I've learned anything from all the superhero comics I've read over the years, it's that you can't fight injustice with more injustice. That's like trying to fight a wildfire with napalm. It's only going to make the situation worse.
At the moment, marriage is not a good deal for men. At the moment, women have more legal and social protections with respect to marriage then men. Women can divorce their husbands whenever they want for whatever reason and, in many states, get half their husband's assets by default. They can get custody of kids, get favorable treatment by courts, and are more readily believed with accusations of spousal abuse.
Now I'm not Al Bundy in that I see marriage as its own circle of hell for a man. I believe marriage, love, and all the passion that comes with it is a beautiful thing. The problem is that our assumptions, legal traditions, and social constructs are horribly imbalanced at the moment. It's only when marriage becomes a relationship of true equals that its beauty can be appreciated.