Some characters are iconic from the get-go. Spider-Man, Superman, Wonder Woman, and Batman all managed to establish themselves as special early on in their history. They're the lucky ones, though. Most characters have to go through a long, arduous process to reach the top tier of superhero icons. A lot of them never make it, but those that do are special in their own right.
These days, the character who best embodies that spirit is Carol Danvers. You don't have to go back too far to remember a time when she was relegated to the superhero B-list. As Ms. Marvel, she had her share of fans. I was one of them. She also had her place in the annuls of Marvel lore. However, she was never able to break through and join that elite club occupied almost exclusively of Stan Lee creations.
That all changed when Kelly Sue DeConnick came along and reinvented Carol Danvers as Captain Marvel in 2012. That process, which has since become one of my favorite runs on a comic book series of the past 10 years, helped Carol finally break into the upper echelon of superheroes. With a movie coming out in 2019 staring Brie Larson, it's safe to say she's entrenched.
I could write a dozen articles about why Carol Danvers' character resonates more now than it did when she first showed up in 1968. I've already mentioned some of the unique challenges she faces as she enters rarefied air among Marvel heroes and female superheroes, in general. However, I want to focus on one particular aspect of her character that helps her stand out.
As it just so happens, it's also part of her character that recently underwent a major upheaval in the comics. Among other comic book fans, it has been controversial. I've certainly seen more than a little whining on message boards and Reddit. I have my share of criticisms too, but I intend to justify why I believe this is a promising new era for Carol "Captain Marvel" Danvers.
The upheaval in question occurred in a recently-launched mini-series called "The Life of Captain Marvel." Written by Margaret Stohl, who has been guiding Carol's journey for several years now, I cannot recommend this series enough. It is, by far, one of the best Carol Danvers stories ever written. Years from now, it will likely mark a major turning point for her story.
That's because Stohl does something that's both critical and controversial to Carol's history. She makes a major alteration to an aspect of Carol's life that doesn't change her past, but puts it in a very different perspective. That change, in my opinion, makes Carol a much more intriguing character.
If you want to avoid spoilers, you should probably stop reading here and check out the series. Again, I highly recommend it. The big change, however, takes place in the fourth issue. Here, her mother, Marie, drops a bombshell revelation on Carol that rocks her world. She reveals that she's half-human and half-alien. Specifically, she's half-Kree.
Anyone who saw "Guardians of the Galaxy" knows why that's a big deal.
Anyone who has a passing knowledge of Marvel history knows why that's a huge deal.
The fact that she's half-alien isn't that unique. Peter "Starlord" Quill has a similar heritage. The reason it's such a big deal for Carol is because it changes the context of how she got her powers and the role she plays in the greater Marvel universe.
Before this change, Carol's powers were somewhat of an afterthought. Like Spider-Man, they were the result of an accident. Her's just involved alien device called the Psyche Magnetron. She got caught in an explosion and that explosion allegedly fused her DNA with Kree DNA to give her superpowers. It's not the most contrived origins story, but it's not exactly epic.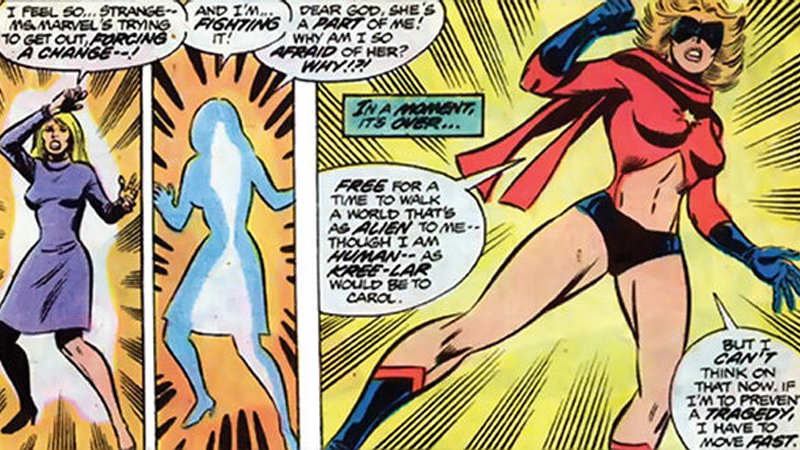 To some extent, getting her powers by accident undercut all the work she did before that. Even without powers, she managed to carve out a successful career in the air force and NASA. That work became somewhat superfluous once she got superpowers. Unlike Peter Parker, she was already on a heroic path. Getting powers just seemed like skipping a bunch of steps.
With the revelation by her mother, there's more connective tissue between her journey as Carol Danvers and her journey as Captain Marvel. Her mother, who comes out as a full-blooded Kree warrior, tells Carol that the accident wasn't the sole cause of her abilities. It was just the catalyst. These are her exact words.
"What humans see as Kree powers are just our biological adaptations to a life of combat. They're triggered in battle, usually around adolescence. Sadly, most of us have known war by then."
This implies that even if she hadn't been caught in the crossfire of the Psyche Magnetron, her Kree abilities would've come out at some point. For some fans, including die-hard Captain Marvel fans, it feels like this is denigrating her origins. I respectfully disagree with that notion. I believe this gives Carol's story a new kind of appeal.
In terms of how superheroes become iconic, how they get their powers and how they choose to use them plays a huge part in their appeal. I would argue that just making Carol an ordinary human who got caught in an accident has limited appeal. Like I said before, she's not Peter Parker. She's not an average person. She's more like Batman in that she's an overachiever who strives to do more.
Her being half-Kree adds a new dynamic to the mix because it makes Carol a product of two different worlds. She is born on Earth and lives her whole life as a human. However, she now has this alien heritage that has already influenced her life in ways she didn't understand. You need only look at the mass appeal of Superman to see why that story is compelling.
Being half-Kree means Carol suddenly has a connection to a race that has waged war on Earth before. She also has a connection to a world that has blatantly experimented on humans before. At the same time, her human life wasn't exactly ideal. Unlike Superman, she was not raised by picture perfect parents like the Kents.
Her mother, despite being a Kree warrior, was in an unstable relationship with Carol's very human father. Their family suffered a devastating loss when Carol's brother, Steve, died in combat. They never really recovered from that and, for most of Carol's history, that loss kept her parents as a side-note at best in her journey.
With Carol's mother being a Kree warrior, it changes her into something more than a woman who stayed in a bad marriage. It adds more layers to why she and her husband clashed. Even in the first few issues of "The Life of Captain Marvel," her father comes off as a generic asshole. Finding out he was dealing with an alien wife makes his struggles a lot less generic.
In many ways, Carol's parents represent her divided heritage. Her father didn't want her embracing her Kree side and fighting alien wars. Having already lost a son, who can blame him? Her mother didn't want to stop Carol from embracing both sides of her heritage, even though that was sure to leave her conflicted.
It effectively connects Carol's superhero journey with that of her family. Those journeys involve some heavy losses, painful secrets, and destructive alcoholism. It's something you're not going to find with Superman, Spider-Man, Batman, or any of the X-men. It leaves Carol Danvers in an uncertain, but promising state.
It's not yet clear how much of Stohl's revisions will find their way into the "Captain Marvel" movie. To some extent, it helps that Carol's origin isn't as iconic as that of other heroes. The Marvel Cinematic Universe has already done some considerable tweaks to certain characters to make them fit the narrative. I have a feeling we'll see plenty of that in the movie.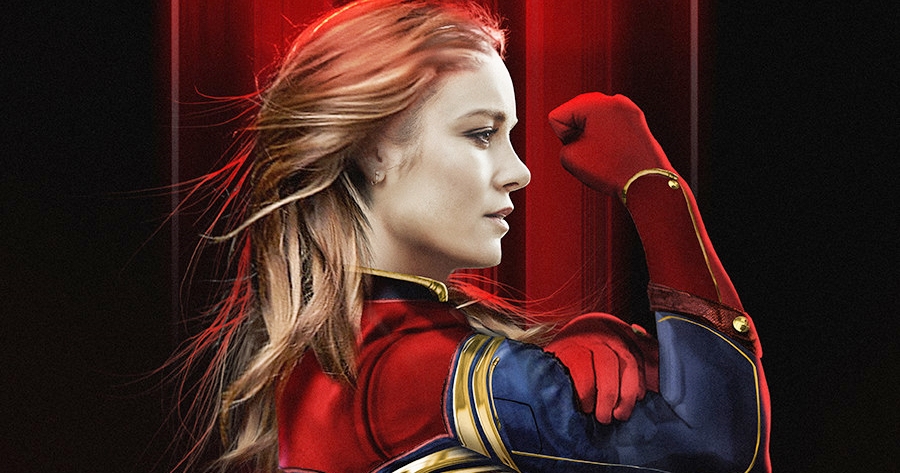 However things plays out on the big screen for Carol, I think her story in the comics just became a lot more interesting. I know there are some fans upset by this. I'll even concede there are some parts of this revision I don't care for. There was some appeal to Carol just being an ordinary human who worked her ass off to achieve what she did.
Every major revelation or retcon in a comic or movie comes at a price. You're bound to upset some people. That's unavoidable in a world full of such diverse tastes. However, I believe that Carol gained much more than she lost in "The Life of Captain Marvel." I believe she's bound to gain a whole lot more, both through her movie and through the new host of stories that can be told.
Whatever the case, I hope Brie Larson takes plenty of notes.