When a team is on an epic winning streak, it creates the perception that they have some supernatural ability to defy the law of averages and bend reality to their will. It happened to the 2007 New England Patriots. It happened to the 2016 Golden State Warriors. They had this aura of invincibility that made it seem as though they could never lose.
That made their eventual loss, both in championship games no less, that much more painful. However, I would argue that the winning aura of those teams pales in comparison to that of the Marvel Cinematic Universe. If the MCU were a sports team, it would include the likes of Michael Jordan, Tom Brady, LeBron James, Wayne Gretzky, Tiger Woods, and Muhammad Ali in their primes and on crack.
To say that Marvel's movie franchises are on a winning streak would be like saying a hungry lion has a slight edge over a wounded squirrel. The Marvel Cinematic Universe hasn't just made superhero movies the gold standard of the box office by raking in $16.8 billion worldwide to date. It has set the bar so high that even close rivals have essentially given up.
Disney, Marvel Studios, and Kevin Feige are riding higher than anyone thought possible, especially for those who still have nightmares about "Batman and Robin." With both "Black Panther" and "Avengers: Infinity War" breaking a fresh round of records this year, it seems as though that winning streak is only accelerating.
I say all this not just to belabor how much the MCU has accomplished over the past ten years. I say it as a fan who loves Marvel comics and wants to see it keep winning. However, even with "Avengers 4" set to come out next year and make another couple billion, I believe this streak of superhero movie excellence is vulnerable.
It's no secret that "Avengers 4" will likely mark the end of an era. Kevin Feige has gone on record as saying that this movie will act as an endgame, of sorts. While makes clear that the MCU will continue, with movies planned out until 2025, he also indicates that there will be major upheavals.
That's somewhat necessary because with the conclusion of "Avengers 4," many of the contracts for MCU stalwarts like Robert Downy Jr., Chris Evans, and Chris Hemsworth are set to expire. While it's possible that some may find a way to keep going, others like Chris Evans have made clear that their time in the MCU is almost over.
That means for the MCU to continue its winning streak, it needs to move forward with new characters, new actors, and new ideas. It has to find a way to keep this world moving forward, potentially without the likes of Captain America, Iron Man, and Thor. That's a huge challenge, even for a franchise on an unprecedented winning streak, and the comics have already failed to fill those voids.
That's where Carol "Captain Marvel" Danvers comes in. If you saw the post-credits scene for "Avengers: Infinity War," you know why she's about to become very relevant to the MCU. I've talked about her before and established how things could easily go wrong with her upcoming movie. I imagine I'll have a lot more to talk about in the coming months.
I don't think it's unreasonable to say that Carol Danvers and her upcoming movie, which is slated for release in March 2018, is the most important movie in the history of the genre. I believe this movie may very well determine whether the winning streak of the Marvel Cinematic Universe continues or finally falters.
I say that as someone who loves Carol Danvers as Captain Marvel. Back in 2012, Kelly Sue DeConnick effectively reinvented the character in a way that convinced me that she deserves a prominent role in any Marvel universe. In my opinion, she's essentially Marvel's version Wonder Woman.
Her movie has so much going for it. "Wonder Woman" established that female superhero movies could be a hit at the box office and garner critical acclaim, despite the scars left by "Catwoman." On some levels, "Captain Marvel" is facing a lot less pressure and it has the momentum of "Avengers: Infinity War" behind it.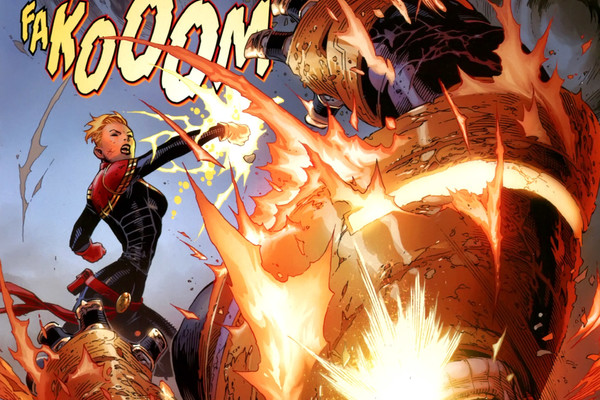 However, the stakes are actually higher for this movie compared to everything "Wonder Woman" faced. Recently, Kevin Feige stated that Carol Danvers will be the new face of the MCU. From a purely logistical standpoint, that makes sense. The MCU needs a new unifying force if Chris Evans' Captain America is to make his final stand in "Avengers 4."
I believe Carol can pull it off, as well. She has taken on more leadership roles in the comics and has become a central member of the Avengers' main team. Combine that with Brie Larson's charisma and Carol Danvers has all the tools she needs to keep the MCU's winning streak going.
I believe she can do this simply by being the kind of character that Kelly Sue DeConnick molded six years ago. That version of Carol Danvers emerged from years of being a secondary character in Ms. Marvel who rarely got a chance to achieve the same recognition as her peers. She's a classic case of a character who elevated themselves by embracing a new identity, a new purpose, and greater ambition.
DeConnick established Carol as someone who achieves so much in one field, but dares to seek greater challenges beyond. She contributed to the Avengers for years, but never pursued a greater vision until she became Captain Marvel. That idea of someone looking to the stars, seeking to achieve more, and pursuing it with unmatched drive is what will help her succeed in ways on par with Wonder Woman.
At the same time, though, there are potential risks and Captain Marvel may be more vulnerable to them than Wonder Woman. While Kelly Sue DeConnick did a lot to reinvent Carol Danvers for a new era, she has faltered somewhat. Recent events in the comics have put her heroic merits into question for all the wrong reasons. Some of Brie Larson's politically-charged rhetoric hasn't helped either.
To some extent, Carol's reputation has faltered because in elevating her status in the comics, she has been hit with the dreaded Galbrush Paradox. The quirks that DeConnick introduced, such as Carol being a Star Wars fan and having a love interest in James Rhodes, have eroded in recent years. In addition, even her artistic depictions have devolved by reducing her feminine features for no apparent reason.
In wake of the vitriol that Star Wars received for its portrayal of female characters, I worry that "Captain Marvel" runs the risk of inviting a similar backlash. If Carol Danvers is not sufficiently compelling, she runs the risk of getting hit with the Mary Sue label that has plagued Rey since "Star Wars: The Force Awakens."
The worse case scenario, in my opinion, involves turning Carol Danvers into a Captain America or Iron Man stand-in. In the absence of these iconic characters, and their top name actors, Feige and those at Marvel Studios may be tempted to make her too much like them. That would be a huge mistake, especially for an organization on such a huge winning streak.
Carol Danvers is not Steve Rogers, nor is she Tony Stark. She's not just a woman who takes on a man's role either. She's still a woman and, especially under DeConnick, her womanly traits were on display alongside her more badass features. It's not groundbreaking because Wonder Woman struck just the right balance, having her fight alongside men while still acting like a woman.
In the best case scenario, Carol Danvers follows Wonder Woman's example and establishes herself as someone worthy of carrying the MCU forward. Unlike Rey, she's a character with plenty of compelling lore to work with. The key is finding the right blend that'll help her fit into the Marvel Cinematic Universe.
At this point, without a trailer and only a few teases to go on, it could go either way for "Captain Marvel." It could be the next in a long line of successes or it could be the MCU's first failure. To date, Kevin Feige and those at Marvel Studios have shown time and again that they know what they're doing.
Hell, they took an obscure series involving a talking raccoon and made it a global brand. Until they show they're capable of screwing up, I'll continue to give them the benefit of the doubt. At the same time, though, I think it's worth bracing for that inevitable setback. All winning streaks come to an end. I just hope "Captain Marvel" isn't the one that ends it.