In the spirit of honesty and transparency, I'm going to admit something that should surprise no one.
I, Jack Fisher, have said horrible, offensive things in the past. For that, I sincerely apologize.
I'll give everyone a moment to recoil in shock. Now, I'll turn off the sarcasm and get serious because this is an issue I've already done plenty to belabor. People say offensive things. People write offensive things. I know I have, given some of the sensitive topics I've covered.
I'm certainly not alone. These days, it's hard to go more than a day without reading something horribly offensive on social media. Not all of the offense warrants the same outrage, though. Some comments are just trolling. Some trigger reactions that lead to actual crimes. Not all offensive speech warrants immense outrage is what I'm saying.
That brings me to James Gunn, the man who made movies about a talking raccoon, a talking tree, and the goofy guy from "Parks and Recreation" that went onto make over $1.6 billion at the box office. His star really rose fast after the unexpected success of "Guardians of the Galaxy." He's credited with taking the Marvel Cinematic Universe to cosmic heights. He has accomplished a lot in the past four years.
Now, he's been fired. He'll have no part in "Guardians of the Galaxy 3." The circumstances, context, and fallout from this huge turn of events is astonishing, but for all the wrong reasons.
The particulars here are striking. Mr. Gunn was not fired because he committed a serious crime or got embroiled in a disturbing scandal. He got fired because someone who didn't agree with his political views dug up some old social media posts from 10 years ago that were lewd, offensive, and downright disgusting.
Not surprisingly, Mr. Gunn apologized for it immediately. He didn't make excuses. He didn't whine about fake news. He didn't claim his account was hacked. He took ownership of the things he said and apologized.
Many people who have followed my career know when I started, I viewed myself as a provocateur, making movies and telling jokes that were outrageous and taboo. As I have discussed publicly many times, as I've developed as a person, so has my work and my humor.

It's not to say I'm better, but I am very, very different than I was a few years ago; today I try to root my work in love and connection and less in anger. My days saying something just because it's shocking and trying to get a reaction are over.

In the past, I have apologized for humor of mine that hurt people. I truly felt sorry and meant every word of my apologies.

For the record, when I made these shocking jokes, I wasn't living them out. I know this is a weird statement to make, and seems obvious, but, still, here I am, saying it.

Anyway, that's the completely honest truth: I used to make a lot of offensive jokes. I don't anymore. I don't blame my past self for this, but I like myself more and feel like a more full human being and creator today. Love you to you all.
It still wasn't enough, though. He still got fired and there's a very good chance that the career he worked so hard for has been damaged beyond repair. It's all because of horrible things he said 10 years ago. That's worth emphasizing because the person someone is now and the person they were 10 years ago can be very different.
People grow, develop, and change over the course of their lives. I certainly have. In that time, people will say and do things that they don't realize will have major consequences 10 years down the line. We can't even know what kind of person we'll be a week from now, let alone 10 years.
We're going to do and say dumb things. That's just a part of being human. However, now that the internet and social media document these things, our worst moments and most ill-advised decisions are there for all to see. We can no longer trust people to just forget. In Mr. Gunn's case, someone went out of their way to dig up these horrible comments and that continues a dangerous precedent.
That precedent was already set with Rosanne Barr and this effectively raises the stakes. Now, even when you don't blame sleep medications and give a sincere apology, you can still lose everything you've worked for. All it takes is someone with enough free time, resources, and hatred to do it. For celebrities, these are dangerous and unforgiving times, indeed.
Now, I know it's hard to feel sympathy for celebrities, who live in big mansions, get preferential treatment wherever they go, and never have to worry about their next mortgage payment. Mr. Gunn is probably going to be okay thanks to the millions he's already made. At the same time, though, what does undermining his career accomplish?
It doesn't undo the things he said. It doesn't undo any of the offense people felt. If anything, it sends a message to aspiring celebrities that anything they say and do will be used against them in the future. Even if that makes some people more careful about what they say online, it doesn't change the fact that people will say and do dumb things every now and then.
It's a no-win situation. If you can't make excuses or offer a sincere apology, then what is the recourse? What was Mr. Gunn's alternative? Short of going back in time and punching himself in the throat, there was nothing he could've done. How is that fair? How is that even logical?
On some levels, I don't blame Marvel Studios and Disney for cutting ties with Mr. Gunn. They're a multi-billion dollar media conglomerate that is very sensitive to the value of their brand. They're also a private entity and not a government so the first amendment does not necessarily apply to them. They can fire whoever they want for whatever reason they want.
Even so, there doesn't appear to be much effort to accept Mr. Gunn's apology. While some have expressed understanding, there isn't much effort in terms of undoing the damage. It's as though this is the new normal. This is what happens to anyone who dares to let their stupidity end up on the internet. There's no forgiveness. There are no second chances, either. If you mess up once, you're finished and your career is over.
Think about the larger implications of that situation. If that's how we're going to deal with people who say offensive things, then where's the real incentive for people to learn from their mistakes? Why would anyone even try to apologize or show regret if the end result is the same?
That's not to say the situation is hopeless. There is already a Change.org petition to urge Marvel and Disney to rehire Mr. Gunn. As of this writing, it has over 150,000 signatures. Whether that's enough remains to be seen and the fact that something like that is necessary to accept someone's apology is still saying a lot.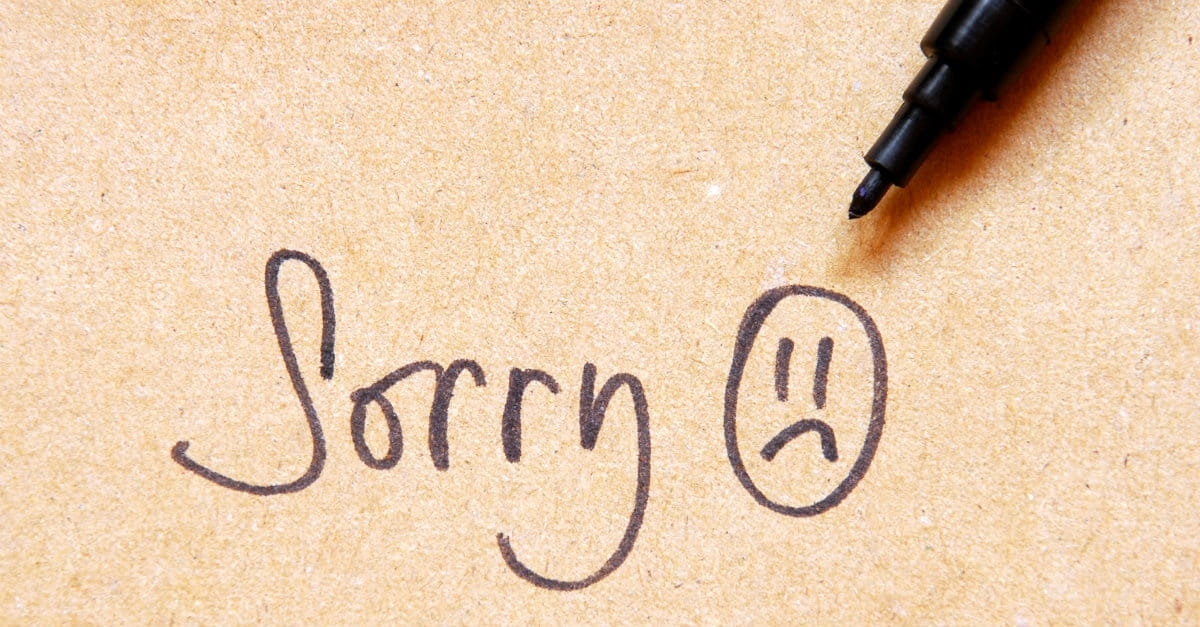 I already worry that the next time a well-known celebrity says or does something offensive, they won't even bother with apologizing. Why would they if it's just going to sink their career or require a petition to keep it going? What kind of excuses will they resort to and how much more damaging will they be?
Accepting apologies aren't just good values to live by. They're critical to helping people grow as human beings. I believe Mr. Gunn meant it when he apologized, but I worry that he and other celebrities like him will come to see it as an empty gesture that won't save their careers.
There are plenty of cases where accepting someone's apology just isn't warranted, especially if they have a history of saying and doing terrible things. Mr. Gunn is not such a case. If ever there was a time to set a precedent for accepting someone's sincere apology, this is it. Even if it's too late for Mr. Gunn, it's still a precedent worth setting.