Here's a question that should strain the brains of anyone who reads too many comics and watches too much TV.
What do Rick Sanchez and Superman have in common?
Take a moment to finish rolling your eyes. Bear with me, I am going somewhere with this. There is a point to posing such a question, relatively speaking. Maybe a better question would be what possible commonalities could someone like Superman share with Rick Sanchez from "Rick and Morty?"
One is the undisputed icon of truth, justice, and the American way. The other is an eccentric, unstable super-genius who also happens to be high-functioning alcoholic. These are two fictional characters who, on paper, would clash at every turn. However, there is one trait that binds them and it's one that's worth scrutinizing.
They both perfectly embody nihilistic morality.
Again, I am going somewhere like this. Just hear me out  because this is something I think that fans of both Superman and "Rick and Morty" can appreciate. In an era where everyone has an excuse, an agenda, or a combination of the two, it's a perspective that I think everyone can appreciate.
To understand that perspective, it's necessary to understand what I mean by "nihilistic morality." I've mentioned nihilism before when I've discussed "Rick and Morty" in previous posts, specifically on what makes Rick Sanchez an appealing character to an emerging generation. For the purposes of this discussion, you need not be a super-genius or a Kryptonian to understand.
By definition, nihilism sounds bleak and depressing. At its core, it states that life has no inherent meaning or purpose. We're just globs of matter floating around the universe for a finite period of time. That's it. There's no plan, purpose, or greater meaning. Any effort we make at seeking meaning requires that we shamelessly lie to ourselves. Rick Sanchez, himself, put it pretty succinctly.
"When you know nothing matters, the universe is yours. And I've never met a universe that was into it. The universe is basically an animal, it grazes on the ordinary. It creates infinite idiots, just to eat them."
Depressing or not, I don't intend to belabor the grim prospects of nihilism. Instead, I want to focus on the implications because, even if the principles are depressing, the implications are pretty revealing. In a sense, those implications can say a lot about what we consider moral and why we do what we do.
This is where Superman enters the equation. When it comes to beacons of morality, Superman is basically the alpha and omega of all things good and just. He is the standard by which all heroes are measured. He is the arbiter of the ethics, philosophy, and principles of a good and just person. If Superman does it, then it must be good. If there's a right way to do something, then Superman does it without hesitation.
Where he and Rick Sanchez intersect has less to do with who they are and more with why they do what they do. Whether it's stopping Zod from destroying a city or selling weapons to assassins to spend an afternoon at an alien arcade, these two characters have surprisingly similar motivations and those motivations have a basis in nihilism.
Simply put, Superman and Rick Sanchez don't do what they do because it serves an agenda, makes them look good to others, helps them function better in society, or rewards them after death. They do it because they want to. That's it. That's the end of the philosophical discussion.
In the context of pure nihilism, these two exceedingly different characters are on the same page. There's no larger plan or purpose to their choices. Rick Sanchez has never given a cosmic fart about what others think about him, including his own family. Superman has also made it abundantly clear throughout his history that he doesn't do what he does for adulation. He does it because it's the right thing to do.
These simplistic, almost shallow reasons are inherently nihilistic in that they acknowledge the pointlessness of attempting to seek greater meaning in a chaotic universe. It's just as pointless to do something for personal reasons, be they vengeance for dead parents or upstaging the devil. Any reason, large or small, is just as empty within a nihilistic worldview.
However, if you can look past the depressing concepts, there are major implications for the ethical context of these actions. The fact that both Superman and Rick Sanchez don't need or seek that greater meaning to justify their actions makes what they do more inherently honest. In terms of judging ethical motivations, that counts for a lot.
Whether they're iconic heroes or alcoholic mad scientists, honesty matters and so does motivation. Heroes like Captain America, Iron Man, Batman, Spider-Man, and the X-men have factors like duty, vision, responsibility, and tragedy to guide their actions. You could say the same about the real people behind any movement, be they civil rights, gender issues, or a political party.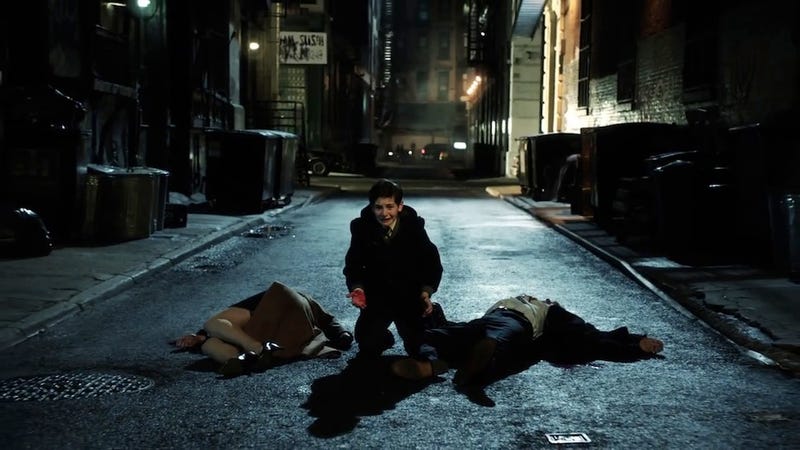 Spider-Man does what he does out of responsibility and the guilt he feels for being irresponsible in the past. Most peoples' political affiliation is inherited from their parents or their economic circumstances. Some join civil rights movements out of personal conviction or just to virtue signal.
Both Rick Sanchez and Superman would see all those factors as needless complications to what should be a very simple choice. To them, you simply do something because you want to. If there are consequences to that, then you deal with them. That's all there is to it. That's all there needs to be.
Superman didn't need someone to kill his parents or hate his kind to motivate him. Rick Sanchez didn't need a loving family or an empire of alien insects to motivate him either. They just need the ability to make a choice and nothing more. Anything beyond that is either bonus or needless complications.
In the context of nihilism, that makes the ethics behind both Rick and Superman more genuine. It flies in the face of those who seek justice, morality, or progress as part of some larger endeavor. That's an important factor because, absent that context, the motivations can be prone to corruptive forces.
This can unfold subtly in things like organized religion. Sure, religion can inspire great charity, but is that because adherents genuinely want to be charitable? Are they just trying to win favor in the eyes of a deity who may or may not punish them eternally after they die?
It also manifests in political movements. Pretty much any political party will consider their platform to be just. However, is that because it actually is just or because that's just what the party says? Anyone who has lived in a communist dictatorship probably knows the answer to that more than most.
These days, we're seeing more and more people rally behind various social movements, be they LGBT rights or anti-harassment efforts. Even if the intent of these movements are just, those behind it can have other motives, such as virtue signaling or maintaining an agenda. Remember, Harvey Weinstein donated to the women's march in early 2017 before his scandal broke.
In either case, it's not always possible to know the sincerity of someone's moral underpinnings. In a sense, nihilism provides a filter, of sorts, to sift through the various agendas that someone may or may not have. If that agenda requires that the universe have a special purpose or destiny for them, then that's usually a sign that they're trying to be the heroes of their own story, which rarely turns out well.
Superman could care less if the entire world hates his guts for doing what he does. He'll still do it because it's the right thing to do. Rick Sanchez could care less if everybody loves him and worships him like a god. He still does what he does simply because he chooses too. They both understand the universe doesn't care so why should they?
Think about that next time a fictional hero or a real person explains their motivations. Apply the filter of nihilism and you'll reveal just how genuine or insincere they truly are. Whether you're saving Lois Lane or searching for that sweet Szechuan Sauce, those motivations matter, especially in a nihilistic universe where little else does.