When I was in middle school, I had a particularly vindictive gym teacher one year who had a knack for breaking the spirits of pre-teens. If we forgot to wash our uniforms, failed to take our seats on time, or just farted too loud, we were given a choice. Either we had to run a mile or do 100 push-ups. We got to choose, but both choices sucked.
The real kicker was that if we didn't choose, then the teacher would choose for us and would go out of his way to make that choice seem extra cruel. It was one of those situations where it really didn't matter what we said or did. One way or another, we were going to suffer for our actions and inaction.
This brings me to this year's Golden Globes. Bear with me. I promise that's not as big a non-sequiter as it sounds. There's a valid reason I brought up the story of my vindictive gym teacher and it ties directly into the ongoing social movement to combat the sexual misconduct of powerful men.
I've talked about this issue before and, to be honest, I wish I didn't have to keep discussing it. I would much rather be telling sexy stories, sharing sexy thoughts, or discussing upcoming superhero movies. However, these issues surrounding sexual misconduct in Hollywood have an undeniable impact on the sexual landscape and as an aspiring erotica/romance writer, that's not something I can ignore.
A lot has been said and done since the movement began in wake of the Harvey Weinstein scandal. There has been a great deal of outrage, complete with protests and hashtags. Powerful men have fallen. Careers and reputations have been ruined. Entire movies and TV shows have actually been changed, as a result of this effort.
In some respects, it's a good thing and I have pointed out the silver linings. Men harassing or abusing women is not something a just society should overlook. This isn't one of those irrational moral panics, such as Satanic ritual abuse or the impact of violent video games. These instances of men abusing women have happened and some of the accused have confessed.
However, this ongoing crusade against powerful men, as well as horny men in general, has walked a fine line between a pursuing justice and demonizing any man who ever dared to admire a beautiful woman. It's not quite at the level of an old-fashioned witch hunt, but it's already in that dark territory where passions obscure reality.
What happened at the Golden Globes might end up being the most telling sign of all. Initially, the big news for this event was positive. Some of the most prominent women in Hollywood, including Emma Watson and Oprah Winfrey, came together in a show of solidarity against the sexual victimization of women. They all wore black dresses and got behind the newly-created "Time's Up" movement.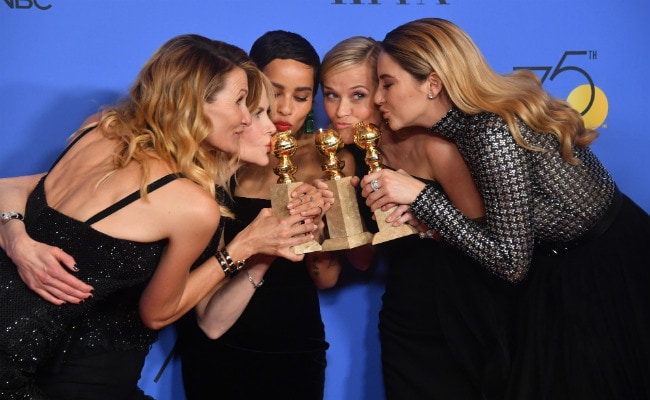 Like other movements before it, the intent is good. This movement seeks to provide legal defense and resources for those who have been victimized by sexual misconduct. That's an objectively good thing, but that wasn't the most revealing moment of the Golden Globes. Instead, the biggest message came from what was not said.
It has been reported by more than one outlet. While the women at the Golden Globes were quite vocal in their ongoing efforts to clamp down on sexual misconduct, the men were mostly silent. Other than a brief remark from Seth Meyers at the beginning and some men dressing in black, Hollywood's male stars were largely silent.
To some, this is already very problematic. I imagine it's going to stir quite a bit of outrage among those trying to further the movement. However, when you take a step back and look at the situation in which these men were in, their silence makes complete sense. In fact, those same women who are determined to combat the Harvey Weinsteins of the world may very well have made it their only option.
To understand why, think back to my vindictive gym teacher for a moment. That teacher understood that to break the spirits of powerless pre-teens, it was necessary to put them in a situation where their choices mattered less than the ugly gym uniforms the school forced them to wear. By establishing just how powerless they were, it made any effort to speak up seem pointless.
These men, as powerful and successful they may be, were in a situation not unlike the one my hapless classmates were in that year. There was nothing they could've said or done that wouldn't have been deconstructed, dissected, or misconstrued. No matter what they said or didn't say, it would be used to label them as enemies of the movement and of women, as a whole.
If one of the men stood up on that stage and gave an impassioned speech condemning Harvey Weinstein, then his reputation would suffer. He would be labeled a virtue signaling white knight who was compensating for something. After what happened to Joss Whedon, those concerns wouldn't be unfounded. He may even still face condemnation among women for not speaking up earlier or naming other harassers.
If that same man stood up and tried to give an impassioned speech on the importance of confronting the issue responsibly, then he would likely have suffered condemnation similar to that of Matt Damon, who dared to question whether all harassment should be treated equally. Even hinting at such nuance would've earned that man the toxic label of a misogynistic victim blamer.
Essentially, the men at the Golden Globes knew they couldn't win either way. No matter what they said, it would've been used against them or undermined their career, somehow. These men, as powerful and successful they may be, are still human, despite what Tom Cruise may claim. They want to protect their jobs and their reputations. They can't do that if they get slapped with these toxic labels.
In the end, silence was their safest bet and that, in and of itself, reveals the extent to which this crusade against sexual misconduct has gone. It's past the point where people can have reasoned arguments about the issue. Now, it's all outrage and hyperbole. Either you're completely on board with that outrage or you're just as bad as Harvey Weinstein. There is no gray area.
That lack of gray area means men have to be silent, which is the exact opposite of what the women in the movement are trying to achieve. It's ironic, but understandable. These men aren't going to garner much sympathy. They're rich, handsome, and successful. There's only so much sympathy they can inspire, due to their position.
Silence is the only way to avoid the added scrutiny that would undermine a career. Silence is the only way to avoid saying something that might offend, enrage, or upset a public that has shown in recent times an uncanny unwillingness to ruin lives and reputations. It's actually worse than censorship, when you think about it, because it is self-imposed rather than coerced.
The fact that the men didn't speak up at the Golden Globes may or may not represent a tipping point, of sorts. If the anti-harassment movement has created an environment that's so frail that silence is the safest recourse, then that same movement lacks a critical component it needs to succeed.
Like it or not, men need to be part of the conversation with respect to sexual misconduct. Silence on their part means the crimes, the culture, and the attitudes that fosters such misconduct won't change. Moreover, their point of view cannot be discounted as virtue signaling or "mansplaining." The fact remains that if people feel helpless, then they won't care enough to make the effort.
Like the broken spirits of my old gym class, if the men don't think their words matter or may be used against them, then it makes perfect sense for them to remain silent. Outrage, awareness, and condemnation alone is not going to inspire meaningful change in the dynamics between men and women.
Both sides actually have to listen to one another and feel their words actually matter. It's only then when silence will no longer be the most preferred and logical recourse.