It's almost here! It's been seven long months for football fans. Sure, I've found ways to pass the time, talking about annoying millennials, surviving fascist governments, and all things Wonder Woman. In all that time, I often checked my calendar, counting down the days until the NFL season started again. Finally, I can stop counting.
I've made my love of football clear before and now, that love has returned. My heart and my loins are in overdrive with anticipation. I'm sorry if that gives some of you a disturbing mental picture, but I stand by it. I'm just that excited.
I know football has made the news for all the wrong reasons recently. Some are saying football is in decline. I've countered that sentiment in my own sexy way. For now, that debate can take a back seat because the first kickoff of the season has arrived and I'm ready to build my Sundays around football again.
Whether you're a fan of football or just hate Tom Brady's smug, perfectly chiseled face, it's a big moment for sports here in America. I'm ready to embrace it like party at the Playboy Mansion.
As such, I'd like to do something I've never done on this blog before. I would like to take the same energy I use to write about sexier topics like orgasms and sleeping naked, channel it in a new way, and break down the upcoming NFL season. At the moment, every team is undefeated. Every team has a chance to make this year their year. Yes, that includes the Cleveland Browns too.
Before the first play can be run, I'm going to look at each NFL division, make a few predictions, and offer my take as to who will hoist the Lombardi Trophy at the end of Super Bowl LII in Minneapolis, Minnesota. I know people don't always come here for sports talk, but I promise I'll get back to talking about sexier topics. For now, here's Jack Fisher's official analysis for the 2017 NFL Season.
---
AFC East
This is probably the easiest division for anyone to break down. It has been for nearly two decades now. It's basically Tom Brady vs. everyone else and Brady still has the advantage. Love him or hate him, he's the best. Last year's Super Bowl performance proved it. He has five Super Bowl rings, more than any other quarterback to ever play the game. That's all you need to know about the AFC East.
That's not to say the Patriots' reign is safe. Tom Brady is 40 and the list of quarterbacks who dominate that age is exceedingly short. On top of that, he lost one of his best receivers, Julian Edelman, to a season-ending ACL injury. That came after one of their best defensive players, Rob Ninkovich, retired.
Even with these losses, though, the competition in their division is limited at best. Only the Miami Dolphins pose a meaningful threat and they now have to rely on Jay Cutler to get them back to the playoffs, despite his noticeable decline during his final years in Chicago.
While Miami has a balanced team, they're still a work-in-progress while the Jets and the Bills are so lacking in talent that they would need to overachieve to a historic degree to threaten the Patriots. That is as unlikely as Ryan Leaf making a comeback, but stranger things have happened in the NFL.
Jack's Pick: New England Patriots
---
AFC North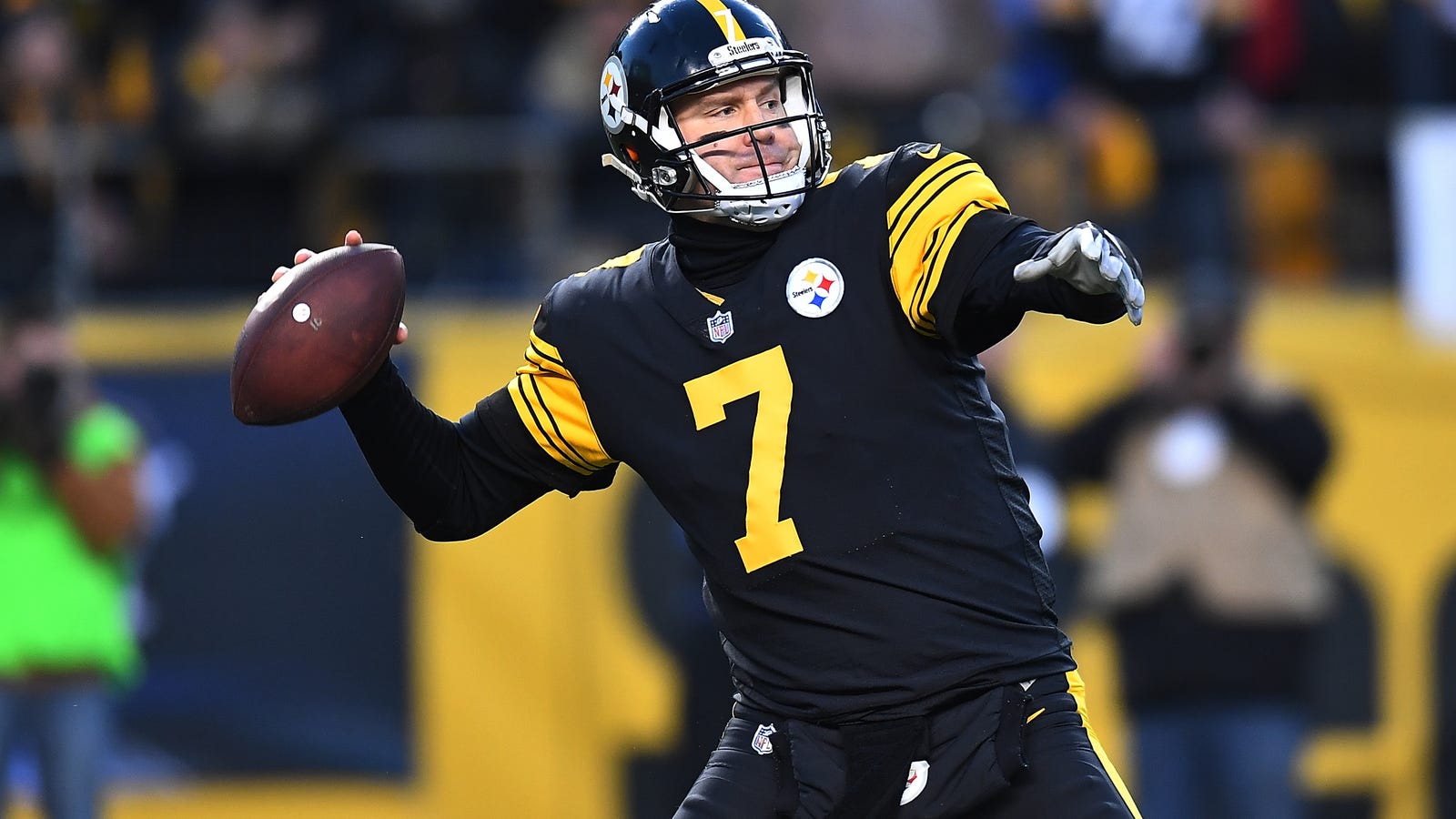 This is a division that has been in flux in recent years. After the Cincinnati Bengals won a few division titles, it looked like they were going to leapfrog over the Steelers and the Ravens, who have dominated the division for a decade. Then, the Bengals took a nose-dive last season, the Ravens got slammed by injuries, and the Browns were the worst team in football.
At the moment, the Steelers have the most firepower with Ben Roethlisberger, Antonio Brown, and Le'Veon Bell. That was enough to carry them to the AFC Championship game last year, but that run took a toll on Roethlisberger, whose lengthy injury history is starting to catch up with his toughness.
Their ability to make it back to the AFC Championship game depends primarily on how well the Ravens and Bengals rebound. Both teams added new talent in the off-season and the Steelers did not keep pace. I suspect it'll be a much closer battle this time. However, the Steelers still have the edge.
Until I see signs that Roethlisberger can't do it anymore, his team has the advantage. I wouldn't be surprised if the division title came down to the last week of the season, but so long as their core players stay healthy, which is big if, the Steelers will come out ahead.
Jack's Pick: Pittsburgh Steelers
---
AFC South
This division, more than any other division in the AFC, is up for grabs, albeit for all the wrong reasons. It's a division that got too used to Peyton Manning dominating it for over a decade with the Colts. For a while, it seemed like Andrew Luck would continue that tradition. Then, he started taking too many hits. Now, he's dealing with a shoulder injury that has kept him out of the Colts' entire offseason program.
With each year that passes, Luck seems to get unluckier. Conversely, the Titans and Texans seem to get better. That continued this year with the Texans drafting Deshaun Watson, the hero of the NCAA Championship game earlier this year. The Titans also loaded up on defensive players to supplement their evolving offense, which has steadily grown under the hand of Marcus Mariota.
Last year, the Texans managed to win their division with a guy named Tom Savage at quarterback and with J. J. Watt, arguably the best defensive player in football, on injured reserve. Watt is back this year, but so is Mariota. These two teams will likely be in a dogfight until the end of the season, with the Colts and Jaguars struggling for relevancy.
In the end, though, even if the Texans decide to play Watson, I can't see their defense bailing them out this time. The division is changing and I think until the Texans fix their quarterback situation, they won't be able to ascend much higher.
Jack's Pick: Tennessee Titans 
---
AFC West
This is another division in flux. It was dominated for several years by Peyton Manning and the Broncos. Then, Manning retired and the division became a free-for-all. One week, the Broncos were the best team. The next, it was the Raiders. Then, it was the Chiefs. You would never even expect that the Chargers still have a Pro Bowl quarterback in Phillip Rivers under center.
Last year, it seemed as though the Raiders were emerging as the dominate team in that division. Derek Carr led his team to the best record in the AFC for a while. Then, he got hurt and was out for the season. That injury effectively derailed the Raiders' chances at overcoming the established power of the Steelers and Patriots.
Now, Carr is healthy, but it's hard to say whether he'll be the same player he was last year. At the same time, the Chiefs are a team on the rise. Andy Reid has what might be one of the most balanced teams in the NFL. His team isn't flashy, but they get the job done. In a division without a dominate force like Peyton Manning and Tom Brady, that's all you need.
I know the Raiders are a popular pick to keep on rising. I know they have more talent at the skill position. However, I'm not yet convinced that they've taken the necessary steps to compete on a larger stage. I've also never been convinced that the Broncos can win another playoff game with Trevor Siemian as their quarterback.
Jack's Pick: Kansas City Chief
---
NFC East
This is definitely my favorite division in all of football and not just because I live in between the passionate fan-bases of the Redskins, Eagles, and Giants. Every year, this division seems to attract some level of upheaval. Many times, it involves the Dallas Cowboys. If it were a soap opera, it would be the biggest show that didn't feature dragons, incest, and a naked Emilia Clark.
Last year, the Dallas Cowboys dominated the division, effectively coasting their way to a division title. They're favored, by many, to do it again. However, history is not on their side. No team has won back-to-back division titles in the NFC East in over a decade. On top of that, the Cowboys have a nasty tradition of regressing after a year of dominance.
It's worth noting that the one team they couldn't seem to beat, the New York Giants, is in their division. It's also worth noting that the Giants made the playoffs last year under a first-year head coach and with Odell Beckham Jr. being a distraction, no less. Like it or not, Eli Manning has two Super Bowl rings and the Cowboys have only two playoff wins in this millennium.
The Cowboys have a rough schedule ahead of them. The Eagles and Redskins are also teams that are growing, in terms of talent and experience. With so much drama in Dallas, along with the ongoing Ezekiel Elliott situation, it's hard to see how they would manage a tougher schedule. They may still make the playoffs, but their lack of experience keeps me from giving them much confidence.
Jack's Pick: New York Giants
---
NFC North
This is another division that has been dominated/plagued by one team and one all-time-great player. The Green Bay Packers are that team and Aaron Rogers is that player. Tom Brady may have more Super Bowl rings, but Rogers has more skill with a supporting cast that isn't nearly as loaded as New England. He got into a major rut last season, but still managed to get hot and take the Packers deep into the playoffs.
Rogers and the Packers have been the bane of every other team in this division and that was before Adrian Peterson left Minnesota. At the moment, the only team that has even close to the amount of talent needed to threaten the Packers are the Detroit Lions. They have a solid quarterback in Mathew Stafford and solid skill players, but they've yet to show they can regularly compete against the Packers.
With the Bears rebuilding and the Vikings unable to go very far with Sam Bradford as their quarterback, there isn't much of a threat to the Packers' dominance this year. That said, Rogers' propensity to get into ruts while his team struggles around him has become more common in recent years. If that keeps happening, then sooner or later, it's going to catch up with them.
I'm not saying that'll happen this year. I'm also not saying it's impossible for a team like the Lions or the Vikings to shock the Packers and end their reign. At the moment, though, it's unlikely.
Jack's Pick: Green Bay Packers
---
NFC South
This division confounds me more than any other division. It's not because it's full of bad teams. It's quite the opposite. Every team in this division has the potential to be a champion. I can easily see every one of these teams getting hot and making a deep playoff run.
The Saints have a Hall of Fame quarterback in Drew Brees. The Panthers have an all-pro in Cam Newton. The Bucs have a rising star in Jameis Winston. It's almost shocking to remember that the Falcons made it to the Super Bowl last year and were just a quarter away from winning it. This division may very well be the strongest division in football.
While the Falcons have proven they can make it to the Super Bowl, they lost their offensive coordinator, Kyle Shanahan, in the offseason. They also lost key contributors on their defense while their rivals in Carolina and Tampa Bay improved. Given the Falcons' history with struggling to sustain their success, I think there are many forces working against them.
Picking a winner here means picking a team that has just one more player who can make one more play than the other guys. I don't think the Saints, with their aging roster, have that player. However, I do think the Panthers got that player this spring when they drafted Christian McCaffrey. While I still think the race will be close, I think Cam Newton being healthy and having a potent new offensive weapon will be the deciding factor.
Jack's Pick: Carolina Panthers
---
NFC West
Every division has good players. Every division has at least one good team that can compete with the best. Every now and then, though, one particular division seems to decline for a wide variety of reasons. Since the Seahawks lost Super Bowl XLIX, the division has hit more than a few rocks.
The Seahawks are still the most complete team. Russell Wilson is still the best quarterback in that division by a wide margin, but the Seahawks have found ways to struggle over the past few years. Their defense has not been able to dominate like it did when it guided the team to back-to-back Super Bowls. It also no longer has dominating players at the skill positions like Marshawn Lynch.
At the same time, the rest of the division is trying to reorganize itself. The L.A. Rams have a new head coach in Sean McVay, who has a young quarterback in Jared Goff to develop. The San Francisco 49ers also have a new coach in Kyle Shanahan, who was part of the Falcon's Super Bowl run. Both teams seemed to bottom out last year and are ready to ascend, just as the Seahawks' dominance is waning.
Arizona might still be the biggest threat to the Seahawks, but Carson Palmer's age and a lack of skill players outside of Larry Fitzgerald makes me skeptical that they can keep pace. Arizona is one of those teams that only ever seems to do well when they get hot. Unless that happens and other teams improve, the edge is still with Seattle.
Jack's Pick: Seattle Seahawks
---
Super Bowl LII Pick
At the beginning of every NFL season, it's next to impossible to pick who will end up in the Super Bowl. For every hot pick that lands, there are a hundred more that fail miserably. It's part of what makes football great. It is possible for a seemingly unbeatable team to get beaten, as the 2007 Patriots found out. It's also possible for a team to go from 4 and 12 to the Super Bowl, as the 1999 St. Louis Rams found out.
There's a non-zero chance that both could happen this year. There's also a chance that everything goes exactly as the experts predict. The fact that both chances are equally unlikely is what gives football so much excitement.
It's with that little prelude that I predict the following Super Bowl LII results
Carolina Panthers Defeat The Pittsburgh Steelers By A Score Of 31-27
I know the Patriots are the popular pick and the Cowboys have a lot of momentum, but I think Cam Newton rebounds this year, having played most of last year hurt. I also think Christian McCaffrey is the X-factor that will push the Panthers past the competition.
The Steelers have a lot of firepower, especially in wake of the injuries and retirements suffered by the Patriots. However, Roethlisberger's age and injury history is just too much to ignore. I think they can still make a run, but the Panthers have just a few more play-makers that'll put them over the top.
That's my pick. They may be dead wrong, but I look forward to finding out as the 2017 NFL season begins.