There are certain questions that nobody likes to ask, but still need to be answered. Questions concerning crime, justice, and punishment are usually at the top of that list. Lately, answering those questions has becom more urgent. If current cultural trends continue, that urgency will only increase.
That's not because people are becoming more keen on justice. It's more a byproduct of injustice being so much more visible in the age of the internet and social media. Crimes don't just make the news these days. They can trigger full-blown social movements, destroy careers, and bring down powerful people.
To some extent, this is a good thing. We, as a social species, have an innate sense of justice hardwired into us. When we see something unjust, be it a kid stealing a cookie or a gruesome murder, most sane people want to see some level of justice enacted. When it isn't, that bothers us. That's where our sense of empathy comes from.
That said, it is possible for that innate desire for justice to go too far. Nature is a blunt instrument, largely out of necessity. Our desire for justice is no different and in the same way egregious injustices are harder to hide, gross misapplications of justice are becoming more visible as well.
As of this writing, the Innocence Project, a non-profit legal organization that works to exonerate those who've been wrongly convicted of a crime, have freed 350 people, some of whom were on death row. Those are the lucky ones, though. In a 2014 study, the National Academy of Sciences estimated that approximately 4 percent of those sentenced to death row may be innocent.
Think about that, for a moment, as a simple math problem. For every 100 people who are executed by the state for their crimes, 4 of them are completely innocent. Whether you're liberal, conservative, libertarian, or communist, the murder of an innocent person offends our humanity to the core. Only a sociopath would be comfortable with that math.
That murder of some innocent people for the sake of punishing the guilty is an extreme example, but one that nicely highlights the potential pitfalls of our reckless crusade against injustice. I don't bring it up to start a debate on the death penalty, which is very much a dead-weight issue within politics these days. I'm using it to provide context for misapplications of justice that aren't as clear cut.
Thanks to social media and global connectivity, it's a lot easier attack injustice without the rigid bureaucracy of legal justice system. It's largely because of this emerging technology that the ongoing anti-harassment movement and the push for greater diversity have become more vocal. Instances of injustice that might have been ignored in the past are now much easier to confront.
Instead of hiring a lawyer, getting the cops involved, or going door-to-door to raise awareness, these perceived injustices can be attacked online, which can subsequently lead to offline consequences. While that can be an effective recourse for those who wield great power and have an army of lawyers, it does come at a cost and innocent people have felt that cost.
While there are plenty of cases that don't become mainstream news, some of the most notable include the Duke Lacrosse incident or the UVA rape case. These are both cases that struck the right and wrong chords at the right and wrong time, evoking in people their inherent aversion to injustice in the utmost. It got people upset and emotional, so much so that they didn't stop to wonder whether those involved were really guilty.
The alleged crimes were undeniably heinous. There's no question about that. Anyone guilty of such crimes deserves to be punished. However, in wanting to punish such crimes, innocent people suffered. Some had their reputations temporarily ruined and others have been irreparably destroyed.
There are other lesser known cases of innocent people suffering because of an accusation that later turned out to be false. There are likely more in which the innocent person never gets justice. It's impossible to know how common they are. Most will point out how rare those instances and in terms of raw numbers, that's true.
However, that still implies that we have to accept the price that some innocent people will suffer in our pursuit of justice. It also highlights how important it is to have a functioning justice system that includes traditions such as due process and the presumption of innocence.
It's an imperfect process, admittedly. There have been notable cases where someone likely got away with a crime because the standards for a conviction are so high. The principle behind that system is that, in the name of not condemning the innocent, we accept the price that some of the guilty may escape justice.
For some people, that's more untenable than the condemnation of an innocent person. That has become a much more prominent theme in recent years, due to the anti-harassment movement. That's somewhat understandable, given how long men like Harvey Weinstein got away with their deplorable behavior.
In the effort to prevent or punish such deplorable behavior, though, those critical tenants of our justice system that are supposed to protect the innocent are being cast aside. There are some within the anti-harassment movement who emphasize the importance of believing the victim's accusations in lieu of the presumption of innocence.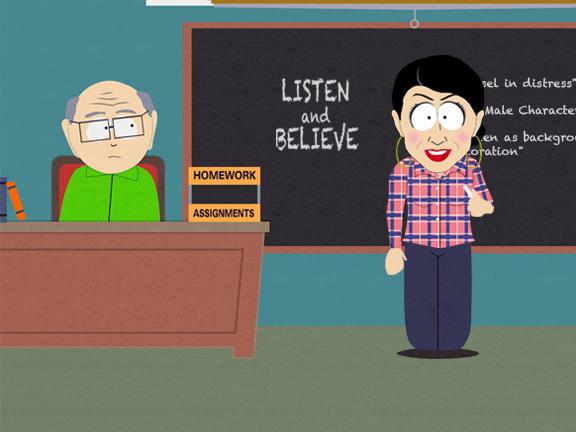 Other, more radical, voices in the movement have favored changing the standards of evidence for rape cases so that they would no longer be subject to reasonable doubt. Granted, these are somewhat extreme measures that probably won't upend our justice system anytime soon. Others far smarter than me have already pointed out the dangers and debunked many of the assumptions.
None of this is to say that the anti-harassment movement or the effort to hold people accountable for their behavior is entirely misguided. I'm in favor of exposing crimes and having the guilty pay for those crimes, provided they really are guilty. I support efforts to reduce harassment, sexual or otherwise. I support efforts to reduce sexual assault on women and men. Most decent human beings share that sentiment.
What I don't support is the idea that it's okay for more innocent people to suffer for the sake of capturing even more guilty people. As I mentioned before with the Innocence Project, our flawed justice system already condemns innocent people. A willingness to let more innocent suffer is the wrong direction to go in fighting injustice.
I know that's easy for someone like me to say because I've never been the victim of a serious crime. I've had some stuff stolen before, I've been cheated out of some money, and I have been roughed up before, but I've never been seriously injured or assaulted. I can't imagine how someone who has been seriously victimized feels about what happened to them.
Their suffering matters. The suffering of innocent people matters too. It's why the question surrounding hurting the innocent to punish the guilty needs to be asked, even if the answers make us uncomfortable. The fact those answers make us uncomfortable reflects the flaws of our justice system and how imperfect our world really is.
At the same time, it also reminds us why seeking justice and combating injustice matters. We, as a society and a species, cannot function if there isn't some semblance of justice. For victims and innocent alike, we need those institutions so that we can prosper and grow as a civilization.
From the anti-harassment movement to crusading prosecutors to overt bias in the court system, there comes a point in the pursuit of justice where compromising the innocent is a price that some are willing to pay. Once that line is crossed, though, it sets a dangerous precedent that relies on dangerous assumptions.
To be willing to compromise the innocent, it's necessary to believe that people who fit a certain profile are guilty by default. If their gender, race, ethnic group, religion, or nationality checks enough boxes, then innocence becomes an afterthought. It becomes another numbers game in assessing potential guilt over actual guilt.
That's a precedent that can easily devolve into a panic and, as history has shown, panics tend to harm the innocent far more than the guilty. It also undercuts the suffering of actual victims because if actual guilt becomes an afterthought, then so too does actual victimization.
That, in many ways, is the greatest price that comes with compromising innocence. Punishing a guilty criminal simply rights a wrong. Punishing an innocent person has impacts that go beyond simply making an undeserving individual suffer. It has a ripple effect on the entire concept of justice, much of which cannot be qualified.
That's why, even if it is as rare as some claim, the punishment of one innocent person should offend our sense of justice more than a guilty person escaping. A guilty person is still going to be guilty, no matter what their high-priced lawyers say. An innocent person who is punished for a crime they didn't commit often lose so much more than just their innocence and that's an injustice no one should tolerate.