I'm a romantic at heart. Between the sexy stories I've written and the sexy topics I've discussed, I think I've made that abundantly clear. Love, in all its wondrous forms, is something worth pursuing, channeling, and embracing. It's one of the few forces that can be as powerful in the real world as it is in fictional words.
It may be corny, but love is a wonderful thing. It's easy to be cynical and jaded, especially if you've had your heart broken or been in one too many bad relationships. It's just as easy to find yourself overwhelmed by all the joy and fulfillment it brings to your life. The hardest part is finding it, but finding it often requires vulnerability, dedication, and even a little blind luck.
At the moment, I'm single. I've been single for a number of years now, but I'm always on the lookout for love. I've tried online dating. It didn't work for me. I've also tried having a family member set me up with someone. That didn't work, either. I haven't lost hope. I still believe that one day, I'll find the love of my life. It's just a matter of when and where.
While it's impossible to predict the when, I know myself well enough to have a general idea of where I might find that special someone. Everyone in my family says it'll happen when I least expect it, but a few have said I probably won't be surprised where it happens.
With that in mind, I'd like to take a moment to speculate on where that magical moment might happen for me. I know myself. I know where I hang out and where I tend to meet new friends. If I'm going to fall in love, it's probably going to happen at a place like that.
Granted, I could be wrong. It could happen somewhere completely unexpected. Love is unpredictable and erratic like that. That's part of what makes it so amazing. In terms of sheer probability, these are the locales where I'm most likely to meet the love of my life.
---
#1: A Comic Book Convention
This is probably the most obvious. I've been very transparent with my love of comic books and superhero movies. It's also one that has a track record. I met my last girlfriend on an online comic book forum. Having a shared interest is a great catalyst for love and comic conventions are the epicenter of it all.
I've met good friends and a few cute girls at comic conventions. I've documented my trips to the New York Comic Con multiple times. I've every intention of attending the New York Comic Con this year and for years to come. If I'm going to fall in love, it'll likely be with someone who shares the same interests.
Maybe they'll be a cos-player dressing up as one of my favorite characters. Maybe they'll be someone I'm sitting next to during a panel. Maybe they'll just happen to be stuck in line with me, waiting to get an autograph from one of my favorite writers or celebrities. Comic conventions offer all sorts of opportunities for fans and lovers alike.
If I fall in love with someone, I'd like them to share my interest. If I meet the love of my life at a comic book convention, then that'll only give us more reasons to go every year. I can't think of a better way for a romance to blossom.
---
#2: A Football Game
Like comic conventions, football games are a perfect celebration of something I love. I've been a football fan all my life. During the season, I schedule every Sunday around watching games and cheering on my favorite teams. Some of my favorite memories as a kid involved watching football with my dad and siblings. I hope to make similar memories with the love of my life.
I don't go to as many football games anymore, but when I do, I encounter women who are just as passionate about the game as any man. That can be difficult to find in other walks of life. Football is often seen as a male-centric interest, but that has been steadily changing in recent years.
As with comics, I believe I'll fall in love with someone who shares my passions. If I find a woman who can drink, cuss, and cheer during games as much as me, I have a feeling we'll share an amazing romance. Through hard losses and major victories, we can give each other yet another reason to look forward to football season. Love has that power, even for things you already love.
---
#3: A Book Store/Library
This might be a bit trickier with respect to finding love, but I think it's possible for the same reason as comic conventions and football games. Book stores and libraries may not be big events or gatherings, but they're where I go to celebrate and further my love for great stories. Whether it's romance or sci-fi, book stores and libraries are almost a necessary hub for a guy like me.
I'm the kind of person who could spend an hour in a book store, sifting through everything from the latest comic books to cheesy romance novels. The people you meet aren't always in the mood to talk, let alone fall in love. However, it's a lot easier to strike up a conversation with someone, especially when they're picking out the same books you enjoy.
One day, I could be hanging out in the graphic novel or romance section of a book store. Then, a woman could just show up, start looking at the same books as me, and that's all it would take. If we happen to share the same passion for the same stories, then it could lead to sharing passions of other kinds. It can start small, but grow rapidly. Like all great romance, it takes a little spark to trigger a great love story.
---
#4: A Sports Bar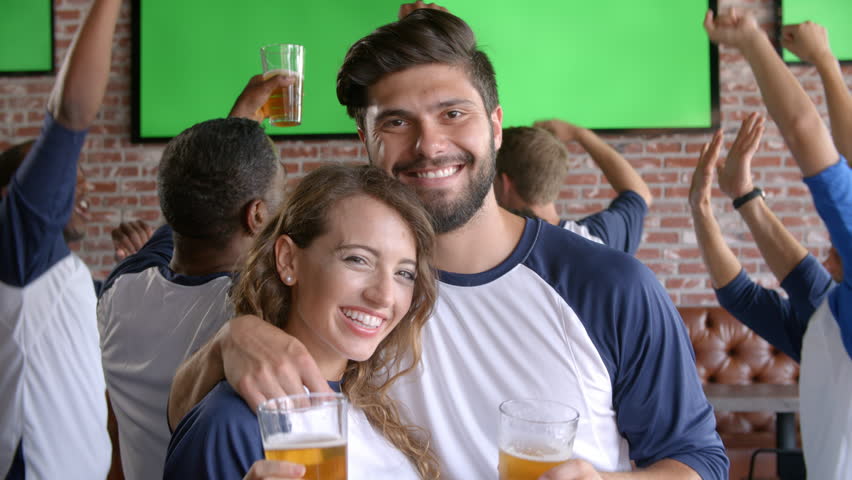 This one has similar factors to that of a football game and a comic book convention. It's a gathering spot for events, albeit on a smaller scale. It's not flashy or elaborate, but that's exactly why I think it's a good place for a guy like me to find love.
I love sports. I also love good food and good beer. I go to sports bars to do more than just drink and eat, though. I like to hang out, watch whatever game is on, and strike up random conversations with people. It's a great experience that has helped me develop the social skills that I didn't have in my youth.
In the same way I can talk for hours about sports and comics, I'd like to find a special someone who can share in those conversations. We can share a few beers, a batch of buffalo wings, and an extensive discussion about playoff scenarios and draft picks. If I'm going to fall in love someone, it's probably going to happen with someone I love talking to.
Sports bars aren't known for being romantic. As a date, it's probably not the first place you want to go with your lover. In terms of meeting that lover, though, I think a sports bar is one of the places where our paths may first cross.
---
#5: A Strip Club
I know. I can already sense the judgement pouring in through certain corners of the internet. Yes, I'm aware that strip clubs have a dirty, lurid reputation. I know it's not the first place anyone goes when looking for a spouse. I also know most strippers aren't looking to find love. I don't care. I think there's plenty of room for romance.
Strippers, be they male or female, seek love just as much as anyone else. It may not be the kind of epic romance that inspires Shakespearean plays or chick flicks, but it can be just as sincere. As someone who appreciates nudity and celebrating sex appeal, I think I'd connect with women at a strip club.
I don't deny that there would be unique challenges. I'm aware that most strippers only pretend to like the men who go to clubs so they can extract money for their company. It's part of the job. There's also life beyond the job. Sometimes, you connect with people in unexpected ways over the course of their work. That's the entire premise behind workplace romances.
Whether the person I fall for is a stripper or just someone who works there, I can imagine something starting out as a simple exchange that blossoms into something unexpectedly. I've been in my share of strip clubs. The women who work there are as varied as the women you find any another occupation. If they appreciate nudity and all things sexy like I do, I can see that as being a good foundation for love.
---
For now, these places are just educated guesses. Whenever or wherever I meet the love of my life, I probably won't realize it at first. When I do, I hope the moment is as special as the location. Romance can blossom in many different places. For certain people, some are just more fertile than others.