When "Wonder Woman Earth One: Volume 1" came out in 2016, it was groundbreaking in how it re-imagined Wonder Woman while reconnecting her with her kinkier roots. For years, she'd been moving away from the unique brand of feminism that her creator, William Moulton Marston, had once defined her. This culminated in her 2017 movie in which all the BDSM connotation were purged from her persona.
While many creative forces over multiple decades turned Wonder Woman into someone very different from her creator had intended, Grant Morrison and Yanick Paquette went in the opposite direction. They dared to embrace the kinks and reshape Wonder Woman's story in a way that works while retaining Marston's original themes.
That story remains one of my favorite Wonder Woman stories of all time and one I've gone out of my way to praise. Finally, after a two-year wait and a prolonged absence of kink from superhero comics, "Wonder Woman Earth One: Volume 2" has arrived. Fans of warrior women, feminist utopias, and not-so-subtle bondage themes can rejoice.
Like any sequel, it faces the inescapable challenge of matching the high bar set by its predecessor. On top of that, it also has to dig deeper into an aspect of Wonder Woman that generations of writers have tried to overwrite or ignore. Even with an elevated profile, thanks to her movie, this is a part of Wonder Woman's persona that is largely unknown or undeveloped.
The greatest challenge of Volume 1 was to reintroduce Marston's radical concepts of love, submission, and domination in a way that didn't feel like bad fan fiction. Morrison and Paquette succeeded by building the story around this dazzling, techno-feminist utopia on a mythology built on ideas that seem antithetical to the world dominated by lies, mistrust, and cynicism.
If the goal of that story was to affirm the potential of these ideas, then "Wonder Woman Earth One: Volume 2" is built around how those ideas are challenged. It's one thing to defend them on an island paradise populated by immortal warrior women of unyielding compassion. It's quite another to defend them in a world where gay frogs inspire conspiracy theories.
Wonder Woman's situation is considerably different this time around. She's not insulated on her island paradise. She's well-known public figure, an established superhero, and a vocal proponent for her radical ideology. She presents it as a viable way of achieving peace and justice in a world full of suffering and hatred. Unlike other wide-eyed idealists, she comes off as entirely genuine.
Not surprisingly, the world isn't eager to sign up for her novel approach of peace through submission to a loving authority. It doesn't just come from grumpy old men who only want women to make babies and sandwiches, either. Even among other women, her ideas are challenged and deconstructed throughout the story.
What does it even mean to submit to a loving authority?
Why is she so sure that it'll work in the world outside her idyllic homeland?
How are men supposed to approach this concept?
How far is she willing to go to implement her ideas?
These are all difficult questions that get asked throughout the story. Wonder Woman doesn't avoid these questions, but she doesn't get a chance to answer them either. Even though she is celebrated by many, nobody seems capable of embracing her ideology as completely as her.
To further complicate this challenge, Nazis enter the picture. Trust me, it's not as shallow as it sounds. The story isn't built around Wonder Woman acting like Captain America, traveling the world and punching Nazis. In fact, the way she handles her enemies in this story is very different to the methods she used in the "Wonder Woman" movie. However, that's where the story gains both complications and nuance.
Through a few flashbacks and side-plots, we get to see how Wonder Woman's ideology confronts something that's completely antithetical to everything she stands for. Initially, it looks like her approach works. She's so compassionate and so empathetic that she can take violent, hate-filled Nazis and redeem their souls. That's where the complications come in.
In both the events that unfolded in the past and those that play out in the present, we see shortcoming of Wonder Woman's ideals. It's not that someone taints or disproves them. As the conflict plays out, we see how the components necessary to make her ideology work aren't as abundant as they are in her homeland. As a result, Wonder Woman pays a price for her idealism and it's a steep, heartbreaking price.
Not all of it is a direct result of her ideology, though. Wonder Woman also deals with a devious adversary in Dr. Psycho, who effectively turns her ideals against her. He doesn't just question or deconstruct the merits of submission to a loving authority. He manipulates them to his own ends, which plays right into the hands of her critics.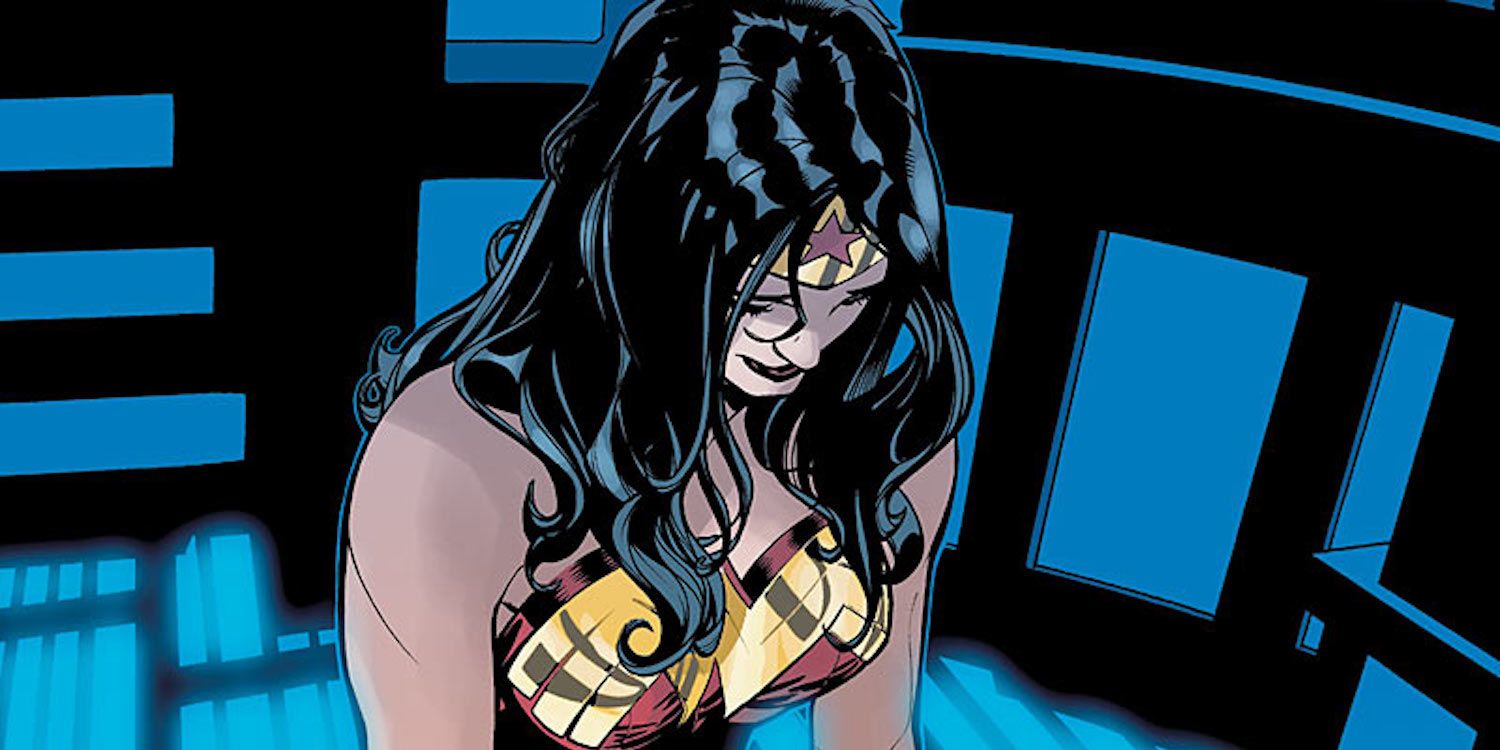 It's tragic in that it leads to heartache for Wonder Woman and her friends, but it stops short of breaking her. This is Wonder Woman, after all. Loss, defeat, and criticism do not break her. No mortal or God can break her. Those are her words, not mine. These challenges, however, put her in a difficult position where she has to confront unpleasant truths.
Without spoiling too many plot points, I'll note that Wonder Woman comes to realize that there are grater complexities to loving submission than she ever could've realized. She sees first-hand how difficult it is to get someone to willingly submit in a world where weakness can invite harm, exploitation, and injustice. Just preaching her message isn't enough. By not doing more, it costs her and those she cares about.
In terms of the larger narrative, "Wonder Woman Earth One: Volume 2" is a wonderfully effective evolution of the world that Morrison and Paquette created. Along the way, the story continues to embrace the unique principles of the original iteration of Wonder Woman that Marston crafted in 1942.
If there's any shortcoming to the narrative, it's how incomplete it feels at the end. It's not a cliff-hanger, but there are many lingering plot threads that don't get resolved. Granted, it says on the final page that there is a Volume 3 planned for this series. Given the two-year gap in between this book and its predecessor, the wait seems nothing short of agonizing.
Even with those dangling threads, "Wonder Woman Earth One: Volume 2" is still a complete Wonder Woman story that's unlike anything you'll get in the movies or comics. If I had to score it, I would give it a 9 out of 10. The lack of resolution at the end is the only thing keeping it from a perfect score. It still gets so many things right about who Wonder Woman is and why she's so endearing.
The fact that she can be endearing while retaining the radical spirit that Marston had envisioned helps make "Wonder Woman Earth One: Volume 2" all the more remarkable. She's not just a fierce warrior woman. She's the personification of a different approach to gender, power, and love. It may seem bizarre and kinky to us, but it has powerful implications for people of any gender.
It doesn't go overboard with the BDSM undertones, nor does it focus heavily on gender politics. They are mentioned, but not forced into the plot. There are things Wonder Woman does that feminists, conservatives, and BDSM fans can get behind. At every turn, she carries herself as someone who is willing to embrace everyone. It's that unconditional, universal compassion that makes her Wonder Woman.