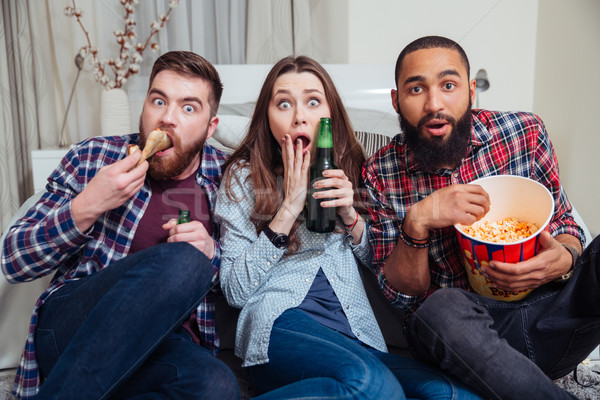 It's amazing how much our culture can change in such a short period of time, relatively speaking. It wasn't that long ago that mixed-race couples were considered scandalous, depicting a toilet on a TV show was taboo, and Bill Cosby was a respectable public figure. Whether it's decades, years, or just a few weeks, things can change quickly.
That change, however, isn't always logical or in the right direction. Hell, I'm still trying to figure out the appeal of fidget spinners. While I like to think that most change in society is progress, I don't deny there are instances where we all take a step backwards and sometimes fall on our asses.
This brings me TV, an undeniable catalyst for cultural change. For more than a half-century now, TV shaped, re-shaped, and upended our culture in all sorts of ways. From Elvis' scandalous hips to the rise of music videos to shows like "Breaking Bad," TV has been a force for better, for worse, and for just pure entertainment value.
There have been any number of shows, specials, and moments from TV that have come to define our culture. However, there are some shows that, if they happened today, would generate a very different response than they did when they first aired.
I'm not just talking about shock value or controversy either. I mean that if some these shows debuted in the current year, they would generate the kind of outrage, whining, and protests that flood social media and spur the kinds of debates that can only ever end with someone comparing someone lese to Nazis.
These are sensitive times for reasons I don't think I have to articulate. We've made progress in some ways, but may be regressing in others. Some blame feminism. Some blame toxic masculinity. Some blame greed, bigotry, or political correctness. Some even blame the illuminati, but that may be pushing it.
Everyone seems to see something wrong in the culture of the past and the present. Everyone likes to blame someone or something different. More often than not, it's a confluence of forces that make certain TV shows of the past ill-fit for the present.
Some of that is due to seriously outdated views and stereotypes. It's entirely understandable why those shows would never work today. Most sensible people wouldn't argue that. There are some shows, however, that would generate enormous outrage for petty, asinine reasons.
What follows is a list of classic TV shows that, whether due to content, style, or theme, would never air today. It would just be too controversial and not necessarily for the right reasons. It may reflect a lot about the sensitive nature of our culture today, but in many respects, it also shows just how erratic our collective tastes can be.
---
"All In The Family"
This one should be pretty obvious. "All In The Family" was already controversial in its day. It subverted the whole idea that a father figure in a sitcom should be respectable, upstanding, and just. Archie Bunker is none of those things and the show was memorable because of it.
Much of the show was built around Archie being a bigot, but a lovable bigot. In this day and age, that sounds like an oxymoron. At the time though, the early to mid 1970s to be precise, it worked for the same reason Sheldon Cooper works in "The Big Bang Theory." You can be an asshole in a sitcom, but you can still be lovable.
Unlike Sheldon Cooper, though, making Archie's bigotry lovable today is next to impossible without making him a B-list villain in a Tyler Perry movie. In nearly every episode, he says a line that would've caused legions of anti-racist, anti-sexist, anti-bigot crowds everywhere to erupt on social media. Anyone who even pretended to laugh at that show would be crucified as a Nazi sympathizer.
Beyond Archie Bunker's bigotry, though, the overall themes of the show would be enough to make it too controversial for TV. The show routinely mentions "the good old days." Today, though, that idea has been taken to mean the days when people could be assholes to minorities and get away with it. However anyone may feel about the show or its message, it just would just cause too many shit storms to air today.
---
"South Park"
I know this seems odd because "South Park" is still on the air, having just completed its 21st season. However, even long-time fans of the show can probably appreciate why it should be on this list, especially when you consider how different the show was in its early days.
Even back in the late 90s, this show generated more than its share of controversy for its vulgarity, profanity, and tendency to kill Kenny every episode. It's the finer details of those controversies, though, that ensure the "South Park" we saw in those earlier seasons could never air today.
Eric Cartman alone would've made the show too controversial. Like Archie Bunker, his overt racism, anti-Semitism, and attitudes towards the poor would've triggered plenty of outrage. Add depictions of sacred religious icons and characters like Big Gay Al to the mix and the show wouldn't have made it past the first episode.
The fact that "South Park" is still on the air is less a testament to its staying power and more a testament to its ability to adapt. It is not the same show it was when it debuted in that it doesn't confront controversy the same way it used to. Even with that adaptation, it still couldn't debut today, not with someone like Eric Cartman on the cast.
---
"Two And A Half Men"
This is another show that ended in 2012, which isn't that long ago in the grand scheme of things. Even so, a lot has changed since "Two and a Half Men" debuted in 2003 and not just with respect to Charlie Sheen's public persona. In terms of the premise and structure of the show, it could never air today without generating way too much backlash.
This is one of those shows that would enrage both feminists and men's rights activists, alike. Beyond Charlie Harper's blatant womanizing, treating nearly every female character a disposable sex toy, there's also his overly emasculated brother, Alan. In addition to having an ex-wife who routinely screws him over, Alan is needy, submissive, and constantly mooching off of everyone around him.
Even by beta-male standards, Alan Harper is an affront to any man with any measure of self-respect, just as Charlie is an affront to any woman with a shred of feminist inclinations. Granted, that didn't stop the show from being funny. I admit I loved this show while it was on, even after Charlie Sheen got replaced by Ashton Kutcher. However, its brand of humor would just never work if it aired today.
That says nothing about the depiction of the dim-witted kid, Jake Harper. His depiction would come off as more tragic than lovable than it did in 2003. In terms of the sheer volume of people this show would offend in the current year, "Two and a Half Men" is in a league of its own.
---
"Baywatch"
First off, I need to make clear that I'm not referring to the sub-par movie that never should've been made in the first place. I'm referring to the original "Baywatch" TV show that debuted in 1989, much to the joy of straight heterosexual males everywhere. The show, with its premise built around beautiful women in bikinis and David Hasselhoff's chest hair, had plenty of appeal.
That appeal is still there today. There's always appeal for beautiful women and manly men. However, these days it's become distressingly taboo to admire beautiful women in any capacity that isn't associated with Wonder Woman movies. We're at a point where just looking at a beautiful woman is considered harassment by some people.
It's for that reason that "Baywatch" would never work today. I can already imagine the various angry protests it would incur. People will claim the show contributes to female objectification, rape culture, toxic masculinity, and all sorts of buzzwords meant to make anyone feel guilty for committing the terrible sin of admiring a beautiful woman.
I've made clear how absurd this trend is. However, I don't see it changing anytime soon. As a result, "Baywatch" would just be way too controversial and would probably draw the ire of every feminist or uptight religious zealot with internet access. It's sad that this world would deny us a show that so nicely depicts Pamela Anderson's bouncing breasts, but that's the world we live in.
---
"Married With Children"

Once again, this show finds a way to be relevant on this site. I've mentioned it before in breaking down other topics. I'll probably mention it again because it touches on so many important aspects of men, women, and family life. Despite that relevance, there's no denying that "Married With Children" could never be made today.
The list of people this show offended, beyond the angry woman that tried to get it canceled, is as vast as it is comprehensive. This show cracked jokes about women, teenagers, marriage, genitals, animals, fat people, minorities, transsexuals, homosexuals, and pretty much every other minority group you can imagine.
It cracked these jokes in the backdrop of a sitcom that went out of its way to subvert every feel-good family drama that ever existed, so much so that it was originally called "Not The Cosbys." In many respects, "Married With Children" went even further than "South Park" and "Two and a Half Men" in crafting a sitcom around every offensive trope in the book. It did this with a bravado and glee that you can't help but respect.
That kind of antipathy to everything that's supposed to make a sitcom endearing is a big part of what made "Married With Children" so successful. It came along at just the right time to subvert existing trends in TV, creating characters and icons that were raw, unfiltered, and offensive. That timing is also why it could never be made today.
Between the fat jokes, Al joking about shooting his wife, and Kelly Bundy being a stereotypical dumb blond, "Married With Children" would find a way to upset everyone. However, I still think those same upset people would laugh at the show. It was just that funny. It's a big part of why the show still ranks as one of my personal favorites.
Even if "Married With Children" could never be made today, it still reflects an attitude that I think many people feel whenever anyone gets upset over a TV show. In a sense, it serves as the model for how a show can be so offensive, yet so funny. The fact we'll probably never see anything like it again makes it all the more special.