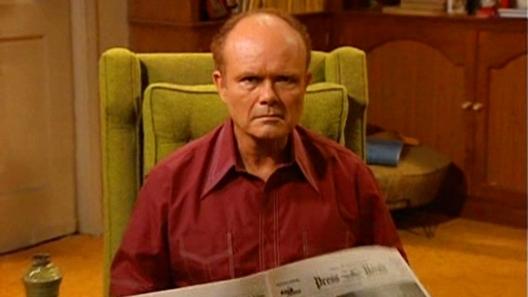 Time, age, and hindsight have a way of changing how you see things. The attitudes and perspectives you have when you're 35 are bound to be different than the ones you had when you were 15. It's just part of life, as you get older. The world is such a different place through the mind of a teenager than it is to an adult.
This manifests in many ways, but the one I've found most revealing has to do with the way I see old TV shows that I watched in my youth. Some shows age better than others. I recently cited "Chuck" as one of those rare shows that seems to get better with age. Most shows don't get that benefit. Some age so poorly that there's no way they could ever air today.
Thanks to the joys of being quarantined, I've had a chance to re-watch and re-visit some of the shows I loved in my youth. Shows like "Chuck" have only reaffirmed why I loved it so much. Other shows evoke a different reaction. One such show is "That '70s Show."
When I was a teenager, this was one of my favorite shows. In terms of TV sitcoms, it checked all the right boxes. It didn't try to revolutionize the genre. It kept things simple, using 70s aesthetics and proven sitcom tropes to make an entertaining show. It never got too extreme. It never tried to cross too many lines. It just tried to have fun with a certain time period and a cast of colorful characters.
Most of the characters were lovable in their own right. My personal favorite was Fez. Some of the best lines in the show came from him. However, one character often stood out even more. In many ways, he was the show's primary antagonist. He was Red Forman and when he wasn't threatening to put his foot in someone's ass, he was a frequent obstacle to whatever scheme the kids had conjured.
In many respects, any sitcom that involves a cast of teenagers needs a character like Red. He embodies the hard-nosed, uncompromising, uncool authority figure. Most of his roles revolve around stopping the kids from doing what they're doing or punishing them as soon as they get caught. In that context, he's easy to root against most of the time.
I certainly did when I watched the show in my youth. In fact, Red was one of my least favorite characters in the show because he was just such a hardass. He didn't have any of the charm or likability as other sitcom dads. Al Bundy might have been a lousy dad, but at least he was funny. Red was rarely funny, his foot-in-ass remarks notwithstanding.
Then, after watching a few episodes recently, I found myself looking at Red Forman differently. I also saw the teen cast differently. While there were certainly times when Red was an unambiguous asshole, those times were a lot less frequent than I remember. In fact, I came to appreciate Red a lot more as I watched the show from an adult perspective.
In hindsight, it's easy to understand why. When you're a teenager, authority figures are often barriers to all the things you want to do. They're the reason you can't stay out late at night, drink beer, smoke pot, or hook up with your significant other. They enforce the rules that keep you from having all the fun you want to have. They'll rarely explain those rules. It usually comes down to them being the parent and you being their kid.
This certainly plays out in "That '70s Show" throughout many plots. I remember watching those same plots as a teenager and rolling my eyes whenever Red Forman got involved. Then, after watching them again, I found myself siding with Red and not just with respect to who deserved a foot in the ass.
When Eric, Fez, Kelso, Jackie, and Donna do something stupid, it's rarely because of the rules or the authority figures who enforce them. More often than not, they do what they do by choice. They don't think things through. They think about the consequences to their actions. They are, after all, immature teenagers in the 1970s. They're more inclined than most to do stupid things for stupid, selfish reasons.
Red Forman may not be the best when it comes to helping them mature, but he's not wrong for calling them out on it. Most of the time, they are on the wrong side of the dumb-ass equation. Their efforts to eat, drink, have sex, and avoid responsibility are all products of their own immaturity. Someone like Red needs to be there to remind them of that.
Is he the best father figure for helping teenagers navigate their immaturity? No, he isn't.
Is he better than most of the bumbling dads who tend to populate most TV shows? Yes, he is and he'd kick the asses of most of those dads.
As a teenager, I had a hard time relating to Red Forman. As an adult, I can't help but respect him. He is surrounded by a lot of dumb-asses and a wife who's on the verge of a nervous breakdown every other day. The fact he hasn't put his foot in more asses is a testament to his restraint.
If you need more proof, please see this series of clips. If you haven't seen the show in a while, then you may find yourself remembering Red more fondly than you thought.
Red Forman may be a hard-ass. He'll never be father of the year or the first person you invite to a party. However, in a world of dumb-asses, he's a beacon of order. For that, he deserves our respect.