When you want to know how taboo a topic is, it helps to look at how sensitive people are to jokes about it. Most people can comfortably joke about teenagers, old people, the President, the French, and the Pope. Some of those jokes even make it into popular cartoons and sitcoms that we still laugh at to this day.
Then, there are topics for which making jokes is a gamble. Make the wrong remark at the wrong time and it could really cost you. Just ask Gilbert Gottfried or Roseanne Barr. The stakes get even higher when you joke about religion. Some have a better sense of humor than others, but those that don't tend to make the news for all the wrong reasons.
Since humor and religion rarely mix, I want to focus on a topic that's slightly less sensitive in circumcision. I say slightly because gender-specific humor is a lot trickier these days. Old jokes about women drivers and gay men just don't work anymore and not because more cars are driving themselves.
Between trends in feminism and outrage over Wonder Woman's armpit hair, the current state of gender politics is no laughing matter. I've talked about gender conflicts on many occasions and I've also discussed serious issues surrounding circumcision. I'm also aware that the current issues surrounding circumcision aren't on many peoples' radar, but I still think it's worth talking about.
This isn't just about representation in media or offensive stereotypes. This is about purposefully mutilating parts of the human body. When it happens to women, it's a major problem that warrants major resources to combat. When it happens to men, though, it's no big deal and prone to plenty of humor. It's more than just a double standard. It reveals a lot about our overall attitudes when we're willing to joke about something. It shows how much the issue matters and how much energy we're willing to put in to confront it. To understand the state of circumcision for men, you need look no further than an old episode of "Married With Children."
I've mentioned this classic Fox sitcom before. I put it at the top of my list of TV shows that could never be made today. The fat jokes alone would get it cancelled. It's a show that went out of its way to be controversial, much to the chagrin of a Michigan house wife. That included an episode about circumcision.
This particular episode was called "A Little Off The Top" and if you know anything about male circumcision, you understand why that's an overly appropriate title. It starts with Al Bundy getting injured in a basketball game, going to a hospital, and getting circumcised due to a medical error.
It's all portrayed with typical "Married With Children" hilarity. In fact, one of the most memorable moments of the episode is when Peggy gets a call from the hospital and Marcy, the Bundy family's neighbor and one of Al's many enemies, laughs hysterically. I'm not going to lie. When I saw a recent rerun of the episode, I laughed too.
That's the genius of "Married With Children." It can take depressing situations like a loveless marriage, a lousy job, and idiot kids and make it funny. It's part of why this show is one of my favorite shows of all time. When you strip away the humor in this episode, though, there are some disturbing overtones.
To illustrate, here's a quick thought experiment. Imagine, for a moment, that this isn't happening in a TV show and you just randomly stumbled across a news article.
"Local Chicago man rushed to a hospital after injury playing basketball is mistakenly circumcised. Family and neighbors make fun of him."
Take away the iconic Bundy family and the context of a sitcom. Just look at it in terms of raw facts. A man gets an injury, goes to the hospital, has his genitals mutilated against his will due to an error, and is laughed at because of it. The fact that it happens to Al Bundy makes it funny. If it happened to anyone in the real world, it's not likely to be as funny.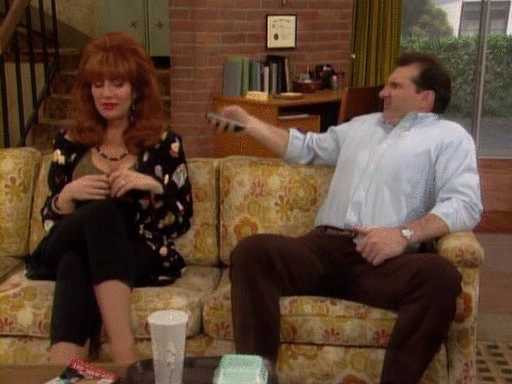 Medical errors are already horrifying enough. This one is extra disturbing for men because it involves our genitals. There's already a growing reservation about circumcising baby boys for no medical reason who cannot consent, which did not exist when "Married With Children" was on the air. On top of that, there's a distinct double standard in play.
Even in the lewd world of a 90s Fox sitcom, there are lines that even the Bundy family cannot cross. If you were to reverse the genders in this episode, as I've put forth as part of previous thought experiments, then the humor just doesn't work. If the episode involved a woman who'd been circumcised against her will by accident, then it wouldn't be funny. It would be disturbing.
The reasons for that aren't entirely simple. There is a medical and logistical difference between male and female circumcision. For the most part, female circumcision in its various forms are prone to more complications, even in a medical setting. Male and female anatomy are different. There's no getting around that.
However, the logistics are the same. They both involve cutting, altering, or outright mutilating someone's genitals against their will. Despite these similarities, one is still capable of being funny while the other is not.
That idea matters because when something can be funny, it impacts how seriously we take it as a society. We can joke about ditzy blonde women, bone-headed men, and irresponsible teenagers because they're not seen as dire issues. That's also the reason why we can make jokes about the Vatican in 2018 that probably would've gotten people killed half-a-century ago.
The fact that male circumcision can be a joke or the premise of a sitcom says that it's not serious enough to be on the same level as female genital mutilation. They may not be the same thing, but the implications are still there. When a woman is mutilated, it's a travesty. When a man is mutilated, it's comedy. That is not a trivial gap.
I doubt "Married With Children" was trying to make a statement about male circumcision when the episode first aired. The show made a lot of controversial jokes and circumcision barely cracks the top ten. Even if that episode aired today, it probably wouldn't be that controversial, which says a lot about how little our attitudes about male circumcision have changed since the mid-90s.
In that same time, though, efforts to combat female genital mutilation have gained ground. Efforts to beautify and protect the female body are part of a larger social trend. However, those efforts are not equally prescribed to men, even when the concept is the same.
Now, I'm in no ways in favor of making jokes about male circumcision taboo. Historically speaking, making anything taboo only tends to make an issue worse. I'm also not advocating that we start joking about female genital mutilation, either. My point in citing a memorable episode from a raunchy 90s sitcom is to show the vast disparity in the circumcision debate.
When something is a joke for one group of people, but an atrocity for another, then there's a major disconnect in the issue. Both sides can and should be discussed seriously. Both can and should be held to similar standards are humor, as well. When you start making exceptions for one over the other, then that obscures the debate for both.