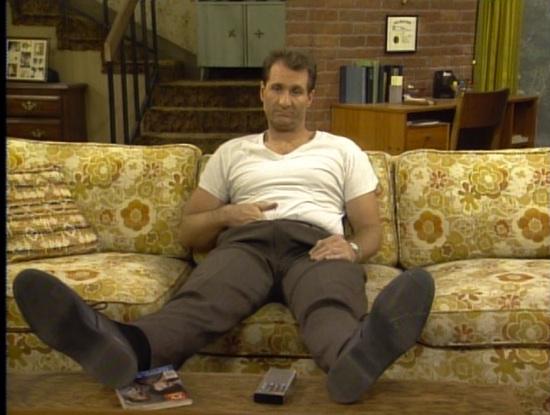 Some concepts are so vague that it's hard to put a human face on it. I suspect that's part of why many people suck at math. You can't personalize it, humanize it, or imagine it on a pair of breasts. Even things that directly affect people, like learned helplessness, are hard to grasp.
That's why if you find a way to put a human face on a serious issue, you jump at the chance. It doesn't just make it easier. It makes them memorable in an unexpected way. I consider the concept of learned helplessness a serious issue that affects our personal lives, our professional lives, and our sex lives. It goes beyond the world of an aspiring erotica/romance writer. It's way bigger than we're comfortable admitting.
That's why, in the interest of putting a human face on a serious issue, I'd like to present the greatest personification of learned helplessness in the history of media. Some of us grew up with him. Some of us were appalled by him. He's a myth, a legend, and an icon in his own tragic right.
His name is Al Bundy, the hapless husband and father of the Bundy family from the Fox classic, "Married With Children." To those who have watched every episode and love the show as much as I do, you already understand why Al is the perfect embodiment of learned helplessness.
For those who aren't familiar with "Married With Children" or why it was such a groundbreaking show, I feel sorry for you. For most people under the age of 20, they have no idea how much this show shook our collective understanding of modern television.
Say what you will about the trash currently on TV now, but before "Married With Children," it was much worse. By worse, I mean they were boring. Most sitcoms were bland, generic, feel-good stories that tried to paint the world in an overly-rosy picture. Every one of them basically tried to capture the spirit of "Father Knows Best" or "Leave It To Beaver."
"Married With Children" saw that and decided to do the exact opposite, so much so that when it was in development, the title of the show was called "Not The Cosbys." It was a show where all the conflicts weren't solved at the end. It was a show where the world wasn't idealized, perfect, or fair. In other words, it was more in line with the real world.
In that world, Al Bundy gets dealt a worse hand than most. At one point, he was a high school football star with a promising future. Then, he got hit with a streak of bad luck that effectively crushed his spirits.
He got injured and lost his football scholarship. He got involved with Peggy Bundy, a woman I've cited before as a character that men should rightly dread. He eventually has two kids that don't respect him and works a dead-end, low-paying job as a shoe salesman.
While other sitcoms glorify the innate dignity of working class men like Ralph Cramden, Archie Bunker, and even Homer Simpson, there's nothing glorious about Al Bundy's life. There's nothing noble about his poverty. He doesn't even try to come off as sympathetic. His life doesn't raise the bar or embody an ideal. If anything, it reminds ordinary people just how bad things can get.
Whereas other TV sitcoms try to uplift an audience by showing how loving, functional families solve their problems in a simple, 30-minute show, "Married With Children" sent a different message. It presented the audience with a level of dysfunction so extreme, so exaggerated that even if you're home life was a mess, you could take comfort in the fact that you were not the Bundy family.
What makes that message so powerful is also what makes Al Bundy such a perfect example of learned helplessness. Fittingly enough, the actor who played him, Ed O'Neill, actually drew inspiration from someone in his own family.
In a sense, Al Bundy was built around the idea that he was just resigned to his fate. He realized how much his life sucked, that his family didn't respect him, and that his best days were behind him. Dealing with all that in addition to working a dead-end job effectively destroyed his spirit, so much so that he stopped trying to better his situation.
That perfectly reflects some of the early experiments done about learned helplessness, namely those involving a poor dog that just stopped trying to avoid painful shocks. Al Bundy is basically that dog after it has been shocked so many times that it just doesn't bother anymore. It accepts that it will suffer and doesn't try to avoid it.
In a sense, it becomes a mentality akin to a psychological illness. In the spirit of caveman logic and excuse banking, I'll give it a name. From here on out, let's call it "Al Bundy Syndrome." That's a much more memorable name than the overly-technical term, learned helplessness. With Al Bundy Syndrome, the condition has a name and a face that Ed O'Neill made iconic.
Given that we already have weird diseases like restless leg syndrome and walking corpse syndrome, which I swear is a thing, I don't see why we can't create a syndrome out a fictional character. In fact, it wouldn't even be the first time.
I'm not a doctor, nor do I claim to be an expert in anything that doesn't involve telling sexy stories, but it's for that reason that I feel it's so important to put an actual face on an issue that's hard to understand. Psychology is tricky, complicated, and messy. Al Bundy is simple, crude, and crass. One is innately funnier than the other.
In that sense, it's easier to see the signs and symptoms of learned helplessness, so long as you frame it in Al Bundy syndrome. Watch any old episode of "Married With Children" and the symptoms reveal themselves. They include feelings like:
Being hopelessly numb to the misery around you, like Al Bundy
Making little to no effort to improve your situation, like Al Bundy
Assuming the worst in every situation, like Al Bundy
Having an extremely cynical outlook, like Al Bundy
Not caring about whether the world likes or respects you, like Al Bundy
Having no shame or filter about what you say, like Al Bundy
The list goes on, but there are too many to list and watching old episodes of "Married With Children" is probably far more informative than any list, not to mention funnier. It's a show that probably couldn't get made today, due to how politically incorrect it was, even for its time. That makes its impact all the more vital.
I doubt that Ed O'Neill or the producers of "Married With Children" intended Al Bundy to be the poster boy for learned helplessness, but sometimes the connections are there and all we have to do is make them. So, moving forward, if you want to know what learned helplessness is and how to avoid it, just remember this face. It may save your life, your marriage, and your soul.
For that, I thank you Ed O'Neill.