It's finally here! It was subject to delays, bogus leaks, and misinformation about the extent of reshoots. None of that matters now because it's really here. The trailer for "X-men: Dark Phoenix" has finally arrived in all its fiery glory.
Before I write another word, let's all just take a moment to watch it again and appreciate the promise of a movie that may actually do justice to the Phoenix Saga.
I'll give everyone a minute to process it again. Whether you loved it or hated it, there's no way around it. This movie is coming, despite the rumors that claimed otherwise. On February 14, 2019, this movie is coming out and I hope to be among the first to see it. That had been my intention since the movie was announced, but this just gave me more incentive.
For the next several days, there will be plenty of talk about the reaction to this trailer. I already have a pretty good feeling of how it'll play out. X-men fans, like, me who were deeply disappointed by how this story was handled in "X-men: The Last Stand" will be elated. Those who just want the X-men to join the Marvel Cinematic Universe will whine about how this movie is a waste of time.
In between it all, there will be trolls and assholes who will find an excuse to hate the trailer and this movie, but that's to be expected of any movie these days. There's no helping those people. Instead, I'd rather focus on what we can and cannot glean from this trailer.
It goes heavy on the drama, which is perfectly appropriate for any movie involving the Phoenix Saga. It also answers some questions about the details of the story while posing a few others. I won't break down every frame, but here are a few key insights that should get X-men fans like myself very excited.
---
What's There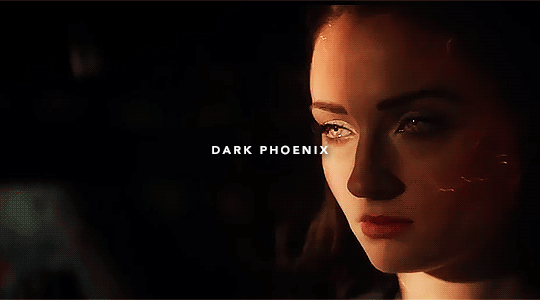 In short, there's a lot. In fact, I would go so far as to say this trailer had more elements of the original Phoenix Saga from the comics than the entity of "X-men: The Last Stand." Most importantly, this trailer established that the story of Jean Grey becoming Dark Phoenix will not be relegated to a side-plot.
That's something I belabored last year when I listed several critical ways to avoid screwing up this movie. In fact, it was near the top of the list. One of the many mistakes "X-men: The Last Stand" made was trying to squeeze the most iconic X-men story ever written into several other plots involving completely unrelated themes. That's just one of the many reasons it turned out so poorly.
This trailer starts and ends with Jean Grey's struggle against the emerging darkness. That's not just key for the basics of any Phoenix Saga. It makes clear that the main plot of this movie will focus on her and give Sophie Turner plenty of opportunities to show off her fiery persona. That, alone, is very promising for those hoping for a competent movie about this iconic X-men story.
In addition, the trailer offered hints that this movie will actually develop the Cyclops/Jean relationship that's so critical to the emotional weight of the Phoenix Saga. That was another massive mistake in "X-men: The Last Stand." A big part of why this story is so powerful is because it's fueled by a love story between two characters trying to overcome obstacles of cosmic proportions.
Those are two critical factors in ensuring that this movie has the necessary elements to make a Dark Phoenix movie work. The trailer also hints at a few other details that aren't related to the main Phoenix story, but nicely connect with other moments from the recent movies.
The most ominous scene, in my opinion, was the brief shot of Beast and Mystique. If you saw the "Rogue Cut" of "Days of Futures Past," you saw that these two have had some romantic undertones that began way back in "X-men First Class." From the looks of it, something happens to Mystique that sends Beast over the edge. That could also be what pushes Jean further down the path of the Dark Phoenix.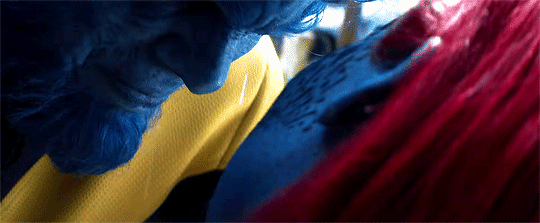 It's hard to say what this means, but the shots of a funeral do not bode well for Jennifer Lawrence's character. The fact that Beast is siding with Magneto later on in the trailer hints that he does not agree with how Xavier is handling Jean's situation. Considering how Beast helped defeat Magneto in "Days of Futures Past," that would be a major shift, but one that could add even more weight to the story.
There are so many hints and clues as to how the story will play out, but I'd rather not speculate too much. This trailer does manage to avoid excessive spoilers, but it'll be interesting to see what else will be revealed as the release date draws near.
---
What's NOT There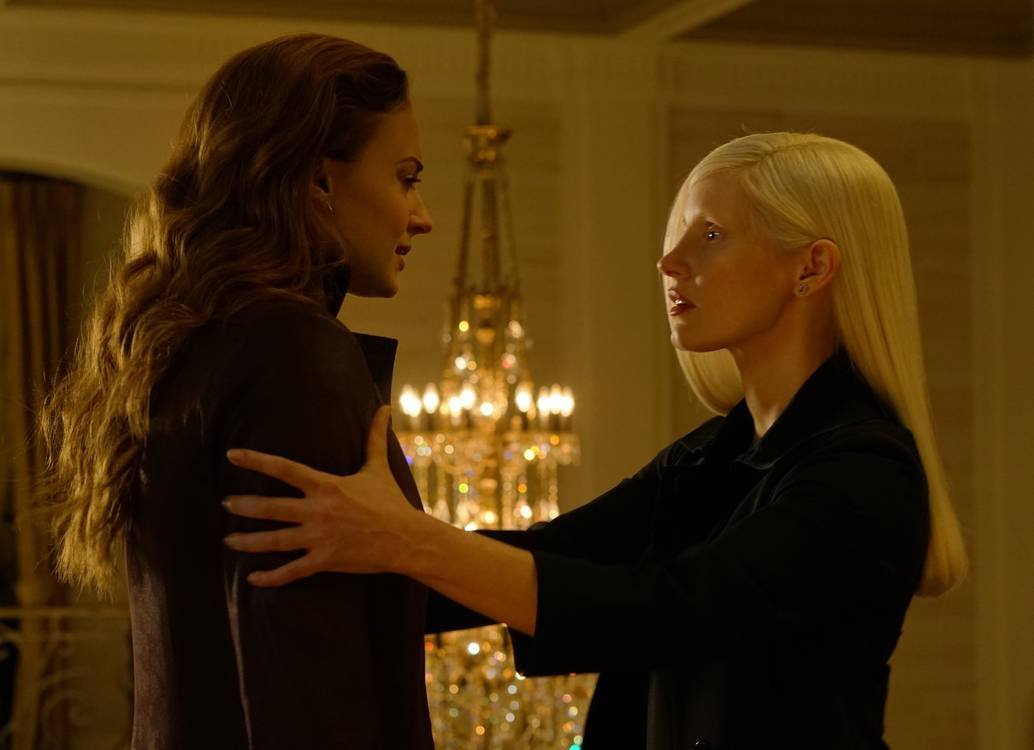 There's not a lot, but I don't deny that this trailer did have some glaring omissions. The biggest one, in my opinion, has to do with Jessica Chastain's still-unnamed character. The only thing we know about her is that she plays the main villain of the story. While some took that to mean she would be playing the alien queen, Lilandra Neramani, that has since been debunked.
On her IMDB page, her character is only named Smith. That could mean any number of things. She could play a shape-shifting Skrull, who have clashed with the X-men many times in the comics. She could play Deathbird, an alien hunter with close ties to Lilandra's alien race, the Shi'ar. She could be someone else entirely. We really don't know.
Other than Chastain's character, we don't see much of Storm, Quicksilver, or Nightcrawler. They're clearly present, but they don't get to say or do much. That's to be expected, though. This is a Dark Phoenix movie, after all. The focus should be on Jean Grey, Charles Xavier, and Cyclops.
That said, the other glaring omission in the trailer has to do with the Phoenix Force itself. While we do get some signs, we don't get anything like the fiery display Jean showed at the end of "X-men Apocalypse." We also don't get any signs of the more cosmic elements of the Phoenix. While there are a few shots that hint of a scene in space, it's only a tiny part at most.
That's to be expected, though. This movie just finished up reshoots so I imagine the effects aren't fully polished yet. There's plenty of time between now and February to make it look as beautiful and stunning as a Dark Phoenix movie should. Perhaps a second trailer will reveal more. It worked for "Venom" and it can definitely work for this.
---
What's Uncanny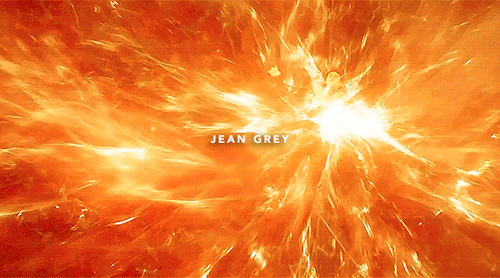 More than anything else, this trailer showed that Simon Kinberg, Fox, and everyone else who got crap from what happened in "X-men: The Last Stand" is making a concerted effort to right the wrongs of the past. Kinberg has said in the past that he did not like how things played out in that movie. I'm all for giving him a chance to do so.
This trailer doesn't prove he managed to fix everything. However, it does offer hope that this time will be different. This time, the Phoenix Saga won't be a sub-plot. The story won't be radically changed to make it all about Wolverine. It's going to genuinely try to tell this iconic X-men story in the most complete way possible.
As much as I hated the first attempt, I'm more than willing to give this one a chance and then some. I know as well as everyone else that this will be the last X-men movie of the era that began back in 2000. It has already been confirmed that Kevin Feige, the architect of the MCU, is going to take control of the X-men's cinematic future after the Disney/Fox merger.
Some are already looking forward to a completely rebooted X-men movie, complete with a new Wolverine who isn't played by Hugh Jackman and a new line of stories that'll give the X-men a chance to participate in the global juggernaut that is MCU. I'm excited for that too. However, that makes it all the more important that "X-men: Dark Phoenix" be the best, most uncanny movie it can possibly be.