How do you put a real, tangible value on sex? I'm just not talking about the hourly rate charged by a prostitute. I'm talking about the kind of value that allows us to quantify an experience in terms of resources, market, and exchange. Sex already has an inherent value in that we need it to propagate our species. Just how far does that value go and how much does it affect our society?
I don't think I'm exaggerating when I say that sex is the second oldest universal currency in the history of the human species after food. People have been using sex as a currency for millennia and not always in the sense of formal prostitution.
Parents marry their daughters off for dowries. Spies have used sex to extract valuable information. Then, there are teenagers who have sex in hopes of gaining popularity. This sexual exchange goes on all the time in the real world and in any number of movies. Call it prostitution if you want. Hate it all you want. It still happens.
The mere fact that it keeps happening, despite the best efforts of repressive governments, shows that the value of sex does a lot to drive our society. For better or for worse, the pursuit and exchange of sex is one of the most powerful driving forces in the overall human experience.
Given the extent of this driving force, it's bound to affect how the genders interact with one another. Whether it's ancient patriarchal societies or western democracies, the exchange of sex has an impact on how people relate to one another. It's for that very reason that it's worth pondering what happens when the value of sex is skewed.
This is where it really helps to look at the market value for sex in a libertarian context. Technically speaking, the free market approach is consistent with how sex was exchanged in the hunter/gatherer days of humanity. In that sense, it serves as a baseline of sorts for the market value of sex.
With that context in mind, sex exchanged for certain reasons by a particular gender will have a certain value. A man paying a woman for sex has one value. A woman paying a man for sex has another. A man paying multiple women for multiple sex acts over the course of several nights also has value, albeit a more elaborate one.
That payment doesn't always involve money, either. Sometimes, the payment is in the form of loving intimacy, not unlike the kind I describe in my books. Sometimes, the payment comes in the form of a particular experience or fantasy, like groupies having sex with rock stars. The key to this exchange is that it is done freely and everyone involves gets the value they seek from it.
Ideally, that's how the market for sex is determined in perfect libertarian world. Unfortunately, that is not the situation the sexual marketplace faces. Multiple social forces that include the law, social stigma, taboos, and media influences all coordinate to skew the market value for sex. As a result, it skews gender relations as well.
In fact, I would argue that the market value for sex has become more skewed over the past few years than it has in the past several decades. The emergence of the anti-harassment movement and the increasing stigma on certain aspects of male sexuality is inflating the sexual market in some places while crashing it in others.
At the moment, most people would agree that female sexuality is more valued than that of males. Beautiful women are used to sell pretty much everything from shampoo to fast food. It's no secret that men seek the company of beautiful women. Their company is highly valued, both in terms of money and social standing. The late Hugh Hefner understood that better than anyone.
That's not to say attractive men don't also hold value. There's a reason why men like George Clooney, Chris Hemsworth, and even the Old Spice Guy are celebrated and pursued. However, their sexual market value has less to do with how they look and more to do with what they can do. None of them can bear children, but they have unique skills that make them desirable.
Where the market gets skewed is when that libertarian free exchange gets taxed, so to speak, by a potent mix of laws and social norms. If you're a beautiful woman, you rarely have to pay for sex. Even if you're marginally attractive, chances are you don't have to hire a male gigolo. So long as you're not actively pursuing someone like George Clooney, you can probably put yourself out there and let the sex come to you.
The taxes, in this case, tend to hit the men seeking sex. Under the current law, they have only a handful of options with respect to seeking sex. They need to convince a woman to freely have sex with them without overtly paying her, which would get them arrested. That often involves indirect payments in the forms of dates, adulation, flirting, and attention.
You could claim that those indirect payments are still akin to prostitution, as some have argued, but that's where the market gets even more skewed. In that situation, where there's no option for a simpler exchange involving money and sex, the value of female sexuality doesn't just go up. The cost for men goes up as well.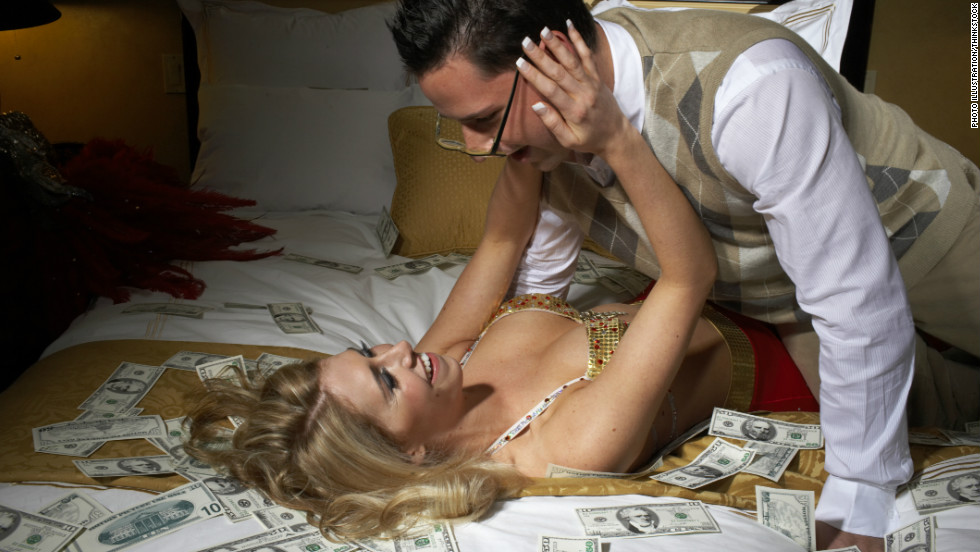 For most other goods and services, this creates the kind of premium that makes certain things harder for more people to purchase. There's a reason why only rich, successful people have Rolex watches, stretch limousines, private jets, and gold-encrusted smart-phones. That makes sense for the luxury crowd. With sex, though, that premium has some unique caveats.
For most people, the desire for a gold-encrusted smartphone isn't there. Most people can see these expensive yachts and fancy cars from afar. They might even admire them. However, admiring something isn't the same as desiring it. Most people don't desire a 100-foot yacht and all the responsibilities that come with it. Nearly everyone desires sex.
Regardless of your gender, you can't turn off your sex drive. Every effort at doing so has resulted in some pretty damaging effects. People are still going to want sex. For those who lack the beauty, social skills, or charisma to get it, there are only so many ways of going about it. When some of those ways are restricted or hindered, there's a disparity of unfulfilled desires and that disparity can breed problems.
At the moment, that disparity primarily affects the vast majority of men who aren't rich or as attractive as Ryan Gosling. They have the same sexual desire that men have always had, but their outlets for that desire are fairly limited, more so now than ever before.
That's not just because prostitution is illegal and simply being caught with a prostitute is subject to significant stigma. Female sexuality is so valued in wake of the anti-harassment movement that simply attempting to get sex carries a higher risk of being labeled a creep, a harasser, or worse. Women have the power to ruin a man's life, even if the sex is consensual.
That power is directly linked to the inflated value of sex. By keeping prostitution illegal, the access is controlled and the cost goes up. That's because, by having to operate in a black or gray market, the cost of doing business is subject to the black market premium. Anything on the black market is going to come with greater risk. With greater risks come greater costs and not always in terms of money.
In a sense, prostitution laws and limiting access to sex by a particular gender puts greater power in the hands of those who are wealthy and can subvert the base market. There's a reason why rich, powerful people can hire prostitutes with relative impunity while the vast majority of those arrested for prostitution are poor or disadvantaged.
Again, if you're attractive and have easy access to various resources, those laws don't affect you. If you're not, whether you're a prostitute or someone seeking their services, you can be singled out and arrested. In that market, the value primarily benefits those at the top and I'm not just talking about rich people.
There are plenty of others who have a vested interest in inflating the price of female sexuality and limiting sexual outlets for men. It's the high value of female sexuality that puts many women, from Hollywood to feminist circles, in greater positions of influence. That's not to say it's a full-fledged conspiracy. Like any form of market manipulation, though, it's a way for certain people to maximize their value.
That manipulation may very well be escalating with the expansion of the anti-harassment movement and increasing efforts to regulate the porn industry. These efforts promise to further skew the sexual marketplace, making it so that those of limited resources will have to pay an even higher price to get sex.
The effects of that disparity are hard to predict, but the signs are there. The existing double standards that assume female victimization and male aggression are only compounding the cost of pursuing sex. At some point, the market can only stay inflated so long before it crashes.
Once again, I want to make clear that I'm not claiming there's some feminist conspiracy looking to control all forms of male sexuality. In my experience, humans are exceedingly limited at carrying out conspiracies and history has given plenty of examples. That said, I do think those who benefit from female sexuality being more valued have a strong incentive to cling to that value.
In any market, those who have an advantage will work hard to maintain that advantage. That's why I believe efforts to curb prostitution and the porn industry will escalate in the coming years. However, history also shows that sometimes, those efforts can backfire horribly.
Prostitution isn't going away anytime soon, but efforts to control it will continue to skew the sexual marketplace and gender disparities, alike. If there's one consolation, though, it's that inflated markets have a tendency to correct themselves over time. It may take a while for the sexual marketplace to balance out, but so long as the human desire for sex remains strong, our collective libido will find a way.