This is a follow-up to a post I did a couple of days ago on the future of erotica/romance in movies. It's an issue that I find myself contemplating more and more with the success, financially speaking, of the "50 Shades of Grey" movies. Since it's an issue that may end up affecting the industry I work in, namely that of erotica/romance, it's one in which I'll keep a close eye on in the coming years.
I've already laid out the unique challenges facing erotica/romance in cinema. Even with the success of "50 Shades of Grey," those challenges are pretty daunting. We're still a long way away from a sexy erotica romance movie getting as much hype as a "Guardians of the Galaxy" movie. Given how that movie has the sex appeal of Chris Pratt going for it, it's not  affair fight to say the least.
Fair or not, the obstacles for erotica/romance are still pretty daunting. Between its association with the porn industry and a society that is still horrified of the idea of women being excessively sexual, it really does seem as though this genre on which I've chosen to build my writing career has a long way to go.
At the moment, there is a sizable, but not exceedingly large gap to overcome. On one side, you have mature stories with erotic themes like "50 Shades of Grey" and "Showgirls." On the other, you have porn and the poorly-acted skin flicks that only air after midnight on Cinemax.
Bridging this gap, telling a serious story in a movie with a non-gratuitous amount of sex, is the key. As the success of "Die Hard" and all its assorted rip-offs can attest, it only takes one solid movie to kick-start a new trend.
In giving this issue some serious, sexy thought, which I like to think I've gotten pretty good at on this blog, I think there might be one avenue that erotica/romance can take. It would help circumvent some of the biggest obstacles that I laid out before and complement other emerging trends as well. It could even completely reinvent the way movies, sexy or otherwise, are told.
What is this sexy solution, you ask? Well, it already exists in a major way, but it's due for a major leap forward. It's this: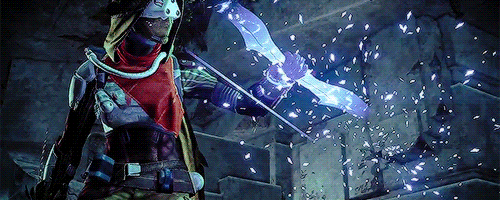 That, my friends, is high-quality animation from the video game, "Destiny: The Taken King." Take a moment to admire it. Then, think back to how animation used to be. If you're with me to this point, you've already made the overtly-sexy connections.
This may be the key. This may be the secret weapon with which to shatter the seemingly-impenetrable walls that keep erotica/romance relegated to midnight skin-flicks on Cinemax. Animation, namely the high-quality kind that companies like Pixar and Bungie pay top notch for, could be the key to making erotica/romance work.
On paper, it makes perfect sense. With animation, you overcome one of the biggest obstacles in producing a quality movie, namely finding actors and actresses that can both emote the necessary passion and not shrivel, literally and figuratively, when they have to get naked and make love on demand.
Animated characters don't complain about mood, chemistry, or how their trailers are painted. They don't age. They don't get fat. They can look as beautiful or as ugly as a director wants them to be. They are, by default, the perfect medium for bringing a character to life. A number have already become quite iconic.
Now this isn't a wholly radical idea. In fact, it's already an established industry in a magical land called Japan. There's an entire genre of animated porn called anime porn. This brand of porn utilizes themes and stories so outlandish, so extreme, and so disturbing that even the worst moments in "Game of Thrones" cannot compare. Look up something called "Futanari" for proof. Be warned though, you won't be able to unsee it.
Radical or not, Japanese anime has the same problem that our softcore skin flicks on Cinemax have here in the United States. The stories are flat. The acting and dialog is atrocious. The main point of these movies is to titillate and not enchant.
Pretty much every male character in an anime porn acts a certain way, just like every bleach-blond, big-breasted woman in a softcore porn acts a certain way. There's no real depth. It's just basic, bland, and blunt.
That may be a product of sticking to a winning formula. Japanese anime porn has been around for decades, has an established fan base, and isn't going to risk that fan base by doing something different. That's just how an established industry works.
That said, it does prove that there's a market for mature, animated content. We're already seeing major studios attempting to tap that market beyond the usual "Simpsons" and "Family Guy" demographics.
In the past few years, new cartoons with mature things like "Archer" and "Bojack Horseman" have found a major audience. Even among younger audiences, shows like "Samurai Jack" reveal that there is a market for a more mature cartoon.
The timing of this growing market couldn't be better because as this audience is growing, technology in graphics and animation is improving. Moreover, video game companies and developers are using those improvements to tell better stories. Some of these stories are every bit as engaging, dramatic, and emotional as movies. I know this personally, as I've freely admitted that the end of Final Fantasy X and Mass Effect got me choked up.
Major video game makers are already exploring deeper, more mature stories that don't just rly on killing zombies or shooting aliens. Games like "Heavy Rain" utilize mature themes, a rich story, and intimate moments. Having played the game, I can say that this definitely strikes plenty of chords, including the sexy kind.
So there's a growing market for mature cartoons. The technology for graphics in animation is also improving and being refined through the $5.2 billion video game industry. What's the hold up then? Why aren't we seeing an animated "50 Shades of Grey" movie that isn't limited to Jamie Dornan's acting abilities?
As is often the case in the entertainment industry, it all comes down to money. That's the simplest and most complete explanation. It's safe to assume that if every major movie studio could replace every actor and actress with a 3D animated model, they'd do it in a heartbeat, thereby ensuring that they never have to work with Shia LeBeouf or Lindsey Lohan again.
The reason they can't do that is because, as much as animation has improved, it's still expensive. Toy Story 3, the current gold standard for animated movies, cost $200 million to make. For TV, the average cost of a half-hour animated show is about half-a-million and the cost of a top-quality show like "The Simpsons" is about $2 million.
For comparison sake, entire movies like "Boyhood" and "Whiplash" cost less than $5 million. Animation is also more labor-intensive, which requires a great deal of outsourcing, something the cast of a typical sitcom doesn't have to worry about.
As it stands right now, animation is not a preferable option for making movies, TV shows, or erotica/romance. It's costly, labor-intensive, and affiliated with too many talking animals. However, that may be changing in a major way very soon.
This is where I try to channel my inner psychic and see a bit into the future. Granted, I'm about as much a psychic as I am a starting point guard for the Golden State Warriors. Don't assume I know more than someone working at Starbucks, but at least trust me when I say I do try to see the forest from the trees and make connections where I see them.
While the cost of animation is going up, advances in computing power and AI are growing as well. Most are content to let AI's run their schedule or make annoying telemarketing calls, but they can't make are, right? That's intrinsically human, right?
I'm sorry to say that our future robot overlords are catching up faster than you think. Back in 2014, the University of Spain created, Iamus, a program that creates its own melodies. Not to be left out, Google followed suit with a program of their own in 2016.
That's all well and good, even if it sucks for the future Taylor Swifts of the world. That doesn't mean robots can draw, right? Humans still have that on the machines, don't they?
Again, our future robot overlords are catching up faster than you think or feel comfortable accepting. In 2016, Google created another AI called "Quick Draw," which can recognize simple doodles. A number of robots have even been able to produce their own artwork.
Granted, these works of art are a long way away from being Picasso or Elvis Presley. It's a start though and, as our recent history with technology has shown, the pace of that technology will only accelerate. Given how slow and clumsy we humans are, it's only a matter of time before they're a billion times better at it than we are.
On top of that, the technology for computers to read our minds is emerging as well. This too is in the very early stages of development, but there's a lot of money in technology, art, and doing things a billion times better. If a computer can make a movie like "Frozen" a billion times faster and a billion times cheaper, you can assume Disney will be all over it like Homer Simpson in a donut factory.
This has huge implications for every art-based industry in the world, but what does this mean for animation and erotica/romance? Well, most importantly, it means at some point the cost of animation is going to come down.
Eventually, a future version of Google's drawing software will be so advanced that it can do the job of 100 animators 100 times faster and a million times cheaper. That means movies like "Toy Story 3" no longer cost $200 million. They could cost only a couple million. That means episodes of shows like "The Simpsons" can cost less than a used car.
This opens up countless possibilities for new stories to be told, which don't have to rely on the bloated budgets or corporate backings of major studios. Since AI is also developing to a level where it can mimic voices, it means that even the cost of voice actors will go down or be replaced altogether.
It won't happen all at once. There won't come a day when entire animation studios go out of business or new studios pop up overnight. These types of technology trends take time to develop. They never happen all at once. Cell phones took 40 years to get to where they are now. Modern TV took over a half-century. Expect this kind of technology to take a few decades at the very least.
However, there's a lot of money to be made. The rising cost of producing movies is creating a strong incentive to find an easier, cheaper way to create a similar product, minus all the zeroes at the end of the price tag. When there's that much incentive, then economics usually makes it an inevitability.
That means the first real erotica/romance movie may not be the same live-action piece we saw with "50 Shades of Grey." It may very well take the form of colorful, sexy animated feature that doesn't require self-conscious actors or actresses to use body doubles. Maybe one of my own novels will one day take that form. I hope I live long enough to see it.
Again, that day will not be tomorrow. However, this may be the future of erotica/romance. In that sense, Jessica Rabbit may be less a cartoon sex icon and more a prophet. If so, she may go down in history as the sexiest prophet of all time.