What can we say about the state of sex in movies that hasn't already been said by radical feminists and Christian fundamentalists? That's not an entirely rhetorical question. Sex in cinema is as old as cinema itself. Like every major advancement, we kinky humans just love to take great technological advancements and wonder how we can have sex with it. Why else would sex robots be a thing?
It's also a very relevant question to ask. Earlier this month, "Fifty Shades Darker" came out in theaters. It's the sequel to 2015's "Fifty Shades of Grey." In terms of erotica/romance in movies, this is basically the alpha dog of the pack. This is the big gun and, in some respects, the only gun with any bullets in the chamber.
Why is that and why does it matter? Well if, at this point, you don't know about the "Fifty Shades of Grey" phenomenon that started out as Twilight fan fiction, then you're either just waking up from a coma or are too shy to ask your parents about why they keep ropes under their beds. It shouldn't be too shocking. It's not like E. L. James invented erotica literature or BDSM fiction. That has been around longer than movies, TV, or whatever else priests and mullahs thinks are corrupting society.
What makes "Fifty Shades of Grey" so important is that it achieved such staggering success. This wasn't some niche title that a couple horny housewives read while their husbands were busy fucking their secretaries. This book sold over 5.3 million copies. That's more than the last Harry Potter book.
For reasons that still baffle and frustrate many, especially in the Catholic Church, this book struck a nerve, among other things. It tapped into our collective libido like few things haven't outside of Barry White music. The fact it's finally manifesting in movies should shock no one. Like any form of successful media, Hollywood is going to milk that tit until it's bone dry.
Now, I'm not going to gloss over some of the obvious here. I know that both "Fifty Shades of Grey" and "Fifty Shades Darker" have been eviscerated by critics. At the moment, "Fifty Shades Darker" has a pathetic 9 percent at Rotten Tomatoes. For some context, the much-maligned Fantastic Four movie that came out in the same year also got a 9 percent. The sequel to that movie was promptly cancelled.
It doesn't help that the first "Fifty Shades of Grey" movie scored only a 25 percent, but at least that movie can say it made a decent profit. According to BoxOfficeMojo, the first "Fifty Shades of Grey" movie made over $571 million worldwide on a $40 million budget. That's nothing to scoff at. Even Roger Ebert would admit that.
As a rule of thumb, movies typically need to make double their budget at the box office to turn a profit. By that measure, "Fifty Shades of Grey" succeeded. At the moment, "Fifty Shades Darker" has grossed over $284 million on a $55 budget. It's not exactly "Avatar" numbers, but it is a profit. Rotten Tomatoes can bitch about it all they want. If a movie makes a profit, then that counts as a success.
It's the fact that movies like "Fifty Shades of Grey" are turning such a profit that the prospect for erotica/romance in movies is changing. It used to be that if a movie had too many erotic themes on it, it would be doomed to an NC-17 rating or left to whither in late-night time slots on Cinemax.
As a result, not many studios put much effort into these movies. There's a reason why all those unrated movies or MA-TV series on Cinemax are just glorified softcore porn. Maybe that sort of thing had its place in the days before the internet, but now any 13-year-old can whip out their phones and look up the most hardcore sex acts this side of a German brothel.
Now, thanks to "Fifty Shades of Grey," studios have a precedent. They now know that there is a market for movies with heavy erotic themes. Unlike cult classics such as "Showgirls," it can be profitable. It can have a place in a market currently dominated by movies about superheroes and Legos.
That said, being profitable and being good aren't the same thing. Just ask Michael Bay. Profitable movies that are not well-received will make some short-term profits. In the long run, however, audiences will catch up to the lack of quality and lose interest. Again, just ask Michael Bay.
It's in the best interest of a studio and a genre for a movie to be both well-received and profitable. That's how one good X-men movie or one good Iron Man movie can turn a franchise into a full-fledged phenomenon that culminates in a billion-dollar blockbuster.
In some respects, erotica in movies is in a similar place compared to superhero movies. While it's hard to imagine now in an era where a talking raccoon can benefit from the superhero craze, but there was a time when superhero movies were box office poison.
In the mid-90s, thanks to the misguided efforts of Joel Shumacher, superhero movies and comic book movies were right up there with Paulie Shore in terms of things studios avoided. The idea that superhero movies could be so profitable was just ludicrous. It would only take away vital resources from making more Die Hard rip-offs.
It took a few studios with the balls to take risks, as well as some actual effort beyond just giving Roger Cormen a few bucks, to make superhero movies work. I'm not saying erotica movies can follow the same path, but there is precedent.
There's also one other factor that's working in favor of erotica movies and that's demographics. According to census data, the population of major industrial countries is getting older. That means the market for more adult-oriented media is growing. Sure, kids still have their Disney movies and princess toys, but an older population isn't going to be content with remakes of old cartoons and "Frozen."
At some point, a standard PG-13 movie where the blood is CGI and all the boobs are covered just isn't going to do it for some audiences. They're going to want something else. The softcore themes of movies like "Showgirls" just doesn't work anymore, thanks to the impact of internet porn. Tits and ass alone just aren't enough. For erotica movies to grow, it needs both story and sex appeal.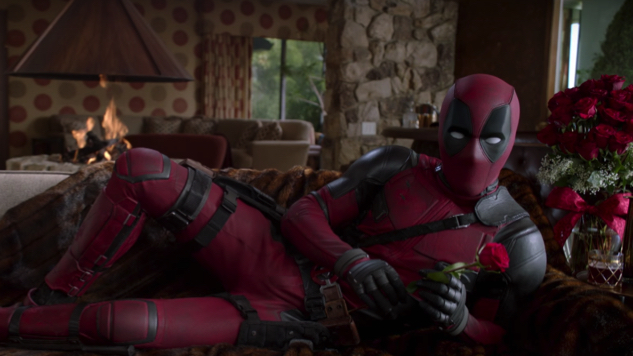 I say this as someone who is trying to do that with his novels. However, there are already plenty of erotica novels out there that also have rich, engaging stories. I hope to write a few of them in the future with "Passion Relapse" being a stepping stone. For movies, however, the road is a bit longer.
Right now, I get the sense that Hollywood doesn't know how to make a good erotica movie that doesn't devolve into softcore porn. While "Fifty Shades of Grey" turned a profit, it's poor critical reception does not bode well for the long-term prospects of the genre. However, that can change with only one movie. Just ask "Die Hard."
What kind of movie would that be? Well, if I knew, I'd be working in Hollywood right now scheduling dates with Jennifer Lawrence and Megan Fox. Hollywood has a lot of problems right now and not just because of things like "whitewashing."
Many Hollywood movies still are somewhat uptight when it comes to certain themes, especially those involving sex. Just look at slasher movies for proof of this. In those movies, characters who dare to be too sexual are often killed or are the villains. It's extremely sex-negative, albeit indirectly.
For an erotica movie to work on a large scale, it needs to be more sex-positive. Movies like Deadpool were rare exceptions in that it was extremely sex-positive. The fact it was such a successful movie definitely helped.
It also needs actors and actresses who are just as sex-positive in spirit. That means those who rely on body doubles for nude scenes probably wouldn't fit the role. That may be challenging because collectively, our culture still reacts like school-girls around a sick puppy when celebrities dare to show a nipple. However, I do believe that with demographics and more movies like "Fifty Shades of Grey," this attitude will evolve.
At some point in every movie genre, there's a moment where the situation is just right to get it going. The current situation isn't quite there for "Fifty Shades of Grey," but I do believe it's much closer than we think. I, for one, intend to have plenty of loose pants handy for when that day finally comes.